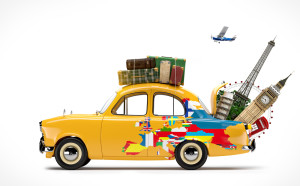 I am often asked in my seminars how many days' holiday Japanese people get, to which I reply that on paper, it's not so different from the UK and other European countries – around 20-25 days plus public holidays.  But how many are actually taken is another matter all together.  When I was working at Mitsubishi Corporation in Tokyo, the company union regularly used to campaign for people to take even a day more holiday than the average, which was around 10 or 11 days a year, if I remember correctly.
It's very uncommon in Japan even now for people to take the kind of 2 week or even 1 month holiday that most Europeans expect to take at least once a year.  Long weekends are the favourite way of doing it, preferably with a public holiday thrown in somewhere.  The concern is "meiwaku" – the inconvenience and burden placed on the rest of the team if you are away for too long and also to prove how dedicated and irreplaceable you are to the company.
It's the other area along with reducing overtime that the Japanese government is trying to address.  So the Toyo Keizai magazine has used its big database of everything to calculate which Japanese companies have the highest average days taken as paid leave.
Top 30 European/UK Japanese companies which appear in this Top 50 are:
#1 Daikin – 20.1 days
#2 Sony – 19.8 days
#3 Honda – 19.3 days
#5 Tokio Marine 19.1
#6 Toshiba 19
#9 Aishin 18.8
#10= Toyota 18.7
#10= NTT 18.7
#12 Nissan 18.6
#15 Komatsu 18.2
#20 Asahi Glass 17.9
#23 JT 17.7
#39 Sompo Holdings 16.9
#34= NTT Data 17
#43 Omron 16.7
It's notable that that none of the above companies appear in the Top 50 best average pay companies we previously blogged about.  Clearly this is not a coincidence.
According to an Expedia 2016 survey, the averages for other countries are:
UK: 25 of 25 days of annual paid leave

Australia: 15 of 20 days

Austria: 25 of 25 days

Denmark: 25 of 25 days

France: 30 of 30 days

Germany: 28 of 30 days

Hong Kong: 14 of 14 days

Italy: 25 of 30 days

Japan: 10 of 20 days

Norway: 25 of 25 days

South Korea: 8 of 15 days

Spain: 30 of 30 days

Sweden: 25 of 25 days

UAE: 30 of 30 days

US: 12 of 15 days
Reports, profiles and other research on the Top 30 largest Japanese companies in Europe, Middle East and Africa are available to subscribers to our premium, paid newsletter – subscriptions are available here.
For more content like this, subscribe to the free Rudlin Consulting Newsletter.