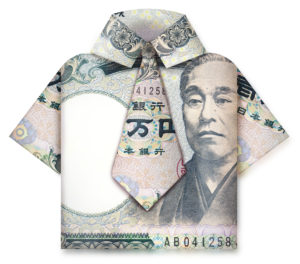 Two things struck me about Toyo Keizai's ranking for the Top 50 Japanese companies with the highest average salaries.
Firstly, they seem high – with average salaries at Y10m (£70K/83K euros/$90K) through to Y17.8m (£128K/147K euros/$160K). Maybe that's just because everything seems expensive in pounds at the moment… But then most of the companies are not manufacturers, rather white collar professional services companies (media, pharmaceuticals, logistics), employing people from the top Japanese universities.  If you bracket the trading companies (Mitsubishi Corporation, Itochu, Mitsui, Marubeni, Sumitomo and Sojitz) with Western management consultancies, then maybe the averages are not so far off.
The other point is the clustering by industry – Japanese companies really do share a lot of information with each other, even if they are competitors, and there is a degree of bench-marking going on, tacitly acknowledging a kind of pecking order as to who slightly edges the others on salary.
The top 2 – Keyence and FANUC are mavericks.  FANUC, the very yellow robotics company, is well known for paying its founder owners way over what is normal for Japanese Presidents and directors.  Keyence was founded in the 1970s and is a fab-less development and sales company – so again mostly employing white collar professionals.
The broadcasters – Asahi at #3, Mainichi at #7 = also pay well, but as Toyo Keizai points out – graduates should be aware of other factors such as the hours worked (when I lived in Tokyo my neighbours were young TV guys who worked insane hours judging by the noises in the small hours of the morning) and also that the companies in the Top 50 are precisely the ones that are moving more and more towards performance based pay, so reaching these salary levels is not guaranteed, nor do jobs come with lifetime security as they used to.
Y1m = £7000/8350euros/$9000/
Figures in brackets are the average age of employees.
Here are the companies from the Top 50 that have a significant presence in Europe:
#4 Mitsubishi Corporation  – Y14.5m  (42.6)
#5 Itochu – Y13.8m (41.5)
#6 Mitsui – Y13.6m (42.4)
#9 Nikkei – Y12.6m (43.2)
#10 Sumitomo Corporation – Y12.6m (42.9)
#12 Dentsu – Y12.3m (39.5)
#13 Marubeni – Y12.3m (41.4)
#14 Daiwa Securities  – Y12.1m (37.9)
#16 MUFG Morgan Stanley Securities – Y12m (40.8)
#17 Nomura – Y11.8m (40.7)
#22 Sojitz – Y11m (42.3)
#24 Eisai – Y10.9m (43.8)
#25 Daiichi Sankyo – Y10.9 (43)
#27 Astellas – Y10.7 (42.3)
#28 Asahi Glass – Y10.7 (42.2)
#29 Mitsui OSK – Y10.6m (39.6)
#31 NYK – Y10.5m (39.7)
#34 Suntory Holdings – Y10.4m (39.6)
#39 SMBC Nikko – Y10.3m (39.2)
For more content like this, subscribe to the free Rudlin Consulting Newsletter. 最新の在欧日系企業の状況については無料の月刊Rudlin Consulting ニューズレターにご登録ください。