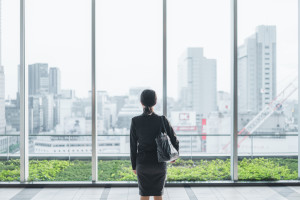 I still get the impression that gender diversity is regarded by Japanese companies as a Japan-only issue, even though our researches show there is still a gender diversity issue for Japanese companies in their European subsidiaries too.
It's good therefore to see that Hitachi (disclosure – one of our clients) which has been proactive in gender diversity initiatives in both Japan and Europe is the only Top 30 Japanese company in Europe to also feature in the Nikkei Woman rankings, at #10.
According to the Nikkei Woman survey, as in previous years, the top ranked companies for women, based on male/female ratios, utilisation of women in management positions, work life balance etc  are the life insurance companies such as Daiichi Life, Sumitomo Life, Meiji Yasuda Life and Nippon Life.  As explained in a previous post, the sales forces of life insurance companies have traditionally been a female preserve, so this is no surprise.
Similarly, beauty and healthcare companies such as Kao and Shiseido feature in the top 10.  Other companies in the top 30 are in the other traditionally female dominated sectors such as retail or travel or are foreign owned  – Johnson & Johnson and Accenture.
Toyo Keizai has also published its "great places to work" for women rankings.  The criteria are pretty similar to Nikkei Woman – more criteria and more specific but covering a broader range – such as childcare/elder care provision, but also employee satisfaction levels.
Although the traditionally female sectors still dominate, Fujitsu, one of the biggest Japanese companies in Europe (disclosure – also a client), is at #1.  Fujitsu in the UK has been very active in gender and LGBTQ+ diversity initiatives too, so again the dots seem to be joining up there.
Other Top 30 European companies featuring in the Toyo Keizai Top 20 rankings are Fujifilm, Sony, Mitsubishi Chemical Holdings and MS&AD holdings (insurance).  Hitachi does not feature in the Top 100, for some reason (although Hitachi Systems does).
For more content like this, subscribe to the free Rudlin Consulting Newsletter. 最新の在欧日系企業の状況については無料の月刊Rudlin Consulting ニューズレターにご登録ください。