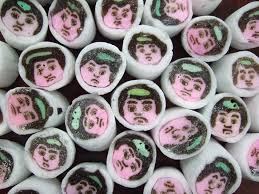 Mid May is usually the deadline for applying for graduate entry at Japanese companies, in the job hunting process (known as shukatsu – a good explanation from Japanese recruitment agency Disc here) for final year students in Japan. This usually prompts some interesting analyses from the Japanese business media on what's new and changing on the graduate recruitment scene.
An article in Nikkei Business focuses on the banking sector, a traditional favourite for arts graduates of top universities.  All the megabanks are reducing their graduate intake – MUFG by 10%, SMBC by 20% and Mizuho by a whopping 50%.
Mizuho had already announced that it was looking to reduce headcount by a quarter but this cut in graduate hires is not simply about hitting that target. Mizuho's recent recruitment brochure is headlined "We want to meet people who are not very Mizuho".  They are drastically reducing the number of "specialist" track graduate hires – mainly counter staff – more commonly known in other companies as the ippanshoku track that attracted mainly female graduates – the old "Office Lady" track.
For the generalist track, Mizuho have started targetting science graduates at universities, with a view to developing Big Data analysts, and also Japanese graduates of foreign universities, or foreign students at Japanese universities.  They say they are looking for creative people, who have a spirit of challenge.  As the Nikkei says, it's not clear how easy this will be for banks which are usually the choice for people looking for long term security and stability.
Japanese companies are no longer "family" but a tree to perch on
Graduate attitudes to employment may be going Mizuho's way, however. Another article in the Nikkei Business looks at "May sickness" – the feelings of depression that hit graduates who joined the company in April.  With the labour shortage being felt in Japan, companies are worrying about the persistently high (by Japanese standards) proportion of graduate recruits who leave within the first 3 years – stuck at around 33% for the past few years, compared to around 20% in the late 1980s and early 1990s.
The usual explanation for persistently high numbers quitting is that when companies cut their graduate intake in tough times, graduates take whatever job they can find, and may end up at a company that does not suit them. But this does not explain why now, when graduates can take their pick of many offers they still end up unhappy with their choice.
The annual survey of Japanese graduates by the Japan Productivity Centre provides a clue.  Since 1971, graduates are asked which of three reasons most closely reflects why they chose their employer.  In 1971, the biggest reason (chosen by 25%) was "because the company had a durable future".  This is now the least popular reason, chosen by less than 10%.  "Because the work is interesting" was the least popular reason in 1971, chosen by around 15%.  This dipped below 10% in the 1980s, then rose, and is now declining, to just below 20%.  The most popular reason is now "because I can develop my own abilities and individuality"  – chosen by over 30%, compared to less than 20% in 1971.
Tama University's Yasuyuki Hatsumi concludes this shows that young Japanese people no longer see companies as a family to join for life, rather as a tree to perch on temporarily.  He suggests that Japanese companies might need to plan for this, and allow employees to take a year's sabbatical, to rethink their career paths and take up further professional development.
For more content like this, subscribe to the free Rudlin Consulting Newsletter. 最新の在欧日系企業の状況については無料の月刊Rudlin Consulting ニューズレターにご登録ください。