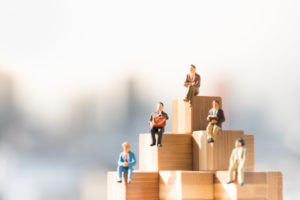 The death of the Japanese trading company and the "keiretsu" (company grouping) model has been repeatedly announced over the nearly thirty years since I started working for leading trading company Mitsubishi Corporation and researching their history. But when the Nikkei newspaper runs a three part series on whether Mitsubishi Corporation's business model is bust, (as they do regularly) it's worth a look, as Mitsubishi Corporation's doings are closely watched by the rest of Japanese business.
Digital speed
Part one of the Nikkei series deals with the digital revolution and how it might disintermediate middlemen like Mitsubishi Corp. It notes that Mitsubishi Corp is likely to announce a record profit for 2018/9, but calls Mitsubishi Corp's legacy a "heavy burden" in trying to find a new digital way to do business.
It looks at how young Mitsubishi employees are scouring Shanghai and Guangzhou for new technologies in convenience stores that they can bring back to Japan.  Mitsubishi Corporation turned Lawson, a convenience store chain in Japan, into a fully owned subsidiary in 2017, partly in response to the losses made on its traditional commodities trading business. But convenience stores themselves are now being threatened by Amazon and China's Alibaba.
In the mid term plan announced last autumn, Mitsubishi Corp set up a special cross-company structure to look at communications and data [pretty sure we had something like that when I worked there 25 years' ago, but anyway] and appointed an executive from the energy division (one of the traditional powerful factions at Mitsubishi Corp) as Chief Digital Officer.  "Other trading companies are not our competitors any more" says a senior Mitsubishi Corp executive.  Instead they are looking at SoftBank, who have double the profit and double the share price of Mitsubishi Corporation – a reverse of 10 years' ago.
The concern, as with so many older Japanese companies, is the speed of change. President Kakiuchi syas he wants to decide within 3 years how to participate in the digital economy – but is that fast enough, the Nikkei asks.
The Three Diamond brand
"Mitsubishi Heavy Industries can fix it by themselves" said a senior executive at Mitsubishi Corporation in September 2018. A subsidiary of Mitsubishi Heavy, Mitsubishi Aircraft Corporation was facing delays in developing its Mitsubishi Regional Jet and needed further investment. The main branches of the Mitsubishi Three Diamonds, the core of the Friday Meeting are Mitsubishi Corporation, Mitsubishi Heavy Industries and MUFG Bank.  It was usual in the past for Mitsubishi Corporation to come to Mitsubishi Heavy Industries' rescue [often grudgingly I would say] but this time they did not step in.
President Kakiuchi says Mitsubishi Corporation's relations with other Mitsubishi companies are "no different from with normal independent companies" and has been reducing cross shareholdings.
The Mitsubishi Motors factory which started production in Indonesia in February 2019 of the Nissan Livina also illustrates how ties are weakening.  The factory is a joint venture between Mitsubishi Motors and Mitsubishi Corporation. Mitsubishi Motors was originally an offshoot of Mitsubishi Heavy Industries, and Mitsubishi Corporation has been a frequent partner either in dealerships or production, but Mitsubishi Motors turned to Nissan for investment when it was hit by a fuel emissions scandal in 2016 and is now in a triple alliance with Nissan and Renault.  Up until then, the Mitsubishi group had always bailed it out, but repeated scandals meant they felt their fingers had been burned too often.  "To be frank, we have no role to play in this" said a Mitsubishi Corporation executive on the arrest of Ghosn, even though Mitsubishi Corporation had increased its investment in Mitsubishi Motors from 10% to 20% in 2018.  Mitsubishi Motors was selling around 1.2m vehicles a year, and the view was it had to enter an alliance, manufacturing 100 million a year to survive.
Chiyoda Corporation, a spin off from Mitsubishi Oil, asked Mitsubishi Corporation for financial support last year on a loss made on a US LNG plant construction joint venture. The President of Chiyoda Corporation, Masaji Santo, is a former Mitsubishi Corporation employee.  Mitsubishi Corporation was not only the lead shareholder in the LNG plant but was going to be a customer of the LNG plant, so insisted on a low construction cost, which was resulting in Chiyoda making a loss.  President Kakiuchi has said "we will do what we can to support" but is still considering the pros and cons.
Retaining young employees
"I didn't want to feel regret" said a young employee in his twenties, who left Mitsubishi Corporation after a few years, to join an IT company, citing the difference in the speed of decision making between the two companies.  Mitsubishi Corporation has always been one of the favourites for the elite graduates of Japan, but recently it has dropped in the popularity rankings for Tokyo and Kyoto University graduates, losing out to foreign consultancies like McKinsey.
Graduates who want to make a difference quickly are avoiding trading companies, experts say. One reason is the continuing seniority based promotion system. It took around 20 years to become a general manager until recently, but now Mitsubishi Corporation has reformed its personnel system for the first time in 20 years, to allow capable employees to take on responsibility regardless of age.  Performance based systems and evaluations have been introduced at certain management grades, setting compensation on complexity of the job role and results. Young employees are polishing their management skills with overseas postings.
The Nikkei cites the example of a 33 year old employee posted to the Cote D'Ivoire, who started a solar panel energy project. A Tsukumo Fund has also been set up, to invest up to Y500m in any ideas that employees have which pass certain criteria, even if they don't have their boss's approval.
This last point is key to me – it was always possible to have a lot of autonomy, become a manager overseas at a young age and start new projects at Mitsubishi Corporation if you were capable enough, but you needed your manager and the rest of the hierachy's support – and that took a lot of time.
As the Nikkei says, Mitsubishi Corporation is a microcosm of the Japanese business world. The lifetime employment, seniority based promotion system worked well in the post war era, but now with an ageing, shrinking workforce, companies have to become more flexible to attract young people and encourage innovation.
For more content like this, subscribe to the free Rudlin Consulting Newsletter. 最新の在欧日系企業の状況については無料の月刊Rudlin Consulting ニューズレターにご登録ください。