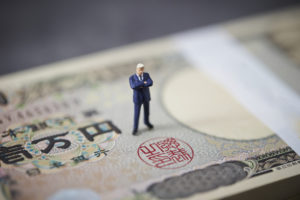 Koji Nagai has been pushing structural reforms since he became President and CEO of Nomura Holdings since 2012, after the resignation of the previous CEO following an insider trading scandal.  In an interview with Diamond magazine he is asked why he was chosen to become President.  "In truth, I do not really know.  I don't know how long I will remain CEO but I am giving it my all".
Nagai remembers when in 1997 the then President Hideo Sakamaki resigned because of an illicit trading scandal, and then his successor Masashi Suzuki only lasted 48 days.  After him, Junichi Ujie was chosen.  "It seemed extraordinary to me. Ujie had been CEO of Nomura in the USA for many years, and had never been involved with Nomura's domestic retail business – the lifeblood of Nomura."
"I asked President Suzuki why he chose Ujie, and he said "I didn't choose him, the times chose him"  It shouldn't be about who gets on well or badly with whom, but what Nomura will need in 10 years time, and that meant Ujie was the only candidate."
Ujie was President from 1997 to 2003.  He started up Nomura Asset Management and Nomura Investor Relations as subsidiaries.  He also restructured the company into a holding company structure and issued ADRs on the New York Stock Exchange.
This shaped Nomura for the 21st century, says Nagai.
Nagai was told, when he first joined Nomura from university that he would never become section chief, because as a graduate from a private university, he was not hungry enough.
"There was a Nomura Man (they were all men) type", says Nagai, and he did not really fit the aggressive salesman stereotype as he was rather shy.  However when he moved to the Tokyo headquarters and headed up the company union, he became aware of the diversity of Nomura's staff, in terms of age and gender and background.
Nagai sees becoming President after the scandal as the moment for him to put a stop to everything that up to know he had thought was not right or disliked, and so embarked on a reform of Nomura.
In an earlier interview with Diamon magazine, Nagai states that the two areas he focused on were firstly, recovering the trust in Nomura – not only through mere compliance but to foster a strong social mission and ethics.
The second area was to have a new global strategy, responsive to changes in the business environment.  Asia is integrated with Japan as the "mother market" and management resources redistributed accordingly.
When Nomura acquired the European and Asian divisions of Lehman brothers in 2008, it was obvious that Japanese companies were being forced to go abroad in search of growth and so Japanese financial institutions needed to step in to help with M&A.  "I have to say, however, to be honest, the answer to the question of why Nomura needed to be global was not clear.  We were going global for the sake of being global"
It had been a source of pride at Nomura that they opened a New York office in 1927, only 2 years after Nomura Securities was established.
Nagai instead felt that Nomura should put customer needs first, where Nomura can add value and is competitive.  So Nomura should be a financial services group based in Asia and review the business in Europe and the US, focusing more on advisory business and corporate finance.
Diversity is still important to Nagai, however.  He dislikes the way people are pigeon holed as "sales" or "corporate" or "branch office" and wants to introduce career change opportunities to employees.  It is important for organisations to accept "foreign bodies" such as different business backgrounds and cultures, and mid-career hires, to avoid rigidity, he concludes.
For more content like this, subscribe to the free Rudlin Consulting Newsletter. 最新の在欧日系企業の状況については無料の月刊Rudlin Consulting ニューズレターにご登録ください。