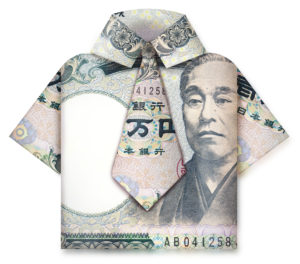 Japanese blue chip companies such as Hitachi, NEC, Panasonic,Sharp, Sony and Toshiba have been hiving off non-core business since 2011, through sales to private equity funds such as KKR, or to Chinese companies or other Japanese blue chips.  It often seemed like the kiss of death to the employees concerned at the time, but in many cases has resulted in successful turnarounds.
Fujitsu, having absorbed Toshiba's mobile phone business, then sold off the unit to Polaris, a domestic Japanese investment fund. According to Nikkei Business magazine's article on how to dispose of non core business, Polaris's President Yuji Kimura is confident of future growth, despite the stagnation of the Japanese  mobile phone market.  Polaris has decided to focus on the Raku Raku range of models, which are simplified smartphones, aimed at the elderly.
However other spin offs, such as Hitachi, Sony and Toshiba's LCD businesses merging to form Japan Display and Haier's acquisition of Sanyo's white goods business from Panasonic, are still struggling.
Nikkei Business magazine highlight three points for success:
1. Review business scope
WIthdraw from markets were there is strong price competition even if it is an area that the company has a strong technological edge and look for other markets where the technology can be put to use.  Even if this means shrinking the size of the business, build up a structure which is profitable.
2. Understand where you can win and make nimble, strategic investments
For example, only 1 year and 3 months after KKR acquired Panasonic's healthcare business in 2013, they surprised everyone by acquiring the diabetes healthcare business unit from Germany's Bayer.  The company was renamed PHC Holding.  Its CFO Masahiro Uda says "we never could have done this if we remained within Panasonic"
3. Change the organisational structure
When Pioneer sold off their DJ audio unit to KKR in 2015, they had to switch from a mass production product development mentality to a small scale production mentality.  Many processes became obviously unnecessary and were consquently realigned and development cycles became much shorter.
KKR Japan's CEO Hirofumi Hirano adds a further point – that you must not forget to have a dialogue with employees, to explain to the union what the aim of the acquisition is, and what you see as the potential for the company.  "There is still a strongly rooted mistrust of investment funds in Japan" he says.  In the 1990s they were seen as asset strippers, and even though their image has improved recently, you still hear them being called "vulture funds".
For more content like this, subscribe to the free Rudlin Consulting Newsletter. 最新の在欧日系企業の状況については無料の月刊Rudlin Consulting ニューズレターにご登録ください。