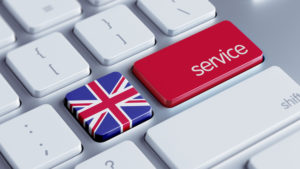 The 30 largest Japanese companies in the UK employed over 80,000 people in the UK in 2016, a 7% increase on 2015.  Less than a third of the annual results are in for 2017 but it seems this growth is not going to continue – in fact total employment at the 9 companies for whom figures are available so far shrank by 7.5% 2016-2017.
The Top 30 represent more than half the employment (140,000) commonly attributed to Japanese companies in the UK.  Two thirds of them have built upon major acquisitions.  The most notable entrant into the Top 30 in 2016 was SoftBank after its acquisition of ARM.  Acquisitions also accounted for the rapid growth in 2015/6 of Dentsu and of the MS&AD insurance group, who bought Amlin and Insure the Box.
The main new entrant for 2017 will be Sumitomo Rubber, who completed their acquisition of Micheldever, the UK based tyre suppliers, in February 2017.
But this is not enough to counterbalance the shrinking of Japanese service sector companies in 2017 – namely Fujitsu, Nomura, Fast Retailing (Uniqlo) and Yusen Logistics, part of the NYK Group.  SoftBank made good on their promise to increase their UK workforce, and automotive manufacturers such as Yazaki and Calsonic Kansei expanded in 2017, but Toyota cut back their workforce.
We won't know the full picture for 2017 until mid 2018 and it's hard to speculate whether any of this is Brexit related, or more to do with a long term regional re-balancing and restructuring, where multinationals integrate their back offices in the region into lower cost locations, and at the same time the management layer becomes more evenly dispersed, as teams become virtual, and move according to where key customers are based.
The ranking for 2016 is below.  For more detail on trends over the three years from 2015-2017 and how the numbers relate to global and European totals, as well as the history of Japanese M&A in the UK, please contact Pernille Rudlin (pernille

rudlin

rudlinconsulting

com) for details of customised reports.
Top 30 Japanese employers in the UK in 2016     (October 2017)
Rank
Company
UK employees y/e 2016
1
Fujitsu
9,849
2
Nissan
7,657
3
Itochu
6,697
4
Honda
5,430
5
Ricoh
3,702
7
Hitachi
3,484
8
Mitsubishi Corp
3,482
6
Toyota
3,233
9
Sony
2,937
10
Canon
2,744
11
Dentsu
2,571
12
Nomura
2,468
13
NSG
2,167
14
Mitsubishi UFJ Financial Goup
2,100
15
Denso
1,925
16
NYK Group
1,919
17
SoftBank
1,749
18
Calsonic Kansei
1,729
19
Konica Minolta
1,613
20
Sumitomo Corporation
1,405
21
Olympus
1,362
22
Yazaki
1,345
23
Brother Industries
1,254
24
Fujifilm Holdings
1,247
25
Unipres
1,237
26
Fast Retailing
1,100
27
Mitsui Sumitomo & Aioi Nissay Dowa
1,089
28
JT Group
1,086
29
Kao
915
30
Mitsubishi Electric
865
 TOTAL
80,361
For more content like this, subscribe to the free Rudlin Consulting Newsletter. 最新の在欧日系企業の状況については無料の月刊Rudlin Consulting ニューズレターにご登録ください。