Rudlin Consulting provides expert analysis and consulting to people working in or with Japanese companies in Europe, Middle East and Africa.
Whether you want to approach a Japan-owned company as a supplier, subsidiary or partner, we can help you understand its corporate culture and strategy, and identify the people and processes necessary for success.
We can also provide cultural awareness training for your employees, as the exclusive representative in Europe, Middle East and Africa of Japan Intercultural Consulting.
For more insights into Japanese corporate cultures, subscribe to our free newsletter.
For the past 5 years one of Japan's mega banks has always occupied the number 1 spot as the employer most popular with Japan's new graduates.  This is the first time in 9 years that the airline ANA has been the most popular in Toyo Keizai's annual poll of online users of its graduate recruitment website.
The airline is particularly popular amongst female graduates, for a number of reasons.  Not only are cabinet attendants considered as being part of the graduate recruitment track, but there has also been an increase in the number of women who are put onto the global staff management track.  Its training and development programme is also highly regarded.  Toyo Keizai adds there has been an overall increase in popularity of travel related companies such as JTB (Japan Travel Bureau – at #7) and JAL.
Financial services dominate top 10
Nonetheless, financial services employers continue to be popular – MUFG continues in the #2 spot and although Mizuho has fallen from #1 to #3 and Sumitomo Mitsui Banking Corp has dropped from #9 to #19, Nomura is at #4, Nippon Life at #5, Daiwa Securities  at #6 and Sompo Japan Nipponkoa (insurance) at #8.
Graduate popularity rankings are keenly watched by the companies themselves.  Although lifetime employment is fading slowly, graduate recruitment is still seen as the the "one time chance" of recruiting and being recruited for many employers and employees.  The relative movements show the reputation of the companies and also the trends in Japanese society and the economy.
Electronics and trading companies losing popularity
So it's not surprising that electronics companies, trading companies and Dentsu (particularly after the suicide of one of its graduates a couple of years' ago) have all slipped in popularity.  Itochu is the top ranked trading company at #26 (down from #17 the previous year).  Dentsu is at #41, down from #35 whereas its rival Hakuhodo has risen from #32 to #14.  Mitsubishi Corp is at #44 down from #31, Marubeni at #50, up from #53 but Mitsui has dropped to #85 from #42 and Sumitomo Corp from 62 to 87.   As previously blogged, trading companies offer the highest starting salaries, but also the longest working hours.
Amongst the electronics companies, Sony is recovering, at #127 up from #162 but Fujitsu has dropped from #170 to #210, Canon is at #227 down from #126, Mitsubishi Electric down to #154 from #104 and Panasonic is at #156, down from #88. Hitachi is not much changed – at #139, compared to #136 the previous year and NEC only just makes it into the Top 300, at #292, down from#238 the previous year.  Toshiba does not rank at all, unsurprisingly.  In fact Toyo Keizai's most recent cover story is "Where can all the 160,000 Toshiba employees go?"  Apparently so many are fed up with Toshiba's slow death, that they are looking elsewhere for employment, but of course the Toshiba name is tarnished.
Automotive and internet sectors improving but still not in the top half
Automotive companies, still seen as Japan's strongest brands outside of Japan, seem to be less strong in attracting domestic graduates. Apart from Toyota (at #57, up from #78), the other manufacturers do not even make it into the top half of the rankings – Honda is at #171 down from #154 the previous year, Mazda up to #187, from #232 the previous year, Denso, the major automotive parts supplier in the Toyota group, is at #193, up from #237, Nissan down to #273, from #217 the previous year.
Technology "newcomers" seem to be regaining popularity but are not back in top half either –   SoftBank is at #186, up from #234, Rakuten at #205, up from #225, Google at #278 up from #323 and Amazon at #283 up from #394.
So overall, Japan's graduates seem to be still seeking stability, work life balance and career development, but in the services sector – which seems a pretty fair summary of Japan's current economic and social situation.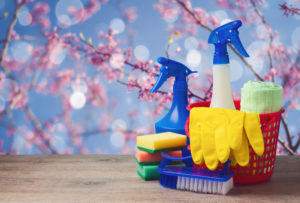 Japanese people living in northern Europe tell me they miss the distinctive four seasons of Japan.  At first this seems a strange thing to say to most Europeans, as we believe we have four distinct seasons too.  But it is true that changes in the season are far less predictable than in Japan, and from autumn through to spring there can be a succession of indistinguishable grey, wet, cold days.
Spring has come earlier than normal this year thanks to an unusually warm winter.  The daffodils and crocuses are already beginning to bloom in the parks where I walk my dog and this weekend my husband and I remarked how busy and energised the town seemed.  Although the end of season sales are still dragging on, the new spring stock is in, with fresh, lighter colours in the window.  The bright sunshine pushed me outdoors to clean the outside of our windows of the winter grime and my husband has nearly finished repainting the kitchen.
Spring cleaning vs the Big Clean
We call this "spring cleaning" in the UK – similar to the Osoji (Big Cleaning) that happens in Japan for the New Year.  We don't do much cleaning around New Year partly because the days are so short – getting dark by 4pm with the sun rising as late as 8am at the end of December.  Even in the daylight hours it is too gloomy to see the dirt.
Spring is also a time of rebirth and renewal in the Christian calendar.  From February 10th to March 24th this year is a period called Lent, when you are meant to give up vices such as drinking alcohol or smoking or eating favourite foods such as chocolate.  This is a way of remembering the 40 days that Jesus spent fasting in the desert and is supposed to be a spiritual preparation for Easter (the weekend of 26th and 27th March this year), which commemorates the death and resurrection of Jesus.  These dates change from year to year – Easter and Lent in 2017 will be three weeks later than 2016.
Pre-Christian origins of Easter
Actually the word "Easter" has pre-Christian origins – deriving from an old Germanic word for dawn. According to the 8th century historian, Bede, there was a northern European pagan goddess of dawn, Eostre, whose symbol was a hare or rabbit – which is thought to be why so many Easter decorations feature rabbits.  Another symbol of Easter, the egg, either made from chocolate or painted hen's eggs, is also pre-Christian, when people gave each other eggs as gifts around the time of the spring equinox.
A time for cleansing and renewal in Japan and Europe
So, while the financial year of April 1st to March 31st is not as universal in Europe as it is in Japan, and our academic year actually starts in September/October, March and April are still a good time to renew and refresh the company.  The rhythms of a cleansing and preparation period in February and March, followed by a new lease of life in April have deep roots in the European psyche.
This article was originally published in the Teikoku Databank News in March 2016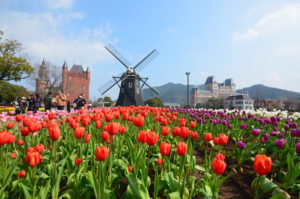 "When the UK leaves the EU, it is the strongest candidate for regional headquarters" says one Japanese manufacturer about Amsterdam, in the Nikkei Business magazine.  Since the UK said it would leave the Single Market, Japanese companies have started their search for new regional HQ locations.  Although Frankfurt and Zurich are also in the game, Amsterdam is seen as particularly strong.
There are many pluses: low taxes, and various regimes to suit different businesses.  The logistics infrastructure is robust and it is easy to access the other main economies in Europe from there.  Additionally, the lifestyle is congenial for Japanese people.
A priority for Japanese companies is the financial infrastructure.  "If we are physically close to our financial services suppliers, then we can easily exchange information and opinions" says the manufacturer.  Of Japan's megabanks, Bank of Tokyo-Mitsubishi UFJ and Mizuho have regional coordinating operations in Amsterdam.  There is a possibility that Sumitomo Mitsui Banking Corporation will also move its European coordination activities to Amsterdam.
However, Japanese companies who are looking at moving their base to Amsterdam have one increasing headache, which is the uncertainty of the Dutch political situation.  In a survey from 2016 (ie before the election where Wilders' Party for Freedom did not do as well as feared) of the members of the Japanese Chamber of Commerce in the Netherlands, political, economic and social environment came second as an increasing area of concern, after worries about employment (being able to hire or bring in Japanese employees, tax, pensions and ability to lay off workers).  The third biggest area of concern was for expatriate visas and the process of obtaining ID cards.  4th was the legal and regulatory framework – obtaining permits, approvals, meeting standards and whether those standards are appropriate.
There is a concern that if the Netherlands cracks down on immigration, it will be difficult to hire a diverse labour force – one of the UK's traditional strengths and attractions for Japanese companies.
Reports, profiles and other research on the Top 30 largest Japanese companies in Europe, Middle East and Africa are available to subscribers to our premium, paid newsletter – subscriptions are available here.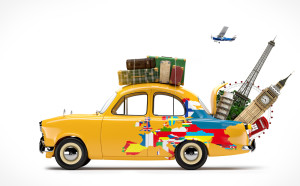 I am often asked in my seminars how many days' holiday Japanese people get, to which I reply that on paper, it's not so different from the UK and other European countries – around 20-25 days plus public holidays.  But how many are actually taken is another matter all together.  When I was working at Mitsubishi Corporation in Tokyo, the company union regularly used to campaign for people to take even a day more holiday than the average, which was around 10 or 11 days a year, if I remember correctly.
It's very uncommon in Japan even now for people to take the kind of 2 week or even 1 month holiday that most Europeans expect to take at least once a year.  Long weekends are the favourite way of doing it, preferably with a public holiday thrown in somewhere.  The concern is "meiwaku" – the inconvenience and burden placed on the rest of the team if you are away for too long and also to prove how dedicated and irreplaceable you are to the company.
It's the other area along with reducing overtime that the Japanese government is trying to address.  So the Toyo Keizai magazine has used its big database of everything to calculate which Japanese companies have the highest average days taken as paid leave.
Top 30 European/UK Japanese companies which appear in this Top 50 are:
#1 Daikin – 20.1 days
#2 Sony – 19.8 days
#3 Honda – 19.3 days
#5 Tokio Marine 19.1
#6 Toshiba 19
#9 Aishin 18.8
#10= Toyota 18.7
#10= NTT 18.7
#12 Nissan 18.6
#15 Komatsu 18.2
#20 Asahi Glass 17.9
#23 JT 17.7
#39 Sompo Holdings 16.9
#34= NTT Data 17
#43 Omron 16.7
It's notable that that none of the above companies appear in the Top 50 best average pay companies we previously blogged about.  Clearly this is not a coincidence.
According to an Expedia 2016 survey, the averages for other countries are:
UK: 25 of 25 days of annual paid leave

Australia: 15 of 20 days

Austria: 25 of 25 days

Denmark: 25 of 25 days

France: 30 of 30 days

Germany: 28 of 30 days

Hong Kong: 14 of 14 days

Italy: 25 of 30 days

Japan: 10 of 20 days

Norway: 25 of 25 days

South Korea: 8 of 15 days

Spain: 30 of 30 days

Sweden: 25 of 25 days

UAE: 30 of 30 days

US: 12 of 15 days
Reports, profiles and other research on the Top 30 largest Japanese companies in Europe, Middle East and Africa are available to subscribers to our premium, paid newsletter – subscriptions are available here.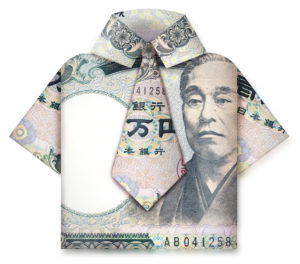 Two things struck me about Toyo Keizai's ranking for the Top 50 Japanese companies with the highest average salaries.
Firstly, they seem high – with average salaries at Y10m (£70K/83K euros/$90K) through to Y17.8m (£128K/147K euros/$160K). Maybe that's just because everything seems expensive in pounds at the moment… But then most of the companies are not manufacturers, rather white collar professional services companies (media, pharmaceuticals, logistics), employing people from the top Japanese universities.  If you bracket the trading companies (Mitsubishi Corporation, Itochu, Mitsui, Marubeni, Sumitomo and Sojitz) with Western management consultancies, then maybe the averages are not so far off.
The other point is the clustering by industry – Japanese companies really do share a lot of information with each other, even if they are competitors, and there is a degree of bench-marking going on, tacitly acknowledging a kind of pecking order as to who slightly edges the others on salary.
The top 2 – Keyence and FANUC are mavericks.  FANUC, the very yellow robotics company, is well known for paying its founder owners way over what is normal for Japanese Presidents and directors.  Keyence was founded in the 1970s and is a fab-less development and sales company – so again mostly employing white collar professionals.
The broadcasters – Asahi at #3, Mainichi at #7 = also pay well, but as Toyo Keizai points out – graduates should be aware of other factors such as the hours worked (when I lived in Tokyo my neighbours were young TV guys who worked insane hours judging by the noises in the small hours of the morning) and also that the companies in the Top 50 are precisely the ones that are moving more and more towards performance based pay, so reaching these salary levels is not guaranteed, nor do jobs come with lifetime security as they used to.
Y1m = £7000/8350euros/$9000/
Figures in brackets are the average age of employees.
Here are the companies from the Top 50 that have a significant presence in Europe:
#4 Mitsubishi Corporation  – Y14.5m  (42.6)
#5 Itochu – Y13.8m (41.5)
#6 Mitsui – Y13.6m (42.4)
#9 Nikkei – Y12.6m (43.2)
#10 Sumitomo Corporation – Y12.6m (42.9)
#12 Dentsu – Y12.3m (39.5)
#13 Marubeni – Y12.3m (41.4)
#14 Daiwa Securities  – Y12.1m (37.9)
#16 MUFG Morgan Stanley Securities – Y12m (40.8)
#17 Nomura – Y11.8m (40.7)
#22 Sojitz – Y11m (42.3)
#24 Eisai – Y10.9m (43.8)
#25 Daiichi Sankyo – Y10.9 (43)
#27 Astellas – Y10.7 (42.3)
#28 Asahi Glass – Y10.7 (42.2)
#29 Mitsui OSK – Y10.6m (39.6)
#31 NYK – Y10.5m (39.7)
#34 Suntory Holdings – Y10.4m (39.6)
#39 SMBC Nikko – Y10.3m (39.2)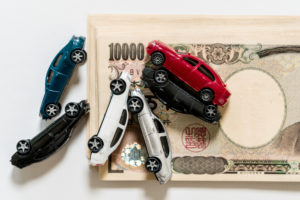 The dominance of Japan's car brands is striking in Interbrand's Japan's Best Global Brands for 2017. Toyota is at #1, Honda at #2, Nissan at #4, Lexus at #9, Subaru at #10 and Mazda at #13.  Subaru's brand value also grew the most of any of the Top 40 – rising 28% on the previous year.  Mazda's brand value has doubled over the past three years.
According to Interbrand Japan's CEO Masahito Namiki, in Diamond magazine, Subaru and Mazda's brands have grown because "they have understood their own individuality.  Subaru is about safety and fun and they put this into their craftsmanship in developing a driving support system 'EyeSight'.  On the other hand Mazda puts its strength into design and a real focus on the colour red."
By contrast, Nissan is an example of success through a top down strategy.  Carlos Ghosn has recently published a series in the Nikkei newspaper about his life.  In the 22nd part he mentions how he puts his all into maintaining the brand, so the brand is given emphasis from the top.
"They are focusing their technology on electric vehicles and driverless cars, and coming up with features which are ahead of other companies.  You cannot develop a brand just by saying "let's make cars which sell".  Nissan has set clear targets and has stabilised its image as having strong technical skills."
Apart from the automotive brands, Namiki singles out Yakult at #28 for having strong "internal branding" – employee loyalty and "fans" inside the company.  Yakult brings all its sales staff together for Yakult Global Conferences and tries to develop staff who love the product.  "It's a mistake to think that if you advertise the brand image will improve.  What's important is the product or service you offer, and the experience surrounding them in the shops or the people who provide the service – the brand must be experienced in all aspects of the company."
Financial services companies are entering the global brand rankings for the first time as their overseas earnings break through 30% cut off point.  This year Tokio Marine entered the rankings at 15 and last year MUFG joined at #6.
On the other hand Japan's electronics companies are suffering – Toshiba was at #9 and Sharp at #10 in 2010, but now both have dropped out.  Panasonic (#7) seems to be stabilising but its brand value shrank 1% on the previous year.
However Sony's brand value grew 8% – the first positive sign in a while.  "Finally we are beginning to see a new direction with their technology" says Namiki.
Other brands such as Olympus and Nissan have managed to rehabilitate themselves after dropping out of the global ranking.  It's not just recovering a solid financial footing but also the revival of the brand that needs to be secured before you can truly say a company has come back to life, says Diamond magazine.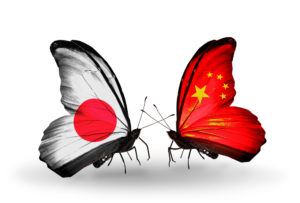 "Don't bother telling a Chinese person to stick to a schedule" said Ke Long (of the Fujitsu Research Institute) in his opening remarks to a Japanese business lunch I regularly attend – confirming Prof Erin Meyer's conclusions covered in our previous post on Chinese and Japanese attitudes to time keeping.
He was only 5 minutes late in finishing, but I don't think anyone minded as his talk was thoroughly entertaining in fluent and only lightly accented Japanese – funny and revealing. Although he warned us he would not stick to the slides in the handout, he did in fact manage to cover all the key points, interlaced with many amusing stories.
He was born and brought up in Nanjing, which as he pointed out, did not have a happy history with Japan.  So in 1983 when he was graduating from high school, he had no interest in Japan and had in fact applied to study English literature at the local university.  He thought there had been a mistake when he received a letter saying he had been awarded a place to read Japanese.  It turned out that the Chinese government, in an effort to prepare enough interpreters for a major Japanese government mission in three years, had cut all English, French and German courses and replaced them with Japanese courses.
He then wanted to study at Nagoya University in Japan, but struggled to get a passport.  He was called in time and time again by officials who asked him why he wanted to go to Japan and what he was intending to do after his studies there.  "You must not give the real answer, of course.  So I said I wanted to study for the sake of my mother country and that I would return immediately. Neither were true."
He was told to apply for a private university first before trying for more prestigious state universities like Nagoya.  So he ended up at Aichi university, thinking that as it was named after the prefecture, which was bigger than Nagoya city, it should be correspondingly better, not knowing a well known dictum in Japan that the larger sounding the name, the worse the university.
To his amazement, he discovered that the entire Economics faculty were Marxists.  "This is what I have escaped from!" he protested.
His insights on China, the US, Japan and the UK in his talk were:
He highlighted greater inequality in the US compared to Japan and how it has increased rapidly. The top 1% wealthiest in the USA had 280 times more wealth in 2010 than the median, compared to the previous peak of 190x in 2004.  He said on his regular trips to the US he is invited to houses of wealthy Americans, where 30 servants are not uncommon.  Whereas the President of Fujitsu lives an ordinary life in a standard Japanese family house.
Chinese people are so suspicious of the quality of goods they can buy in China that they prefer to import the exact same product, made in China, from Japan.
China had a population bonus which explained its phenomenal growth, but this is ending. The male/female imbalance – particularly the fact that there are 30 million more males under the age of 20, is storing up trouble, socially and economically.  The population is declining and ageing.
China has to increase its Total Factor Productivity as a result, which means more innovation, but China is not there yet (despite spanking both Japan and US in supercomputing recently).
His view on why American share prices are booming is that it is not Trump's policies or that American companies are so wonderful, rather that Chinese money is pouring into American equities. It's not going to Europe or offshore.  Chinese diaspora funds are channelling the money from Chinese banks, even though China is trying impose tight controls on outward flows of money – since December 2016 investment in overseas properties and financial products has been banned.  Presumably this will hit the UK property market too. Hundreds of regional bank officials have been arrested recently as the central government tries to crack down.
Although relations between China and Japan have their tense moments, it was not likely that China would ever attack Japan as its sea and air forces are not sufficient. Its army is huge but largely manned by young only children, whose commitment to fighting Ke doubts.  Furthermore army leaders are highly corrupt and wealthy.
He thinks China would like to continue with friendly relations with the UK, as a counterbalance to the US. There is unlikely to be a trade war, but what should worry China and Japan is what to do about North Korea.  It's about time Japanese politicians stopped worrying about rightist kindergartens "amusing though it is" and came up with a strategic foreign policy.
He does not fear a China economic collapse, but points to the slow pace of reform, particularly in the over investment in capital by state companies and the continuing stumble of the zombie companies. The fear in China is that reforming these companies will lead to unemployment, and China is not like Japan in terms of how it reacts to this.  There are riots, with local government officials' cars set on fire, he says.
As for the wave since 2010 of Chinese students studying abroad in the UK and elsewhere, he says this is quite different to previous waves. The UK government will be dismayed to learn that there is no intention on the part of the Chinese students to return to China.  This is education with the intent of immigration.  Their parents also no longer want their children to come back to China and become civil servants as in the past, given the crack down on corruption going on. Many came to the West as children, studying at private schools, and have developed a taste for the Western life.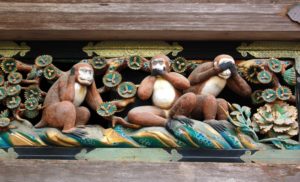 "Japanese people are punctilious about time keeping and the detail of their work, loyal and don't complain. From a non-Japanese perspective, this conscientiousness, loyalty and perfectionism are something to be respected". So says Kurasawa Misa in an interview with Erin Meyer, professor at my old business school INSEAD in the Toyo Keizai online.
Meyer has recently published a book based on her 17 years of interviews with business people from around 55 different countries, which condenses her findings into 8 different cultural maps. We have 19 at Japan Intercultural Consulting, and see a lot of similarity in her work with our dimensions and cultural maps, which is comforting.
Kurasawa: Are Japanese people particularly difficult to work with from a Western perspective?
Meyer: Certainly Westerners find it challenging to do business with Japanese people. One reason is that Japanese people are not very emotionally expressive. Also they are not particularly troubled by silence or vagueness. You often hear that when Westerners give a presentation to a Japanese company, it ends in puzzlement. The Japanese audience sits quietly with no response or eye contact. This is confusing for Westerners.
I have had similar experiences. I have asked at the end of a presentation if there are any questions and no one raised their hands, so I went back to my seat. Then a Japanese colleague said to me "Erin, there was a person who wanted to ask a question. Do you mind if I find out?" So he stood up and said "Professor Meyer's lecture has ended, but are there any questions?" No one raised their hand, so he looked across the audience and then asked one particular audience member – "I think you have a question?" and indeed that person asked a particularly important question. Then, in the same way, various other questions were asked. Afterwards I asked him how he knew which people wanted to ask questions and he said "their eyes were shining".
I thought I should try this so asked his advice. He said "Japanese people do not make as much eye contact as Americans. So when you ask if there are any questions, most people don't look at you but look elsewhere. But amongst the audience were people who were looking at you steadily. Those people probably have shining eyes."
Sure enough, the next time I made a presentation I saw one woman was watching me the whole time, and when I asked if she had a question, she nodded.
Kurasawa: That's a very 'Japanese' way of expressing intention isn't it?
Meyer: Japanese people send messages in all kinds of ways, and this is the Japanese communication style. If you are not aware of it, you cannot do business in Japan. It will just end with "they don't talk, they don't ask questions." You have to make the effort.
On the other hand, when Japanese people work in a different culture, they have to realise that not raising their hands to ask a question will be interpreted as a lack of passion, or that a message did not get through, or that the Japanese person just doesn't care.
Kurasawa: In your book, Chinese people are often relatively close to Japanese in the positioning. Yet to Japanese people, there are big differences in the Chinese national culture and way of doing business?
It's true that when you look at the culture maps, Japan and China are very close. Both have hierarchical organisations, both do not say directly what they mean but still manage to communicate their intentions. However if you directly compare China and Japan you can see some big differences.
For example, I visited China a few months ago and saw a surprisingly big difference in attitudes to planning between Japan and China. Japanese are very punctual and plan everything down to the last minute. On the other hand, in China there are regular changes to schedules. The timing and location of the seminar will keep changing right down to the last minute and the speakers and the participants will also keep changing. However it all works out in the end. Chinese people are very flexible about change.
So it is a very different experience for Americans visiting Asia when it comes to Japan and China. With Japan the scheduling starts months in advance right down to where the dinner will be held. My most recent seminar there started at 10:03 and even then someone said "this is later than planned"! I was very surprised. When you have this kind of experience, you cannot really say "Asian" meaning Japanese and Chinese together.
Kurasawa: So what should Japanese people bear in mind if they are doing business with Chinese or Korean people?
Meyer: If you look at the culture maps, there are three areas in which China and Korea are different from Japan. For example in decision making Japan is one of the countries of the world which most values consensus, whereas in Korea and China there are strong top down tendencies. So in Japan decision taking takes a long time but the decision is almost always executed as planned. Whereas in Korea and particularly in China, not much time is taken to make a decision, but it often changes.
So Japanese people in China often feel unhappy that they are not involved in a decision and that Chinese business-people are not very "professional". This is not the case, but Chinese people feel that they want to get their products to the market faster than anyone else so prize speed and flexibility.
The second area is around scheduling. Japanese people are very precise about timing and want everything to go according to the plan. Chinese and Korean people are much more flexible about time.
Attitudes towards trust also vary. For Japanese people, the basis of trust is a high quality of work and products, to be on time. For China and Korea, emotional ties are the guarantee of trust.
Kurasawa: So even when countries are geographically close, there are some important differences?
Meyer: That's the key point. From previous research into diplomats, I saw a surprising result – the highest failure rate in being posted overseas – in terms of not becoming accustomed to the culture or lifestyle and returning home early – was among American diplomats posted to the UK.
From an American perspective, you would think it would be much harder to live Japan where the culture is completely different than in the UK where at least you can speak your own language. It seems that if you feel culturally close to a country, you don't bother to learn the culture so much and are not so flexible and open. Then you start as a result to feel stress from the differences and become depressed.
Japan, China and Korea are the same. For example, when a Japanese person is working with a Korean person, they may not make a positive effort to understand their culture. So when a Korean person behaves in a way that is different to what they were expecting they simply think they are inefficient, and feel stress. If their counterpart was Australian, they would just understand it as a cultural difference and be more open-minded in their reaction.
What is most important in multicultural or bi-cultural environments is the small differences. Above all you need to recognise that your counterpart's culture is different. If you think that people are the same everywhere you will end up judging everything by your own country's cultural values.
Kurasawa: It's important to take steps towards the other culture, but some people feel it's too much trouble if it's only you making the effort
Meyer: In order to get the results you want, you have to show you understand the other person's culture, and adjust your own attitude. I often get asked "should I stick to who I am, or prioritise being flexible?" In other words "should I focus on doing it the Japanese way or totally adjust to the other people I am working with?" For those who want to produce results in a global environment, the answer is you have to do both.
Global leaders have a foot in both camps. They know how to ask questions of Indian colleagues in a way that will get the right answer. They know how to communicate effectively with British people that they work with.
But there are not many executives who make this effort. In future, the leaders of global companies will have to understand deeply the way business is done in each country, and be flexible in the way they approach how they do things.