Rudlin Consulting provides expert analysis and consulting to anyone interested in Japanese companies in Europe, Middle East and Africa as investors, employers, partners or customers.

Now you've found us, you can: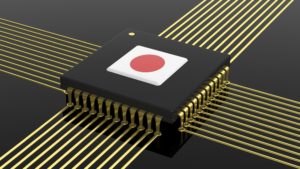 I had anticipated the "do you have any questions for us?" at a recent final interview for a non-executive directorship for an investment trust focused on Japan.  I was advised by another experienced non-executive director to think of a thought provoking question, to show the board I was capable of bringing a different perspective, something they had not thought of before.
On reflection, I probably erred too far on the "thought provoking".  It was a genuine question, however, and I was genuinely interested in their answer.  As the fund's strategy was to invest only in Japanese companies, how do you define a Japanese company?
Listed in Japan or majority of business in Japan?
The fund defined it as being listed on a Japanese stock exchange.  This may seem a clear enough definition, but does this mean Sharp, now owned by a Taiwanese company, Hon Hai, is a still a Japanese company?  How about Hitachi Power Tools and Calsonic Kansei, now both owned by American buyout firm KKR?
Other Japan focused funds also invest in companies that are listed outside Japan, so long a significant majority of their business is in Japan.  But if percentage of sales in Japan is the criterion, then there are plenty of Japanese companies who are listed in Japan, for whom a majority of their business is outside Japan – Takeuchi for example exports 95% of its diggers to overseas markets and 68% of Sony's business is outside Japan.
Avoiding 'country risk'
Why does it matter?  It matters to the boards of such funds, because if they define "Japanese" as Japan listed or majority of business in Japan, then clearly they need to consider the "country risk" of Japan and ensure the strategy is adjusted, or mitigation is put in place accordingly. 
They need an expert in Japanese economics or politics to read the entrails on whether Prime Minister Abe will be re-elected as leader of the LDP in September, and if so whether he will be a strong enough position to carry on with his "Three Arrows" of reform.  They need to be able to judge whether the recent dip in Japan's GDP growth is temporary, or likely to be revised upwards in June, as often happens. They might need some inside track on trade friction around the world and how this might affect the Yen.
But if the strategy is to invest in specific Japanese companies with long term growth potential, then this is not the same as investing in the Japanese economy or a Japanese index tracker.  The aim should be to look for companies that will succeed no matter what happens to the Yen or Abe.
Managed by Japanese executives?
Specifying that those companies should be Japanese indicates to me that there is thought to be something unique to Japanese companies that makes them worthy of special attention.  So should it be that the management of the company is Japanese?  In which case, how should Takeda be classified – likely to become even more dominated by non-Japanese executives after the acquisition of Shire?
What about other companies who, like Takeda, have substantial overseas business acquired through acquisition, but manage it mostly through an international HQ based outside Japan, such as Japan Tobacco (Swiss HQ) or Dentsu (Dentsu Aegis Network in the UK)?
Or how about SoftBank, founded and run by Masayoshi Son, ethnically Korean and educated in the USA?  The original telecoms business is clearly Japanese, but what about ARM in the UK and Sprint in the US – not to mention Softbank's massive Vision Fund which notably is not investing much into Japanese companies at all?
Where Japanese companies have the edge…
I propose some further, admittedly fuzzier definitions of "Japanese". Firstly, the business should reflect an aspect where Japan has an "edge" – a comparative advantage.  For example, any business that is focused on the elderly, as Japan has the most rapidly ageing population in the world, with over 25% over the age of 65.  Or a business which has evolved from Japan's traditional manufacturing and craftsmanship strengths, what is known as monozukuri in Japanese – highly sophisticated machine tools, robotics and components.
But I think there is something more than that to being "Japanese".  It's about the corporate culture and governance – a different model to the Anglo-Saxon shareholder value maximization model.  Investing in a Japanese company should be for long term capital growth rather than a quick dividend, as well as some satisfaction that the investment is going into a company which does not engage in creative destruction type capitalism. 
…is also where the risks lie
And this is where the risks also lie.  Japan's stakeholder capitalist model means job security, but also hidden underemployment and low productivity.  Jealous guarding of corporate reputation can mean cover ups when something goes wrong.  Strong loyalty to other members of the corporate family can mean deference to seniors without questioning or challenging orders given.  Extreme risk aversion can mean opportunities missed.
Understanding and mitigating these risks is not something that can be resolved by an informal chat with a contact in a ministry, nor by looking at exchange rate forecasts and putting some hedges in place.
This was the conversation I wanted to have, and where I thought I could add value, but that's the trouble with the "any questions for us" coming at the end of the interview.  As the board chair said – fascinating question, but you'd need a whole afternoon or a seminar to thrash it out.  And no, I did not get the job.
I often advise Europeans who are trying to communicate a proposal, or want to have a discussion with Japanese counterparts to try to put their idea into a visual format. This has several benefits. One is that it should reduce the amount of English text that the Japanese person has to plough through to understand what is being proposed.  A second reason is that it depersonalizes the discussion if there is a graphical representation – a "thing" that can be pointed at and disagreed with during the argument, rather than having to argue with someone's abstract idea.
Thirdly, Japanese written language – kanji – is highly graphical as a communication method, so Japanese people are more receptive to complex concepts being communicated in a graphical and holistic way rather than the textual, linear form common in the West.
So I was quite surprised to hear a young Japanese expatriate woman tell me that her colleagues in the UK based market research agency she works for are much more accustomed to representing their findings in a graphical way than she was used to in Japan.  Specifically, she said that they use infographics and sometimes even send the report to clients as a video, using the infographics and clips of customers being interviewed.
With the advent of "Big Data", data visualization is a growing industry.  So should Japanese companies be acquiring companies or hiring people who have those skills, or is this another area which will simply be automated, and all that is needed is to buy in or develop some software?
Automation tools already exist for data visualization, but the key is to think about why you want to put the data into a visual format in the first place.  It is usually to give insights which will then provoke a discussion.  An infographic does not of itself provide the solution.  Discussions require human beings to provide their different interpretations of the infographics and ideas about how to act on them.  The infographic provides the "thing" that can be pointed at and disagreed with, but also allows people of diverse backgrounds and native languages to have a more equal chance of contributing to the debate, because there is less of a language or technical barrier.
The market research agency at which the Japanese woman worked was founded in the UK and acquired by a Japanese company in 2014. But it also has offices across Asia, multinational staff who travel across Europe and a call centre based in the UK covering over 30 languages.
The UK is the obvious location for global marketing services, not just because it is the home of English language communication, but because of its multinational workforce, who can ensure the data is interpreted appropriately for different cultures. This is why Japanese marketing and advertising agencies have been acquiring many British companies recently. I just hope Brexit does not damage this advantage by putting up too many barriers to immigration and free movement across Europe.
This article by Pernille Rudlin originally appeared in Japanese in the Teikoku Databank News
Effective communications with Europeans is one topic of Japan Intercultural Consulting's new Performance Management for Japanese expatriate managers seminars. Further details and registration can be found here: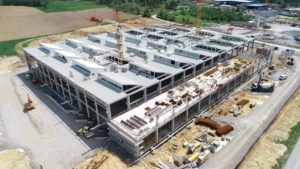 Here's my rough translation of the article in the Nikkei today (May 14th 2018):
Yaskawa Electric is building a new parts factory in Slovenia and will shift a proportion of parts production from its factory in the UK. The British factory will continue operation for the time being, but Yaskawa will not make any further positive investments and is also considering scaling down or closing down completely. Concerned about the impact of tariffs etc caused by the withdrawal of the UK's European Union (EU), Yaskawa is integrating its European robot production so it takes place within the EU.
The industrial robot factory in Slovenia will start production this autumn. A parts factory will also be set up in the vicinity so the supply chain is fully within the EU. On 14th (local time), an investment ceremony is to be held with the government of Slovenia.
The current factory is in Scotland, England [Cumbernauld – around 150 employees], producing mainly electrical parts for industrial robots and industrial machinery for the EU. However, with the withdrawal of the EU in the UK, there is concern that procedures such as customs clearance in exporting to Europe will be complicated, in addition to handling tariffs with the EU region, so there is a possibility that it is difficult to maintain the supply network.
As "risk management requires a supply system within the EU" (Yasukawa Electric's president Hiroshi Ogasawara), production will be shifted to Slovenia's new factory and no further positive investments will be made in the UK plant.
The new parts factory in Slovenia is around 40,000 square meters, and will start operation around 2020. It will produce electric machinery parts such as servo amplifiers and inverters for supply to Yaskawa's own industrial robots, as well as external sales.
The factory in Scotland will continue to operate for the time being, but given the launch of the parts factory in Slovenia, Yaskawa will assess the status in terms of the duplication of production items and the supply and demand situation and will decide on whether to scale down or close as an option in the future.
Industrial robots are a field where Japan is highly competitive. Yaskawa Electric is one of the strongest in the world with Fanuc in Japan, KUKA in Germany and ABB in Switzerland. Electrical equipment used for controlling robots is directly related to performance such as accuracy and durability of industrial robots.
In industrial robot manufacturing, Chinese manufacturers are also gaining know-how, but it is difficult to manufacture parts used for control, which is one of the reasons why it is difficult to catch up with the Top 4 in terms of quality. Especially in Japan, in-house manufacturing of electrical machinery is becoming a source of competitiveness.
For Yaskawa Electric, Europe is the production base for industrial robots as a third region after Japan and China.  KUKA and ABB's shares of the European market are high, but KUKA is under umbrella of China's home electronics giant, Midea Group, so the market is shifting. Yaskawa Electric aims to expand its market share by proceeding with its localization.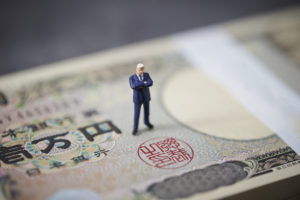 It is surprising to see in a Toyo Keizai ranking how many of the 50 largest (by employee number) foreign owned companies in Japan are French (6), and how few are British (2 and are both pharmaceutical companies), considering the similar size of their economies. Switzerland is punching well above its weight with 5 companies, and Germany has stakes in 4.
Nissan is included in the rankings, and is the largest, although the French owned portion is 43.4%.  Second is Gibraltar Life Insurance, which you may think you've never heard of, and is in fact a Japan only brand, formerly known as Kyoei, but acquired by US company Prudential Holdings in 2001.
In third place is Sharp – 65% owned by Taiwanese company Hon Hai/Foxconn.  Others in the top 5 are Mitsubishi Fuso Truck and Bus, 89.2%  owned by German company Daimler and MetLife, another American insurance company, which became dominant in Japan through acquiring American Life Insurance Co (Alico) which had a significant business there.
Other European-owned companies in the rankings include:
#11 JATCO (France – a subsidiary of Nissan)
#12 UD Trucks (Sweden – acquired by Volvo in 2007)
#13 Bosch (Germany – acquired machinery business from Eisai in 2012)
#16 Chugai (Switzerland – Roche acquired controlling stake in 2017)
#19 Veolia Japan (France)
#22 Novartis (Switzerland)
#28 Glaxo Smith Kline (UK)
#30 NOK (Freudenberg capital partnership 25% – Germany)
#31 VSN (Staffing company acquired by Swiss company Adecco in 2012)
#32 AstraZeneca (UK)
#36 Ikea (Netherlands – yes, they moved their HQ from Sweden to the Netherlands)
#37 Bayer (Germany)
#38 Adecco (Switzerland)
#40 L'Oreal (France)
#40 Nestle (Switzerland)
#47 Sanofi (France)
#50 Valeo (France)
The only British owned company in the 51-100 rankings is Seiyo Food-Compass, the Japanese subsidiary through acquisition in 2001 of the food services Compass Group.  Advertising agency Asatsu ADK is also in the top 100 but was acquired from British company WPP by Bain in December 2017.
If the UK is really looking to be a more global country post Brexit, making acquisitions in countries like Japan might be a way forward, but I guess the UK has become too used to acquisitions going the other way.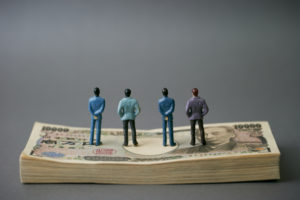 Any company in the UK that employs over 250 people is supposed to have submitted their gender pay gap estimates by 4th April 2018.  We ran our Top 30 Japanese companies through the Companies' House database and found that all have submitted data for those subsidiaries which qualify.
The average pay gap of their 50 subsidiaries is around 15%, slightly lower than the national average of 18.4%.  There are some interesting patterns in that there is a gender pay gap in women's favour in the automotive and tyre businesses – Kwik-Fit and Stapletons (both owned by Itochu) and Micheldever (acquired by Sumitomo Rubber in 2017) and also Toyota Motor Manufacturing and NSG Pilkington Automotive.  Looking at the detail, it seems this is to do with there being a lot of men in the lower paid jobs (presumably tyre fitting, shopfloor, delivery) and some well paid women in the higher paid, presumably managerial/executive jobs.
The gender pay gap is particularly bad in finance, although no worse for Japanese banks than for other UK based investment and retail banks.
The wooden spoon goes to Hitachi subsidiary Horizon Nuclear Power with a 41.9% pay gap, closely followed by Fujifilm, with a 41% pay gap.
Top 30 Japanese employers in the UK (April 2018) & gender pay gap
Rank
Company
UK employees 2016-7*
Gender gap
1
Fujitsu Services
9,326
17.9%
2
Nissan
7,755
-11.3%
3
Honda Motor Europe (sales)
6,539
27.1%
Honda of the UK Manufacturing
4.5%
4
Itochu
6,515
Kwik-Fit
-15.2%
Stapleton's (Tyre Services)
-24.9%
5
Hitachi Hitachi Consulting
3,998
30.3%
Horizon Nuclear
41.9%
Hitachi Capital
33.5%
Hitachi Vantara
27.0%
Hitachi Rail
-0.9%
6
Mitsubishi Corp Princes Foods
3,532
8.7%
7
Ricoh UK
3,484
17.4%
Ricoh UK Products
10.4%
Ricoh Europe
32.2%
8
Sony Europe
3,143
27.2%
Sony Music
22.7%
Sony DADC
8.7%
Sony Interactive
12.8%
9
Toyota Motor Manufacturing
3,098
-6.4%
Toyota (GB) (sales)
29.7%
9
Marubeni (Agrovista)
2,294
36%
10
Dentsu Aegis London
2,757
14.5%
Dentsu Aegis Manchester
1.8%
11
Canon
2,693
15.8%
12
SoftBank (ARM)
2,173
15.5%
13
Nomura
2,166
36.9%
14
NSG Pilkington Automotive
2,128
-12.1%
Pilkington Technology Management
31.7%
Pilkington UK
8.3%
15
Mitsubishi UFJ Financial Goup
1,987
35.6%
16
Denso Manufacturing
1,897
24.2%
Denso Marston
6.6%
17
NYK Group (Yusen Logistics)
1,855
4.0%
18
Mitsui Sumitomo & Aioi Nissay Dowa (Insure The Box)
1,809
19.0%
19
Calsonic Kansei UK
1,778
3.6%
Calsonic Kansei Sunderland
3.6%
20
Konica Minolta
1,572
18.2%
21
Sumitomo Rubber (Micheldever Tyre Services)
1,543
-19.9%
22
Brother Industries (Domino UK)
1,384
15.1%
23
Olympus Keymed
1,348
27.7%
24
Fujifilm UK
1,257
41.0%
Fujifilm Speciality Ink Systems
8.7%
Fujifilm Diosynth
16.0%
25
Sumitomo Corporation (Howco Group)
1,249
17.5%
26
Unipres
1,237
3.1%
27
JT Group (Gallaher)
1,086
14.0%
28
Sumitomo Mitsui Banking Corporation
1019
34.9%
29
Toyoda Gosei
1,192
0.9%
30
Mitsubishi Heavy Industries (Primetals)
1,152
38.1%
TOTAL
84,966
15.1%
Shigenobu Nagamori founded electric motor company Nippon Densan in 1973 but it wasn't until the late 2000s that he started on his overseas M&A buying spree, acquiring the automotive actuators and motors division of French company Valeo.
He began to realise that he would have to change the way Nidec worked in order to succeed overseas.  According to a special feature in the Nikkei Business magazine, he was puzzled as to why Western employees worked shorter hours than in Japan and took more holidays, yet their companies' performance was better than Japanese companies.
Many Japanese companies are looking to change their working patterns, under pressure from the Japanese government for 'work style reform' but "merely reducing hours worked will end in failure".  Nagamori was looking for a change of mindset.
Unnecessary meetings
One area Nidec tackled was unnecessary meetings. In just 4 months at one of their subsidiaries, Tosok, the number of types of meetings was reduced from 156 to 89, and their total occurrence was reduced from 716 to 440 a year.  The number of hours spent on meetings fell from 533 hours to 240 hours a year.
Meetings that did not have a result were particularly targeted, such as the "related divisions information exchange meetings".  New rules were introduced such as:
Meetings should only take 45 minutes, or 25 minutes for short meetings
Participants should all be told the purpose of the meeting, the schedule and the expected results beforehand
Only the absolutely necessary people should attend
#2 should be reviewed at the beginning of the meeting
1 page per topic, distributed before the meeting
At the end of the meeting, conclusions and homework should be agreed, and who is in charge of each action point
The minutes of the meeting should be written during the meeting and circulated within 24 hours after the meeting
Missed deadlines
Another issue that was raised in the search for changing mindsets and work patterns was the continual missed deadlines for prototypes.  Because the automotive industry has become so competitive, car manufacturers were shortening their development cycles. Trying to meet their short deadlines for prototypes was causing much of the overtime at Nidec. There was too much of a gap between the time when Nidec's engineers discussed with the car manufacturers' engineers and the order was officially made through the sales people.
So it was decided to make the order official once emails between then engineers reached a point of certainty.  This shortened the gap to starting new development work by 3-9 weeks, with a significant reduction in missed deadlines.
The basis for these changes in Nidec's way of working came from Nagamori's appointed successor, Yoshimoto, who had become a Master Six Sigma Black Belt when he worked at GE.
Ensuring women are promoted
Initially Nidec hoped to set a target of women comprising 15-20% of managers by 2020, up from the current 2.8% but this has been revised down to 8%. "There is no point in forcing women to be managers if they don't want to do it" Nagamori states.  Reforms have been introduced such as being able to work from home, being able to shift working hours 1 hour either side of the set start and finish times and also being able to take holiday in 1 hour units.  These apply to male or female workers, but are intended to make caring for a family easier.
Nidec has also invested in changing work patterns on the factory floor, with robotization and Internet of Things, as well as investing in management development, to empower managers to take decisions and also improve their English ability.
English language and management capability
The feature finishes with an interview with Nagamori, where he asserts that to reduce working hours, you have to improve productivity first.  For example, in Japan it is common to make courtesy calls on customers without any real reason. It's not a total waste of time, but it is not directly productive."
"Japanese productivity is about half that of Germany.  So we need to double our productivity in order to get to zero overtime.  If you just cut overtime to zero, you have to either hire more people or cut salaries.  Both would be a mistake."
If overtime disappears, then juniors will no longer get overtime pay.  Nagamori remembers a time when he too mainly used his overtime pay to live off, saving all his bonus and salary.  "30, 40 years on, Japanese society has not changed" he points out.  He says an employee wrote him a note to say that he had a loan on the basis of him doing 50 hours overtime a month.  So if he didn't get overtime pay on that basis, he would not be able to repay the loan.
So he currently tries to give the overtime pay reduction back half as bonus, and the other half as training subsidy.  This is not the same for everyone – those with high productivity get higher bonuses.   "It's a big problem that currently those with low productivity stay late and get overtime pay and those with high productivity leave and have lower pay"
"About half of overtime is work that doesn't really need to be done, so that's easily got rid of, but the other half is necessary work, and reducing that is not so easy."
" The biggest revolution is to get people to recognize that overtime should be zero.  'Look at the West, nobody is doing it' you have to tell everyone"
"It's not easy for Japanese companies to switch to Western ways of doing things. It's a bigger revolution than when in the Meiji era everyone changed from wearing kimonos to western clothes"
Nagamori says the reason for the lack of productivity in Japan is firstly English language ability.  "Phone calls take twice as long and you need to pay for translators for negotiations."
"Also, managers lack management capability.  They don't question why their team are doing so much overtime.  They don't understand what their team are doing.  If they said – 'do this work and then go home' then there wouldn't be so much overtime."
"In the West there are plenty of positions for specialists, but in Japan there are people who don't have management ability in line positions."
When I left Mitsubishi Corporation after 9 years, I felt guilty that I had not found a way to repay (in business development rather than money) the MBA they sponsored me through and worried that the wonderful sempai (mentors) who had supported my career would now be angry with me.  I was delighted and relieved therefore, when one of the sempai, very senior in the company, invited me for a drink when I was in Japan on a business trip, and explained to me and the other team members at the table that Mitsubishi Corporation should regard people who leave as alumni, just as McKinsey do.  "We may end up doing business together one day," he predicted.
Indeed Mitsubishi Corporation is now a valued customer of mine, and I have seen many other MC alumni rise to some of the top positions in the Japanese business world.  Probably the most well known one is Takeshi Niinami.  A graduate of Keio University, as so many MC people are, he was sponsored by MC through a Harvard MBA. He eventually became President of Lawson, the convenience store chain that MC had invested in, leading its turn around.
He is now the President of Suntory Holdings and was interviewed in Nikkei Business magazine about recent developments there, including the acquisition of Beam Inc (but not its acquisitions in Europe of Lucozade, Ribena and Orangina) and the "Suntory Way".
What Beam got from Suntory
"The Suntory Way means that we develop products that our competitors do not have", says Niinami.  "When I explained this to the Jim Beam factory in Kentucky they were very supportive.  Beam Inc headquarters people all had MBAs. American marketers get a sense of consumer trends from consultant's reports and decided their strategy based on that, they never went to the gemba (shopfloor) the way we do in Japan.  They just told the Kentucky factory what to do, top down, from afar.  If you told them to go to the gemba they'd probably quit. There wasn't one single person in the executive team who came from manufacturing and they weren't investing in the factory.  But the Kentucky people loved making things.  So when we told them we saw manufacturing as the most important thing and appointed someone from manufacturing to the board, their motivation shot up."
"When they came to see our factories in Japan, they became aware of the need to improve their Kentucky factory.  Beam is even older than Suntory – more than 200 years of history.  We were able to revive their DNA."
What Suntory learnt from Beam
"Beam are really good at managing profitability.  Suntory got heavily into debt to buy Beam and we are all focused on reducing this debt.  Suntory was not as good at managing cash flow as Beam but we have learnt."
What's next for Suntory and Niinami
Niinami was brought in by the previous President and now CEO and Chairman, Nobutada Saji (also from the founding family) in 2014. Niinami thinks his successor is likely to be another member of the founding family – current COO NobuhiroTorii – and seems in favour of this, as a way of maintaining Suntory's spirit.  He also expects Suntory to remain a privately held company, despite discussions to the contrary when he first became President. The advantage, he says, is that Suntory is able to contribute to society, through the Suntory Hall (a famous concert venue in Tokyo) and also a water sustainability initiative, without having to justify this to shareholders.
As an outsider, Niinami feels he was able to see objectively how good the Suntory spirit was, and how to roll it out globally.  He has set up a Suntory University to help with this.  Although Niinami is only 59, he says he is willing to finish his career at Suntory.  "I am already "of age" and I don't think anyone will be asking this "odd fish" to join them."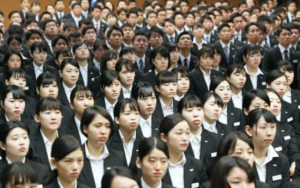 It's not surprising that Mizuho, one of Japan's megabanks, has fallen in popularity from the top spot for 2018 new recruits to #17 for those graduates aiming to join in 2019, according to recruitment agency Disco.  As previously blogged, Mizuho's former president, now chairman, Yasuhiro Sato has been very clear that the bank should lose around 30% of its workforce globally, through greater use of information technology, and yes, AI.  His successor Tatsufumi Sakai shows no signs of reversing this.
The other megabanks have fallen less dramatically out of favour, from #2 to #4 in the case of MUFG (dropping the Tokyo from Bank of Tokyo-Mitsubishi UFJ as of April 1) and from #5 to #14 in the case of Sumitomo Mitsui Banking Corporation.
Japan's airlines JAL and ANA have stayed in the top 5, at #1 and #3 respectively. Perennial favourites, the trading companies Itochu and Mitsubishi Corp have also gained popularity, up from #7 to #2 and #9 to #6 respectively.
Manufacturers such as Toyota (#5 from #12), Sony (#11 from #31) and Denso (#19 from #33) have become more attractive, as graduates realise that the Internet of Things means traditional companies are now moving into more innovative IT related areas.
Japanese graduates who have studied at foreign universities favour foreign companies operating in Japan such as Procter & Gamble, Google and Amazon, or management consultancies, whereas no foreign owned company is in the top 10 for domestically educated Japanese graduates.