Rudlin Consulting provides expert analysis and consulting to anyone interested in Japanese companies in Europe, Middle East and Africa as investors, employers, partners or customers.

Now you've found us, you can: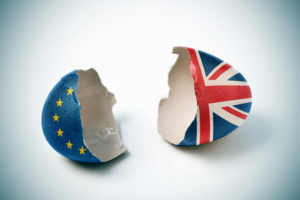 The UK government's "soft" Brexit proposal, to allow freedom of movement of goods between the UK and the EU, is unlikely to be acceptable by the EU or even a practical solution for the UK economy.  It's politically understandable why the government is trying to protect the just-in-time delivery of manufacturing supply chains, in which many Japanese companies are involved. The manufacturing regions mainly voted in favour of leaving the EU but it might be possible to persuade those voters to accept a soft Brexit if they realise their jobs are under threat from a hard Brexit.  However, 80% of the UK economy is in the services sector – predominantly in cities and in the south east – where the vote was largely to remain in the EU.
It's not so easy these days to make a distinction between services and manufacturing for the purposes of customs checks and regulatory compliance, even in the car industry. 10% of Nissan's workforce in the UK work in a technology design center in the south east, not in the factory in the north east, developing software and services, not just components for cars.
Fujitsu – the largest Japanese employer in the UK – may be a manufacturer in Japan, but only provides IT services in the UK. The number of Fujitsu staff in the UK has been falling over the past few years, whereas it has been increasing in Global Delivery Centers in Portugal and Poland. Fujitsu is now the largest Japanese employer in Portugal – employing around 1000 people who provide technical support to global customers by phone and internet.
Both Poland and Portugal can provide the low cost, multilingual, well-educated workforces needed by the services sector.  Although it is not a big market in its own right, the Portuguese economy has recovered since the euro zone crisis – the budget deficit is the lowest in 40 years, the unemployment rate has improved and it is politically stable.
For my own business, as an insurance against a "hard Brexit" for services, I might register for "e-residency" in Estonia. This will allow me to set up a company in Estonia and open a euro denominated bank account there so we can easily send and receive euros, within the eurozone.  It will also allow me – under EU data protection regulation and the new deal with Japan – to share client data freely with my colleagues in the EU and in Japan.
Similarly, any UK based companies in strongly regulated sectors such as financial and legal services are making sure they have credible presence in the EU, so they can continue to do business there.
Nobody is expecting the service export sector to move entirely away from the UK if there is a hard Brexit.  Alternatives to the UK have other disadvantages – political instability in Eastern Europe, or high costs and scarcity of good office locations and employees in Western Europe – but I predict this current trend of dispersed locations across Europe will accelerate.
This article by Pernille Rudlin originally appeared in Japanese in the Teikoku Databank News August 8 2018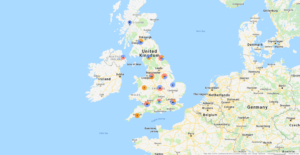 On the face of it, it looks to have been a good couple of years' for Japanese manufacturers in the UK, despite concerns over Brexit. 214 Japanese companies with production sites in the UK employ around 63,000 people, generating revenues of around £23.8bn. More increased their employee numbers than cut back, and overall employee numbers rose by around 5% on the previous year.
The Brexit risks
Although there are 214 companies, a handful dominate, and their reactions to Brexit will impact other Japanese companies who are suppliers to them. Nissan, Sony, Honda, Toyota and Princes (a food processor owned by Mitsubishi Corp) account for over 50% of the revenues, and over a quarter of the employees of Japanese manufacturers in the UK.  Increased recruitment by Honda, Nissan and Hitachi Rail (the 6th largest Japanese manufacturer in the UK, which has just started production) and various automotive suppliers account for most of the rise in employment over the past couple of years, whereas Toyota had the biggest reduction in workforce.
It's clear from the breakdown in sales by region (where given) that the UK is indeed a gateway to Europe for Japanese manufacturers.  More than half of their combined turnover derives from sales to Europe (excluding the UK) and UK sales account for around a third of revenues. Any damage to their ability to export to Europe will therefore impact 50% or more of their revenues.
A third of the 214 companies are involved in the automotive supply chain and their fortunes are tied up in not only what Japanese car makers are doing but also other car makers such as Jaguar Land Rover and PSA (Peugeot, Citroen, Vauxhall etc). Japanese automotive suppliers have been keen to diversify over the past few years, to avoid over reliance on one customer or supplier or geography.
What the car makers do in response to Brexit in the long run is obviously key for them, but there are a couple of shorter term risks. One which has already had an impact is exchange rate volatilty. The cheaper £ can of course be a benefit, if they are exporting, and for most the exchange rate risk is manageable.  As half of the parts in a UK made car are imported, mainly from Europe, and around 80% of cars are exported, again mostly to Europe, there is a natural hedge. Some Japanese UK companies even report in euros, as they are selling and purchasing in euros.
Disruption to the supply chain from Brexit is another risk also mentioned in annual reports.  Although they are mostly manufacturing in the UK for UK based car companies, so should be able to maintain just-in-time delivery even if there is a hard Brexit, Japanese automotive suppliers still have to take account of the whole supply chain and likely reaction of the car manufacturers should there be prolonged problems.
Brexit-proofing has started
It's clear some contingency plans are already being enacted.  Japanese companies have been warned since at least 2013 to my knowledge that Brexit could happen, so I suspect many of them have made plans with that in mind. These plans might well be something they would have considered doing anyway, but the added risk of Brexit tipped them towards it.  For example:
G-TEKT, which designs and manufactures pressed steel bodies and coachwork, primarily for Honda, had no other production in Europe apart from 3 plants in Gloucester, Ebbw Vale and Tredegar employing around 800 people. 90% of its sales are to UK customers. Production will start in Slovakia in 2019 – presumably it's no coincidence that JLR is also building a factory in Slovakia.
Tsubakimoto, manufacturing automotive timing systems in Nottingham with around 100 employees, is transferring some of its existing business to a new plant in the Czech Republic. 72% of its sales are to non-UK European customers, 27% to UK customers.
Daido Industrial Bearings, employing around 180 people in Somerset, is transferring the sales function for its automotive and polymer accounts to Germany. 84% of its sales are currently to non UK European customers.  It also has plants in Montenegro, Czech Republic and Germany.
Senju Manufacturing, who make solder for the automotive and electronics industries, have started manufacturing in the Czech Republic in 2017, as requested by a customer, presumed to be Toyota, who have a joint manufacturing facility with Peugeot and Citroen there.
Kasai, who make interior components for Nissan, Honda and JLR for the UK only, have set up a plant in Slovakia, to add to their existing UK plants in Washington and Merthyr Tydfil, which employ 793 people, down 31 from the previous year.
TS Tech who make car seats for Honda, with 100% of sales to UK customers, started production in Germany in 2016 for VW, in addition to their Swindon UK (where employee totals rose by over 200 from 2015/6 to 2016/7)  and Czech Republic plants.
Some examples in the non-automotive sector include:
Sony DADC, who manufacture DVD and other digital products in Southwater, West Sussex, employing around 300 people. The organisation has been merged with Sony's Austria branch, and will cease manufacturing in the UK and transfer all production to the Austrian plant.
Olympus Keymed have transferred sales to the Middle East and Africa region from the UK to its Germany based regional HQ
Sun Chemical has closed its plant in Orpington in 2017.  It has plants in Germany, France, Spain, Italy, Denmark, Austria and Poland.
Sekisui Alveo is transferring production of polyolefin foams from its plant in Merthyr to the Netherlands.
I estimate there are around 70 Japanese companies whose only production in Europe is in the UK.  Many of these are relatively Brexit-proof – they are highly specialised, or local unique brands (whiskey, fashion etc).  There are around 150 Japanese manufacturers in the UK who have production elsewhere in Europe, so can be considered relatively Brexit-proof already.
New investment into UK from Japan, but no sign of on-shoring in manufacturing
There are also examples of companies who are expanding in the UK – such as Graphic Controls, Hitachi Rail and various automotive companies, as outlined above.  However I am not seeing a lot of "onshoring" going on, despite encouragement from the UK government and car manufacturers such as Nissan. I estimate there are around 35 Japanese automotive suppliers who do not have production in the UK, but not one of them has started manufacturing in the UK.  There have been no acquisitions or newcomers into the UK in the automotive industry for the past three years.  The new Japan-owned companies that have arrived over that period are mostly in the services (financial, recruitment), food distribution, hi tech or pharma/biotech sector.
If you are interested in purchasing a spreadsheet giving full details of the 214 companies, or the 70 companies who might be looking for alternative production locations in the EU (address, ownership/M&A history, European HQ, business sector, European structure, turnover broken down by UK vs Europe, employee figures for past 2 years, constituency and MP), please contact Pernille Rudlin.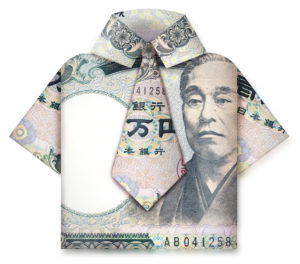 If you've noticed your Japanese colleagues looking grumpier than usual and making pointed remarks about the amount of money overseas offices soak up, you may need to be aware that it's not just the heat and the typhoons getting to them, but the fact that despite Prime Minister Abe's push, some companies are still cutting salaries –  and employee numbers are shrinking.  The summer bonus season, which will have been added to their monthly pay cheque in June or July, may have reminded them that their salaries have not increased much in real terms over all for some years, but they are supposed to be grateful they have a secure job, with bonuses, benefits and a pension.
It's surprising to see who tops the list in Toyo Keizai's ranking of companies who have had the biggest reductions in pay and number of employees over the past five years – trading company Mitsui Bussan is at #1. Toyo Keizai reckons this is because their business was badly hit by falling resource prices over the past few years.  Although average annual income at Mitsui is high – around Y12.3m (US$111,000), it has dropped by Y1.48m compared to five years' ago.  The number of employees has also fallen by 201 to 5,971.  Sumitomo Corporation, another major trading company is at #9 – average income falling Y1.255m but personnel numbers only falling by 23.  Mitsubishi Corporation is at #78 – total average income has fallen by around Y260,000, and numbers of staff have dropped by 579 to 5,217.
As you might expect, given its recent problems and selling off of businesses, Toshiba is in the top rankings, at #15, having reduced the number of employees by 4,401, to 32,353, with average income falling by Y880,000. Similarly Sharp has also reduced total average income by around Y600,000 and cut staff at almost double the rate of Toshiba, by 8,175, to 13,363.  Sony has reduced staff even more, by 10,391 to 6,185, and total average income has fallen by Y410,000.
Eisai, the pharmaceuticals company, is at #23, having cut its staff by 938, to 3,246 and average income falling Y710,000.  There has been no obvious negative issues for Eisai over the past five years, so maybe this is the work of the CFO, Ryohei Yanagi, trying to keep ROE above 8%, as we previously blogged.
Eyebrows are being raised about Guillaume Cartier's appointment as a senior executive at Mitsubishi Motors.  Not only is he "only" 49, and French, but he was appointed a year ago by Nissan's Carlos Ghosn to head up overseas sales, a position usually reserved for people who have been seconded from Mitsubishi Corporation (my old employer), such as the current CEO Osamu Masuko.
In his first interview with the Japanese media, in Diamond magazine, Cartier says that working at Mitsubishi Motors is "an interesting challenge" and that the company has a strong desire to change.  He sees his mission as "to grow the company – it is very simple".
Changes that Cartier has undertaken in the past year included persuading Sojitz, (another Japanese trading company) to sell its 49% share in the Philippine production and sales company, making it a 100% subsidiary, after initial resistance from Sojitz to the proposal.  This approach could also impact joint ventures that Mitsubishi Motors has with Mitsubishi Corporation.
In Europe, Mitsubishi Motors only owns 25% of some dealers (France, Germany,Switzerland) and Mitsubishi Corporation owns 100% of Colt Car in the UK. There are two Russian subsidiaries, one of which is a joint venture between Mitsubishi Motors, Mitsubishi Corporation and Sinoco.  Mitsubishi Motors also owns 30% of PCMA Rus, a joint venture manufacturing cars and parts with Peugeot Citroen – which raises questions of how that is seen by Renault, Nissan's alliance partner.
Cartier says the key is whether performance is good, not so much whether it is a subsidiary or a joint venture.  He says 12 of his 15 major markets are steadily growing.  If the performance of a region is below expectations, then all options need to be considered.  The new style is not to rely on trading companies, but to review the business looking at performance first of all.
Mitsubishi Motor's performance is currently good – 1.1 million cars were sold in 2017, and increase of 19% since the fuel efficiency scandal of 2016.  It introduced new models like the Xpander and Eclipse Cross and also positioning ASEAN and Oceania as the backbone of its sales and marketing. The Xpander is manufactured in Indonesia and being introduced into Thailand and Vietnam.
Cartier hopes this V shaped recovery will improve employees' confidence, which has been missing up until now.  "We must change our mindset, which means accepting risk.  Mitsubishi's new brand message is "Drive your ambition" and this is also a message for our employees.  I want them to make decisions, to drive forward and not be afraid of growth"
Mitsubishi is an "abnormal" company, according to Cartier – because despite being a small manufacturer, it pioneered electric cars and plug in hybrid vehicles.  By becoming a member of a 10 million unit alliance, it will be able to expand its business options.  For example if US tariffs are raised on car imports, this would have a big impact on Mitsubishi, who export all their cars to the USA from Japan, but there is now the option of producing Mitsubishi cars at other alliance member factories in the USA.
Diamond finished the interview asking whether Cartier was prepared to live for a long time in Japan as an executive, clearly hinting about the possibility of him taking over from Masuko as CEO.  Cartier's response was that he has already brought his family over, and both he and his family are happy.  So the answer is "yes".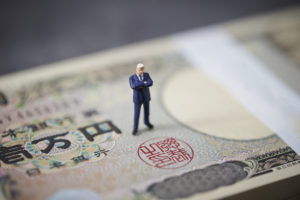 Ryohei Yanagi is a self-styled untypical Japanese business person – not only is he holding down several jobs – as CFO of Eisai pharmaceutical company and also a Visiting Professor at Toyo University and a Visiting Lecturer at Waseda University, but he has changed employers in his career, even more unusually switching from a foreign company (UBS) to a Japanese company, rather than the other way round.
ROE of 8% was not plucked from nowhere
He is also a very dynamic speaker, and not low on ego.  In his talk to the Daiwa Anglo-Japanese Foundation earlier this month he claimed credit for setting the ROE target of 8% in the Ito Review instigated by Prime Minister Abe as part of his Abenomics structural and governance reforms.  Yanagi was criticised for plucking this figure out of nowhere, which was seen as unrealistic given that ROE in Japan had been averaging at just over 5% over the past 30 years.
He took us through his research, to point out that the Price Book Ratio only moves into positive territory (in other words the company is valued on the stock market at a higher rate than the cash and assets it has) when ROE is 8% in Japan.  Apparently investors are discounting cash held by Japanese companies by 50%, because they fear that the company might make a stupid investment, and overpay, or just sleep on the cash instead of using it productively.  By contrast, US companies' average ROE over the past 28 years has been around 14%.
Shareholder value destruction rooted in Japan's main bank governance system
Yanagi sees the root cause of this shareholder value destruction as being the main-bank governance system that used to dominate Japanese blue chip companies – whereby each major company had a "main bank" from one of the keiretsu, who provided most of their funding, governance and cross shareholding along with other keiretsu members. This main bank system was crumbling even before the Ito Review set the ROE target and other corporate governance reforms.  Foreign shareholders now represent the largest shareholder group on average – owning around 30.8% of listed Japanese companies' shares, up from less than 10% 30 years' ago.  Since the governance reforms of 2012-2015, Japanese companies' ROE has increased to 9% and the Price Book Ratio has become positive.
Of course this analysis provoked quite a lot of questioning from the audience – many of whom were investing in Japanese companies, and had qualms about any notion that Japan should adopt wholesale the Anglo Saxon short term shareholder value maximization model.  Yanagi was not saying that Japanese companies should drop their commitment to the environmental and social elements of ESG, but should look at the return on equity of such initiatives too.
An investment in a Japanese company is not just an investment in the Japanese economy
He gave the example of Eisai's commitment to manufacturing – for free – medicine to eliminate the neglected tropical disease lymphatic filariasis. He believes Eisai will see a return to the cost of this, as it will increase the capacity utilization of Eisai's factory in India, and improve their skills, and this factory then has the capability to produce other profit making drugs which can be exported to Europe.
There are quite a few investment funds in the West focused on Japan, and also several funds that exclude Japan because of its historically low returns. Most emphasise that they are aiming for long term capital growth, rather than quick returns. Usually they define a "Japanese company" as listed in Japan, or if listed elsewhere, having the majority of their business in Japan.  As mentioned in another post, looking at companies like Takeda or SoftBank, or at this increase in foreign shareholdings, and more emphasis on return on equity – I do wonder whether the definition needs to be refined further.
An investment in a Japanese company is not just an investment in the Japanese economy.  Many Japanese companies have the majority of their revenues from outside Japan.  Takeda has more non-Japanese than Japanese executives.  Whilst no shareholder should tolerate value destruction, the Japanese company's traditional long term perspective, with emphasis on positive environmental and social contribution, rooted in specifics of the Japanese market and society, and now with added improved corporate governance, is surely an attractive one.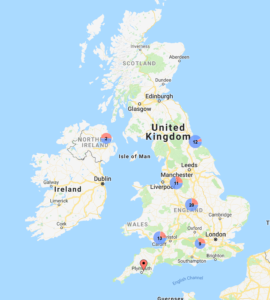 "1000 Japanese companies in the UK, employing around 140,000 people" are the figures usually given when talking about the impact of Japanese companies on the UK economy, and therefore what impact their reaction to various shades of Brexit might be. This reaction will depend on which sector they operate in, so I will undertake over the next few blog posts to break the 1000 down into groups of similar companies and draw out relevant data on them from our Rudlin Consulting database (if you would like to purchase a customised version of this database, please do contact us).
I have picked on the automotive sector first, and in particular those companies which have production sites in the UK.
There are 55 Japan affiliated companies who manufacture automotive components or vehicles in the UK, employing around 26,125 people – this represents 5.5% of all Japanese companies in the UK and nearly 19% of all employees of Japanese companies. Here's an interactive map of where they are located.
Why the focus on the automotive supply chain?
You can immediately see why automotive production has been the focus of a lot of debate about the need to stay in the single market and a customs union with the EU, protecting just-in-time supply chains between the UK and the EU. Not only does this sector employ a proportionately larger number of people per company than average, but production in this sector is based in areas which are badly in need of secure, skilled, blue collar jobs.
As you might predict if you have been following Brexit, most of these regions in which these companies' production sites are located  were strongly in favour of leaving the European Union.  According to our data (using the BBC's tool), the average vote for Leave in the regions with Japanese automotive production was 58%.
Automotive supply chain jobs not threatened by Brexit?
As other researchers have pointed out, voters may have had stronger reasons for voting Leave than concerns about automotive jobs.  Or maybe they did not believe that these jobs were under threat.
Perhaps Leavers thought Nissan, Toyota and Honda's production in the UK would be fine because the British are continuing to buy Qashqais, Yaris's and Civics, but actually 88% of Toyota's UK production is exported, 67% to Europe, 80% of Nissan's UK production is exported, 76% to Europe and 75-80% of Honda's UK production is exported to Europe. As we noted previously, the UK's car market is not big enough on its own to support a full scale car production industry.
Since Brexit, there have been reassurances from the UK government that Nissan (and presumably other car companies) will not be impacted by tariffs or regulatory impediments in their exports to Europe and all three companies have announced further investments in their UK operations.
On-shoring is not happening
But all three Japanese car companies have also emphasised that they need frictionless supply chains. So the obvious answer might be for all their suppliers to move production on-shore or at least set up bigger warehouses or assembly facilities in the UK.  Nissan has indeed encouraged its suppliers to set up near it in an industrial park in Sunderland. Those 55 companies who already have production in the UK might see a rise in orders and indeed some mention in their annual reports that there are potential benefits as well as costs to Brexit for them.
The problem with on-shoring is that, depending on where the company is in the supply chain, their own suppliers might be based in the EU, and in fact the same component  may need to pass back and forth between the EU and the UK several times, in which case they face higher costs if there is further instability in the exchange rate between sterling and the euro post Brexit and also frictions at the border when rules of origin and regulatory compliance need to be checked.
So for a truly frictionless supply chain and complete currency hedge, the whole chain will have to produce on-shore. This represents a substantial cost to suppliers, who are mostly trying to spread the risk by dual sourcing or globally sourcing and making sure that they are not too reliant on one car manufacturer as a customer.
In fact 40 of the 55 companies who already have production in the UK have production sites elsewhere in the EU, and the trend seems to be to open production sites in Slovakia or transfer production from the UK to the Czech Republic rather than onshore – reinforced by Jaguar Land Rover's new factory in Slovakia and the Toyota Peugeot Citroen manufacturing joint venture in the Czech Republic.
Many of the 15 who only have production in the UK also supply other industries beside the automotive sector, or are highly reliant on Honda or Nissan so will presumably stay so long as they stay. Or, if they supply other customers outside the UK, they can hope that the soon to be signed EU-Japan Economic Partnership Agreement's reduction of tariffs and regulatory harmonization for car parts means they can easily import components made in their factories in Japan into the EU.
It's not just about manufacturing though
Since the Chequers' agreement amongst the Conservative cabinet was announced, which, if accepted by the EU, would enable the continuing frictionless production supply chains, various other sectors have been pointing out that as 80% of the UK's GDP is actually generated by services, their exclusion from any single market-type deal does not make sense for the British economy.  Furthermore, the distinction between services and manufacturing is not as obvious as it used to be. 10% of Nissan Motor Manufacturing's 7500 staff are in design and development. Most of these staff are based at the technical centre in Cranfield. They represent a huge variety of nationalities and travel frequently across Europe and to Japan, working with counterparts in Nissan technical centres in Belgium, Russia and Spain. If it becomes difficult for them to travel for work, or send prototypes back and forth to clients – and if the UK no longer has any influence on the regulatory standards that they need to comply with – then it won't just be production jobs that are in danger of being offshored.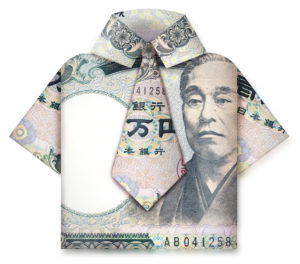 Japanese blue chip companies such as Hitachi, NEC, Panasonic,Sharp, Sony and Toshiba have been hiving off non-core business since 2011, through sales to private equity funds such as KKR, or to Chinese companies or other Japanese blue chips.  It often seemed like the kiss of death to the employees concerned at the time, but in many cases has resulted in successful turnarounds.
Fujitsu, having absorbed Toshiba's mobile phone business, then sold off the unit to Polaris, a domestic Japanese investment fund. According to Nikkei Business magazine's article on how to dispose of non core business, Polaris's President Yuji Kimura is confident of future growth, despite the stagnation of the Japanese  mobile phone market.  Polaris has decided to focus on the Raku Raku range of models, which are simplified smartphones, aimed at the elderly.
However other spin offs, such as Hitachi, Sony and Toshiba's LCD businesses merging to form Japan Display and Haier's acquisition of Sanyo's white goods business from Panasonic, are still struggling.
Nikkei Business magazine highlight three points for success:
1. Review business scope
WIthdraw from markets were there is strong price competition even if it is an area that the company has a strong technological edge and look for other markets where the technology can be put to use.  Even if this means shrinking the size of the business, build up a structure which is profitable.
2. Understand where you can win and make nimble, strategic investments
For example, only 1 year and 3 months after KKR acquired Panasonic's healthcare business in 2013, they surprised everyone by acquiring the diabetes healthcare business unit from Germany's Bayer.  The company was renamed PHC Holding.  Its CFO Masahiro Uda says "we never could have done this if we remained within Panasonic"
3. Change the organisational structure
When Pioneer sold off their DJ audio unit to KKR in 2015, they had to switch from a mass production product development mentality to a small scale production mentality.  Many processes became obviously unnecessary and were consquently realigned and development cycles became much shorter.
KKR Japan's CEO Hirofumi Hirano adds a further point – that you must not forget to have a dialogue with employees, to explain to the union what the aim of the acquisition is, and what you see as the potential for the company.  "There is still a strongly rooted mistrust of investment funds in Japan" he says.  In the 1990s they were seen as asset strippers, and even though their image has improved recently, you still hear them being called "vulture funds".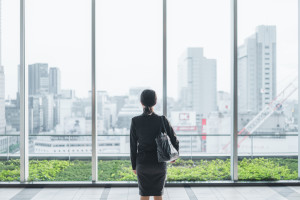 According to Nikkei Woman magazine, the clear message from this year's annual best places to work for women survey is that companies must have an "all inclusive" approach to diversity, not just focus on initiatives for women.
The survey was sent out to 4347 listed Japanese companies with more than 100 employees. The responses were scored on 4 factors – 2 for engagement (how many women were in management and progress on promoting women) and 2 for working practices (degree of work life balance, degree of diversity)
The companies in the rankings are not so different from previous years and other similar rankings  – a mix of non-Japanese companies (Johnson & Johnson at #1, IBM, Accenture), life insurance (Mitsui Sumitomo Life, Daiichi, Nissay, Sompo all in the top 20), health and beauty (Kao, Shiseido), recruitment agencies, retail and travel companies.  Non-life insurance financial services companies also make an appearance – the biggest riser being Sumitomo Mitsui Banking Corporation, up from #26 to #19.
The kind of initiatives Nikkei Business (reporting on the survey in its sister publication) highlights that are more widely inclusive include J&J's Open&Out, a LGBT network, unconscious bias training for male employees and having agile workplaces – where place and time of work are not restricted.
The four "do's and don'ts" the Nikkei Business proposes for a wider diversity and inclusion strategy are:
      

Don't think of better utilisation of women as just for women's benefit, see it as an important management strategy

      

Don't think of shorter hours as just for women who need to look after children, but have everyone working productively and efficiently

      

Don't have management development sessions for women only, add awareness raising sessions for male managers
 

     

Don't see childcare and elderly care as for women only, include men as carers
All pretty obvious really, and not necessarily practiced wholeheartedly in Europe either, but good to see it spelt out in a mainstream business magazine.  The message that this is about improving the work life of all employees is likely to resonate well with traditional Japanese companies, sometimes termed the "last functioning socialist organisations".