Rudlin Consulting provides expert analysis and consulting to people working in or with Japanese companies in Europe.
We focus particularly on how Japanese multinationals communicate outside Japan—internally and externally—their brand, values and mission.
For weekly news and views on Japanese business, subscribe to our free newsletter.
I was very sorry to hear of the death of Wally Olins on Monday.  Although he was 83, and had recently undergone an operation, it seemed he was recovering well, and I was looking forward to his postponed book launch for Brand New: The Shape of Brands to Come and maybe catching up with him before then as he had said he had wanted to chat further with me about Japan – which was typical of Wally, that despite his immense expertise and experience, he was always curious to know more and very generous and open to relative newcomers to his field.
We had worked together both when I was at Fujitsu for their new brand promise "shaping tomorrow with you" and after that with his company Saffron on another corporate vision project for a Japanese owned subsidiary.  As Ian Stephens, principal of Saffron, has said in their statement about his death, Wally was infectiously charming but also famously impatient – he sometimes sought reassurance from me that his straight talking style was not going to upset Japanese executives.  I understand his impatience now, as he did seem, despite his four score years and more, like a man who still had a lot more he wanted to give and achieve.  The best compliment we can pay him therefore is to buy his new book, and keep the flag flying for his work and ideas.
Fast Retailing, holding company for Uniqlo, Princesse tam.tam (lingerie), Comptoir des Cotonniers, Helmut Lang and other brands probably ought to be in our Top 30 Japanese employers ranking as Princesse tam.tam and Comptoir des Cotonniers have over 2000 employees between them. Both were originally French companies, so presumably the majority of those employees are in Europe – and adding on Helmut Lang and Theory (also both European origin) and Uniqlo's stores in Europe would presumably bring the total to back over 2000.
However, as a recent Nikkei Business article and interview with Tadashi Yanai, founder of Fast Retailing, points out, Fast Retailing still has a long way to go to catch up with H&M, its avowed target.  Although H&M is Swedish in origin, it has more outlets in Germany (418) and the UK (245) than in Sweden (177) – a factor of population size, of course, but Uniqlo, by comparison in its home region of Asia is overwhelmingly centred on Japan (849 shops versus 39 for H&M) but neck and neck in China (H&M having 205 shops to Uniqlo's 260).  There are 10 Uniqlo stores in the UK, 4 in Russia and 4 in France.
Yanai is determined that Fast Retailing will become truly global however "by being strongly local".  He expects that in 20 years time, most of the FR directors will be non-Japanese and wants half the staff in Japan HQ to be non-Japanese. Not only is he ensuring that non-Japanese staff are brought up through the ranks of overseas operations, but also that Japanese who work overseas "become local"  – "I tell those who go to work in New York to become New Yorkers", he says.  Expatriates from headquarters such as the UK CEO Takao Kuwahara are meant to "transmit my DNA on my behalf".  Recently, it's not so much that Japanese expatriates teach local staff, rather those local staff have now become able to teach new hires themselves.  It's "mass production" of overseas born Uniqlo people, comments Nikkei Business.
Certainly comments from employees on Glassdoor, the jobs and career site, do make reference to  a "cult-like" atmosphere and Fast Retailing has a reputation in Japan of riding its employees hard, even by Japanese standards.  However his recent announcement that the 16,000 contract staff in Japan would be offered permanent status is seen as revolutionary enough to merit being the front cover story of last week's Nikkei Business, accompanied by a large photo of Yanai himself, of course.
Honda announced on 25th March 2014 that it would be closing car plant 2 in its Swindon UK factory with a loss of 340 permanent jobs, due to slower than expected sales growth in Europe.  This follows on from over 500 redundancies last year, and looks to bring Honda's total employee level even further below that of Toyota and Nissan in Europe.
Honda's ranking in the top 30 Japanese companies in Europe (table below is revised from an earlier posting) remains unchanged, but this latest round may mean that Honda loses the #14 spot to Takeda (a new entrant).
Takeda, Japan's biggest pharmaceutical company, qualifies for the top 30 thanks to its acquisition of Nycomed in 2011.  The other new entrant (thank you to our friends at Lucite for pointing this out) is Mitsubishi Chemical Holding, the parent of Mitsubishi Chemical, Mitsubishi Rayon, Mitsubishi Tanabe Pharma and Mitsubishi Plastics.
The restructuring at Sony in the past year, globally and in Europe has also had an impact on its ranking, falling from #4 to #5.
One further addition to our statistics, by request from a former colleague at Fujitsu, are estimates of  what proportion of employees are in the Japan organisation.  This is indeed interesting, as it further highlights how global the companies are, and how over or under the average size they are in Europe.
We had already compiled some of this, but such estimates have been made a lot more difficult by the increase in holding company structures in Japan.  Holding companies had been banned in Japan for 50 years after the war, as the Occupation government tried to break up the "zaibatsu" groupings it felt had supported the military-fascistic regime in Japan.
Company groupings did nonetheless re-emerge, and the usual way their financial results and employee numbers were reported was to give figures for consolidated (renketsu, including group companies domestic and overseas) and parent company (tantai).  With individual companies, tantai numbers were a fairly good proxy for how many people were employed in Japan.  However, the holding company structure often means that 99% of the employees globally are in consolidated companies, and the tantai/parent only has a hundred or so staff.
So for example, Fujifilm Holdings covers both Fujifilm and Fuji Xerox, and 60 or so other companies as Fujifilm has diversified significantly from camera film making.  The 18,500 estimate for employees in Japan represents the sum of Fujifilm and Fuji Xerox employees in Japan, so should be seen as the "at least" minimum figure for how many employees actually are in Japan.
So with those further caveats, here's the new ranking.  Thanks to those who helped, and please keep the suggestions rolling in!:
Rank
Company
Total employees (consolidated)
% in Japan
% in Europe or EMEA
Employees in Europe or EMEA
1
Fujitsu

             

173,000
62%
18%

             

31,000
2
Toyota

             

333,498
21%
6%

             

20,051
3
Ricoh

             

107,431
37%
17%

             

17,850
4
Canon

 

             

197,000
36%
8%

             

16,000
5
Sony

             

146,600
38%
10%

             

14,953
6
Nissan

 

             

160,530
15%
9%

             

14,500
7
Asahi Glass

               

54,000
12%
26%

             

14,200
8
Denso

             

132,276
29%
10%

             

13,000
9
NSG

               

29,300
16%
42%

             

12,200
10
Toshiba

             

206,087
55%
6%

             

11,562
11
Sumitomo Electric Group

             

206,323
2%
6%

             

11,500
12
Hitachi

             

323,000
66%
4%

             

11,500
13
Panasonic

             

293,742
40%
4%

             

10,500
14
Honda

             

180,000
13%
4%

               

8,000
15
Takeda

               

30,481
22%
25%

               

7,620
16
NTT Data

               

61,000
18%
10%

               

6,000
17
NYK

 

               

53,192
16%
10%

               

5,222
18
Fujifilm Holdings

               

80,322
23%
6%

               

5,000
19
Olympus

               

32,937
9%
14%

               

4,500
19
Mitsubishi Chemical Holding

               

55,000
78%
8%

               

4,500
21
Astellas

               

17,454
47%
25%

               

4,300
22
Nomura

               

27,956
57%
13%

               

3,618
23
Sharp

 

               

50,644
48%
5%

               

2,674
24
Daiichi Sankyo

               

32,000
29%
8%

               

2,500
25
Kao

               

33,350
66%
7%

               

2,400
26
Seiko Epson
73,639
25%
3%

               

2,153
26
Omron

               

35,411
32%
6%

               

2,000
27
NEC

             

102,375
79%
2%

               

1,800
29
Horiba

                 

5,787
40%
29%

               

1,700
30
Bank of Tokyo-Mitsubishi UFJ

               

36,499
78%
4%

               

1,500
TOTAL

         

3,270,834
37%
11%

           

264,303
I mentioned previously how so many of the Japanese companies I met with during my last trip to Japan in December 2013 said that the only way they could see to make the radical changes needed to globalize successfully would be to move the corporate headquarters out of Japan.  Of course this would be way too radical for risk averse Japanese companies to try to do in one swoop, however many have been moving the headquarters of some of their business lines or functions overseas, for example to Singapore, over the past few years.
So Hitachi's announcement that it will move its rail business to the UK is not totally unprecedented, but exciting nonetheless for those of us who think the "transnational" model of running multinationals is the way to move forwards.  Hitachi had already acquired The Railway Engineering Company (and Horizon Nuclear Power) in the UK in recent years, with the result that around 11,500 employees are employed by Hitachi and its subsidiaries in Europe.
This puts it in the top 20 of Japanese employers in Europe, and if it really does add another 1,500 employees to its rail business in Europe as forecast, this will propel them into the top 10.
My current estimation (with many caveats) of the top 30 Japanese companies in Europe in terms of employee numbers is as below.  Many of them have reached this size through large scale acquisitions (Fujitsu, Ricoh, Asahi Glass, NSG).  They represent around 250,000 (minus Africa/Middle East employees) of the 437,000 or so employees JETRO estimates are employed by Japanese companies in Europe.  (This list has been subsequently revised – please see later posting)
Rank
Company
Total employees (consolidated)
% in Europe or EMEA
Employees in Europe or EMEA
1
Fujitsu

             

173,000
18%

             

31,000
2
Toyota

             

325,905
6%

             

17,941
3
Ricoh

             

107,431
17%

             

17,850
4
Sony

             

162,700
10%

             

16,100
5
Canon

 

             

197,000
8%

             

16,000
6
Nissan

 

             

157,365
9%

             

14,500
7
Asahi Glass

               

50,000
28%

             

14,200
8
Denso

             

130,000
10%

             

13,000
9
NSG

               

29,500
42%

             

12,500
10
Toshiba

             

210,000
6%

             

11,598
11
Sumitomo Electric Industries

             

206,323
6%

             

11,538
12
Hitachi

             

323,000
4%

             

11,500
13
Panasonic

             

330,767
3%

             

10,500
14
Honda

             

190,000
5%

             

10,000
15
NTT Data

               

61,000
11%

               

6,800
16
Fujifilm

               

81,691
6%

               

5,000
17
NYK

 

               

55,000
9%

               

5,000
18
Olympus

               

32,937
14%

               

4,500
19
Astellas

               

17,454
25%

               

4,300
20
Nomura

               

27,956
13%

               

3,618
21
Sharp

 

               

56,756
5%

               

2,674
22
Daiichi Sankyo

               

32,000
8%

               

2,500
23
Kao

               

34,069
7%

               

2,449
24
Omron

               

35,411
6%

               

2,000
25
NEC

             

102,375
2%

               

1,800
26
Seiko Epson
73,639
2%

               

1,727
27
Horiba

                 

5,530
31%

               

1,700
28
Bank of Tokyo-Mitsubishi UFJ

               

36,499
4%

               

1,500
29
Terumo

               

19,261
6%

               

1,125
30
Murata

               

36,967
3%

               

1,093
I alway find the rankings published each year by various organisations in Japan of which companies are most favoured by university graduates fascinating reading, giving insights into how the economy and societal trends have impacted the reputation of Japan's blue chips.
The Nikkei Business magazine has focused on the rankings produced by Rakuten's social networking site for graduates, the biggest of its type in Japan, this year.
Travel companies seem to have done particularly well this year overall – All Nippon Airways is top of the rankings (up from #2) Japan Travel Bureau at #3 (up from 8) and JAL resurgent after its successful restructuring in at #4 from no rank last year.  Maybe this is due to the high profile activities of these companies in trying to get more tourists to Japan, especially in light of the 2020 Tokyo Olympics.
Advertising agencies are also back in favour – Number 2 is Dentsu, the mammoth advertising agency (up from #3), Hakuhodo is at #6 up from #14 and ADK has risen from 112 to 78.
Banks have lost ground -  Bank of Tokyo-Mitsubishi UFJ has dropped to #5 from #1, Sumitomo Mitsui Banking Corp slipped from #6 to #9 and Mizuho is down to #13 from #9 but insurance companies seem to be popular again – Sompo Japan is up to #65 from 128 and Sumitomo Life also rising from 151 to 68.
Other big fallers are Ajinomoto (down to #23 from #11), Mitsubishi Corporation (down to #26 from #13), P&G Japan (down from 10 to #39, whereas domestic rival Kao has improved from #23 to #11) and Canon (down at 94 from 54, presumably following some disappointing financial results in 2013), Lotte (down to 89 from 56), NTT Docomo (86 down from 52).
Graduates from the top ten universities heavily favoured trading companies (Mitsui, Mitsubishi Corp, Itochu, Marubeni and Sumitomo Corp all in their top 10) and advertising agencies (Dentsu and Hakuhodo)
Reasons for favouring certain companies:
I could become President, have authority to make decisions – trading companies ranked highest
I can become a specialist in a certain field and lead projects – Toyota, Kawasaki Heavy Industries
My seniors recommended it – Tokio Marine Insurance, Yokohama Bank, Bank of Tokyo Mitsubishi UFJ
My parents/teachers recommended it – All Nippon Airways, Japan Rail, Mitsubishi Corp, Bank of Tokyo Mitsubishi UFJ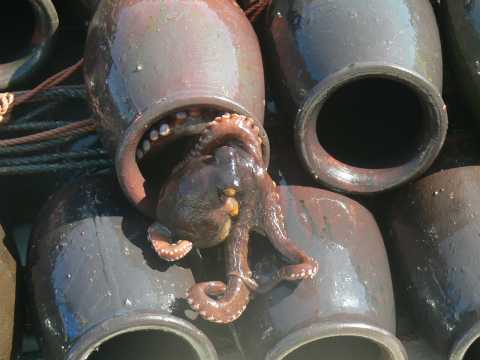 Only 17% of CEOs in Japan have worked outside Japan, according to a survey of 2500 listed global companies in 2012 by Booz & Co.  This compares to the overall global average of 45%, and is barely higher than China's 15%.  25% of Japan's CEOs have worked in another company (and I bet many of them are related subsidiaries or joint ventures of the Japan parent) whereas 86% of North American and 88% of Western European CEOs have worked elsewhere.
The Nikkei Business magazine quotes this survey, in an article (Japanese, subscription) speculating as to whether a new CEO can really help Japanese companies compete globally.  The positive side to hiring from within, it points out, is that it encourages a competitive but also united spirit within the company, but the negative side is that it leads to a reluctance to make risky decisions such as undertaking M&As or restructuring unprofitable businesses.
Booz & Co also comments that "it will be difficult for a company headed by a senior executive who has not had to make tough decisions about subsidiaries and overseas operations to compete globally".  There are some signs that Japanese companies are aware of this judging by the appointments being announced for this April – for example Konica Minolta's next President headed a US acquisition.
This "takotsubo"  (literally "octopus pot" – a way of catching octopus by trapping it in a pot) management selection style means that Japanese companies are also not very adept at bringing in outside management experience.  Shiseido has just hired the former chairman of Coca Cola Japan as its President and LIXIL has hired executives from Misumi and Calbee, but these are rare examples.
Similarly, most instances of hiring foreign executives (Sony, NSG) have not gone well.  Only 1% of CEOs appointed in Japan over 2009-2012 were "foreign" compared to 17% in North America and 30% in Western Europe.  As noted previously, it is not surprising there is much doubt as to whether Takeda's new President, Christophe Weber, from GSK, will be able to buck the trend.
I'm one of the interviewees at the Japan Intercultural Consulting "Succeeding in a Japanese Company Telesummit" – a series of interviews broadcast over the internet over March 4th-20th.
It's free to register and listen during that period, and downloads can also be bought as a package later,
More details here.
My topic is "Profitable Relationship Building with External and Internal Japanese  Customers" and the other topics are:
Working with Your Japanese Boss

Understanding and Influencing Decision Makers in Your Japanese Company

Becoming Part of the Team in Your Japanese Workplace

Relationship Building with Japanese — in Person and From Afar

Skillfully Interfacing with the Parent Company in Japan

The Influence of Cultural Differences on Business Processes and How to Improve Your Performance

How to Keep Japanese From Falling Asleep in Your Presentation

How to Give and Receive Feedback with Japanese

How to Avoid Meeting Madness in Your Japanese Company

Same Words, Different Meanings — Effective Communication with Japanese

Getting on the Same Page in Your Japanese Company
Diamond magazine has countered Nikkei Business's report on the "Great Places to Work" survey with its own report, in conjunction with Vorkers, a Japanese site similar to Glassdoor, which collects employee's ratings (48,000 of them so far) on their employers in areas such as motivation, remuneration, corporate culture, career development and work life balance.
Despite the different methodology, the surveys share the same conclusion, that foreign owned firms in Japan seem to have happier employees than Japan-owned firms.  Magazine publisher Recruit Marketing Partners is the top rated company, followed by Google Japan, then the US measurement instrument company Agilent is at #3 and US automated test equipment company Japan National Instruments is at #4.
Diamond adds some interesting analysis of its own, grouping the top ranking companies into several categories. Firstly the "Recruit" group, Recruit being a major Japanese recruitment company which has diversified into all sorts of areas including publishing.
Secondly the "Carnivore group" – up or out type companies such as Goldman Sachs, Boston Consulting Group, McKinsey, GE Healthcare and P&G.
Then comes the "go-go" group – rapidly expanding companies such as CyberAgent and Softbank.
The herbivore group (dull but "feel at home") include Agilent, Japan National Instruments and Boehringer Ingelheim.
Finally, the "old school" but "unexpectedly global" group which include Komatsu, Idemitsu, Chiyoda, Teijin and Mitsui OSK.
Actually I had fun at lunch last week with one Japanese executive from Mitsui OSK (shipping company) and Mitsui Shipbuilding – teasing them as to how close the Mitsui keiretsu relationship was.  They were adamant they were far less in each other's pockets than their Mitsubishi equivalents.  The Mitsui group is definitely "old school" in ethos, but has been global for over a century now.