Rudlin Consulting provides expert analysis and consulting to people working in or with Japanese companies in Europe, Middle East and Africa.
Whether you want to approach a Japan-owned company as a supplier, subsidiary or partner, we can help you understand its corporate culture and strategy, and identify the people and processes necessary for success.
We can also provide cultural awareness training for your employees, as the exclusive representative in Europe, Middle East and Africa of Japan Intercultural Consulting.
For more insights into Japanese corporate cultures, subscribe to our free newsletter.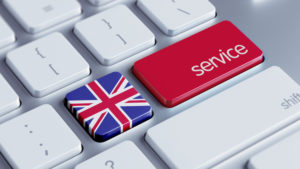 Toyota's warnings at Davos that it was having to consider how to survive in the UK after Brexit were preceded by a very under-the-radar announcement that it would be making some redundancies at its Burnaston plant.  It is a sign of what is to come for Japanese companies in the UK and our research (see below) shows that a rebalancing is already being undertaken by many.  Whereas Japanese companies increased their employment across Europe, Middle East & Africa by nearly 10% from 2015 to 2016, UK employment levels remained unchanged.*
Toyota said that a reduction was necessary as the initial burst of production needed for new models introduced in 2015 is now stabilising.  Indeed, Toyota's total workforce in the UK had already fallen by 3.6% in 2015/6 and by 9% across Europe.
Now it is clear that the UK really will leave the Single Market and the Customs Union, where there are long term trends in place already, such as automation or phasing in and out of models, Brexit will provide the impetus to rebalance resources across Europe and beyond, to maintain integration in the Single Market or ease of serving other growth markets if Europe disintegrates further and/or growth slows.  Hardline Brexiters, Trump and Putin may welcome the disintegration of regional arrangements, but multinationals are moving in the opposite direction, integrating their operations regionally and globally both in terms of supply chains and people.
Fujitsu already made similar move in announcing 1800 redundancies in the UK in October 2016 – part of 3300 job losses across Europe.  It stated it was not related to the Brexit referendum result, but part of a longer term transformation programme – mainly to do with moving more of its IT services support to lower cost bases.
Our latest compilation of the Top 30 Japanese companies in Europe and the UK – now most annual reports for year ending March 2016 have been published –  shows that this process had indeed started before the referendum.  Fujitsu has reduced its workforce in the region it calls EMEIA (Europe, Middle East, India and Africa) by 3% from 2015/2016 and in the UK (in which it was possibly overweight anyway, thanks to the legacy of having acquired ICL) by far more – 15%.
Fujitsu is still the biggest Japanese employer in the UK, with over 10,000 employees, but if it dips much below 8000 as a result of the latest round of redundancies, then Nissan, currently with 7,657 employees, might well overtake it.  Nissan's UK workforce grew 2.9% in 2015/6 and actually shrank across Europe by 2% in the same period.  Calsonic Kansei, one of Nissan's key suppliers, also grew its workforce by 10% in the UK to 1,729.  Presumably this will hold until the new Nissan models will come online in 2018, giving a year or two of high production and sales, until, well, see Toyota above.  As previously posted, car manufacturers operate on the basis that a factory needs to serve a market of at least 100 million consumers in order to be sustainable.  The EU qualifies, as does Russia – but the UK on its own does not.
Other big increases in the UK workforce were due to acquisitions – Mitsui Sumitomo & Aioi Nissay Dowa group acquiring Lloyds underwriters Amlin and Insure The Box, Softbank acquiring ARM  and Dentsu Aegis acquiring various agencies in Europe and the US, absorbing their UK workforce with it. Organic growth highlights were Hitachi (18.8% up) – building on its Hitachi Rail acquisitions – soon to be employing 900 at its Newton Aycliffe plant, Ricoh (up 11% in the UK but only 1% in Europe) and Fast Retailing, expanding their Uniqlo and Comptoir des Cotonniers retail business, with 1100 employees, up from 700 the previous year.
However Hitachi expanded 70% across Europe, presumably due to the acquisition of Ansaldo rail businesses in Italy and NTT Data also expanded across Europe by 20% to 18,000 employees  (NTT Data's UK workforce is surprisingly small compared to Fujitsu, at around 450 as of 2015). Automotive supplier Yazaki grew by almost a quarter, to reach 45,200 – a large part of this being its manufacturing in Eastern Europe and North Africa – similar locations to the largest Japanese employer in Europe, Sumitomo Electric Wiring, whose workforce shrank slightly to 56,273.
What next for the UK and Japanese companies in Europe?
I would give up any hope of expanding automotive manufacturing in the UK.  As outlined above, the shift eastwards in Europe, to Turkey and also to north Africa has already taken place.  Which would seem to negate the need for suppliers to be in the Single Market, but note that the EU already has free trade deals with Egypt, Tunisia, Morocco and Algeria and Turkey is in a customs union with the EU.  Yazaki (headquartered in Germany) and Sumitomo Electric Wiring (tripartite headquarters across Italy, UK and Germany) used to have manufacturing in the UK but are now largely focused on pre-sales engineering.  Calsonic Kansei still has manufacturing in the UK, but has recently invested in plants in Spain and Russia where – not at all coincidentally – Nissan has factories.
The UK still has strength in the design side of the automotive engineering, and I wonder whether the UK government deal with Nissan didn't have some kind of grant or tax break for supporting this, to cushion the blow to the manufacturing side from any tariffs.  Although Nissan's European headquarters are in Switzerland, there is a large design centre in the UK.  Similarly Honda has an R&D operation as well as a Formula 1 team based in the UK.
80% of the UK economy is services, and we are a net exporter of services.  Delivery of services requires you to be close to the customer.  So what the UK needs to ensure is that the customers with the biggest budgets – the regional headquarters of multinationals, Japanese or otherwise – stay in the UK.   Our professional services – not just finance but R&D, design, IT, consulting, accounting, legal, marketing – all thrive because they are supporting these regional headquarters. Lower taxes and deregulation might keep some headquarters happy, but ultimately they have to worry about their proximity to customers too.  By leaving the European Union, the UK will be perceived as less close to EU customers (and also the regulatory environment).  We have to hope that the positive, proactive "global" UK that Theresa May outlined in her recent speech really does come together, and deals are quickly negotiated with African and Middle Eastern countries, so that the UK can position itself as the EMEA (Europe, Middle East & Africa) regional headquarters of choice.
The UK is currently the regional base for over half of the top 30 Japanese companies in Europe or EMEA.  Keeping it that way will also, as the Japanese government itself pointed out, need a free movement of people in the region and a liberal immigration policy.  If this becomes an issue, which it already has of course, the other trend I have highlighted elsewhere, of an increasingly virtual structure, where regional management and functions are scattered around a region, will intensify and will be increasingly difficult to service from one location, particularly if that location is not part of the Single Market or immigration has become a sticking point in free trade agreements.
If this happens, then UK services companies are going to have to open more offices across the EMEA region and relocate their personnel accordingly – as various banks have already announced.
(*Percentages calculated only for those companies where annual report figures for the EMEA or Europe region and the UK were available.)
The Top 30 Japanese employers in Europe (showing changes 2014/5 to 2015/6 in total global employees, Japan based employees, EMEA based employees) and the Top 30 Japanese employers in the UK (showing changes 2014/5 to 2015/6 in total UK employees, regional HQ location, region covered, percentage UK of Europe and of global) are available to download, if you sign up for our free monthly newsletter:
Top 30 Japanese Employers in Europe:
Top 30 Japanese Employers in the UK: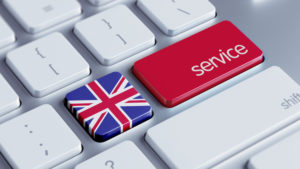 I asked two Japanese expatriates who were both on their second stint in the UK what had changed since their last stay in the UK 10 or so years' ago.  To my surprise, both said that they thought customer service had improved.
My initial response was that this was probably due to the big increase in people from Eastern Europe who are working as waiters, shop assistants and so on, with far more enthusiasm and efficiency than had been normal in the UK in the past.
But on discussing this further, and thinking about my own recent experiences, I realise the improvement they were talking about has more to do with technology than the cultural mindset of service sector employees.  One of the Japanese expatriates said "when you arrange for someone to come to your house to repair something, they arrive when they say they will".  This used not to be the case – you could take a whole day off work waiting for someone and not even get a phone call explaining the delay.
When I recently bought a washing machine, I purchased it online and chose a time slot and a day for it to be delivered.  I was surprised to see that they would deliver up until 21:00 in the evening. Then followed a series of emails and text messages from the store to remind me and offer me a chance to change the slot if I wanted.  It's common to receive further texts during the day of delivery, narrowing the time slot down to within one hour.  The delivery and trades people have some kind of handheld GPS device which helps them map their journeys from customer to customer and they can be tracked and assisted by support staff in their company offices.
Then, this week, I realised another item I had bought from Amazon had not arrived, so I went online, clicked the "call me" button and within 1 second someone (I suspect from an Indian call centre) called my mobile phone and immediately arranged for a replacement to be sent the next day.
I realise this kind of service is available in other countries, but it does seem according to various surveys that the British are the biggest online shoppers in the world.  According to McKinsey, although internet penetration is higher in the US that Europeans, Europeans are much more likely to prefer a digital channel for buying or using banking services than Americans.
Services now account for 80% of the UK economy, so it's no surprise I suppose that the UK has got better at delivering them.  For Japanese companies, despite Brexit, the British service sector still represents an investment opportunity – both to gain technology and to reach other virtual markets in the rest of the world. It is noticeable that recent acquisitions or investments into the UK from Japan have largely been in the technology-based services sector– from Softbank acquiring ARM, through to Aioi Nissay Dowa acquiring InsuretheBox.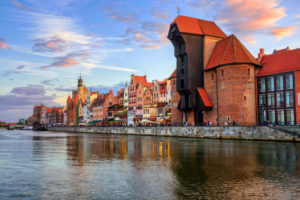 It has just been announced that Polish immigrants now represent the largest group of foreigners living in the UK. There were around 831,000 Polish born residents in the UK in 2015, overtaking Indian born residents.  This represents a ¾ million increase on 2004 when Poland joined the EU, showing the scale and speed of the increase in immigrants from Eastern Europe – one of the root causes of the British vote to leave the EU.
Poland's connections to the UK go back further than this, however.  A large group of Poles settled in the UK after WWII, and were welcomed because of the well-known heroism of Polish pilots who flew in the Battle of Britain.
Trading links with Poland date back even further, to medieval times and the Hanseatic League of merchants who did business with each other from Russia through the Baltics to Germany, the Low Countries and into the UK.
But it would be wrong to think of this as a European Union style alliance of nation states.  League membership was by city.  Many of the European countries as we know them now did not exist then. Member cities such as Gdansk or the Hanse capital of Luebeck were semi-autonomous, or controlled by the Holy Roman Empire, or Prussia, or Denmark.  And of course more recently the eastern part was under the domain of Soviet communism.
If you visit Gdansk now, the old part of the city is in fact a beautiful, partly imaginary, post-war reconstruction of a pre-Germanic past.  The actual old city had been obliterated by WWII.  Also worth a visit is the European Solidarity Centre which commemorates the Gdansk shipyard union Solidarnosc and asserts that its strike in 1980/1 started the process which culminated in the Berlin Wall coming down in 1989.
British people who are sceptical about the European Union say it should only be about trade, and that they want control back of UK borders, money and laws.  For other EU members, the EU was a way of regaining control of their lives, by ensuring peace and democracy. This aim was not so appealing to the UK, who had no such recent experience of ground wars, dictatorships or being occupied by other countries.
Many people and political leaders in other EU member countries – including Poland – are beginning to say the EU represents a threat to their national sovereignty too. Border controls are being reinstated and there is a strong possibility eventually the EU itself will disintegrate.
Polish residents in the UK are worrying what will happen to them post Brexit and the millions of British who live elsewhere in the EU are also nervous for their future.
Many of the people working for Japanese companies in the EU are migrants, so I think the best thing Japanese companies can do right now is reassure them that they will look after them, and if necessary offer relocation to subsidiaries in other countries, including Japan.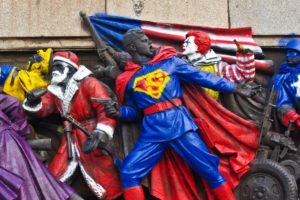 For people of my age, the election of Donald Trump has brought back memories of when Ronald Reagan was elected, thirty five years' ago.  I remember, as a teenager, the British pop songs and TV programmes that mocked Americans for electing Reagan – a seemingly dumb, war mongering, B movie actor.
I lived in Pennsylvania for half a year just before Reagan's election, and attended an American high school.  It was a formative experience for me, to see for myself the land of opportunity, where everything seemed new, energetic and plentiful, compared to the recession, high unemployment and riots back in the UK.
Most Europeans, not just the British, have these similarly mixed feelings about the US and the American people – of admiration, resentment and fear.  My parents and grandparents remember the American GIs who were stationed in Europe – to whom they were both grateful for helping liberate Europe – but also resentful of how much wealthier and better fed they seemed than the rest of the population.
I suspect many Japanese people also share these feelings and memories.  However, the American influence on Japan is even stronger, thanks to the long post war occupation, the continuing influence of American popular culture, and the fact that the English taught in Japanese schools is American English.
There is a tendency therefore in Japan for those who do not know other Western cultures, to think that the American communication style will work everywhere. But Europeans are very sensitive to anything that Japanese companies do which seems too obviously American.  If Japanese companies try to manage their overseas operations via their US subsidiaries, resentments rapidly build up in Europe about the top-down, highly controlling American management style.
Japanese expatriates who arrive in Europe after experience in the US become frustrated, because the American "just do it" approach to directing subordinates does not work.  It is not as easy to fire people for incompetence or unwillingness to follow direction in Europe as it is in the USA.  Europeans expect to be consulted about their work and think it is important to raise objections or point out problems to their bosses if there are justifiable concerns.
Even written materials which are too obviously American can cause resistance.  Twice now I have been told by clients that they did not want to roll out e-learning and manuals which had been developed in Japan, using American style English and tone.
American companies are good at persuading Japanese customers that the American way is the globally accepted international standard way and that is true to some extent.  However, the best solution, which we also use at Japan Intercultural Consulting for our training, is to have American core material – so that our customers get the same basic approach around the world –  but allow a great deal of customisation to suit the tastes of specific countries.
Getting this balance right is not easy, but if the effort is not made, stubborn European resistance and rejection will result.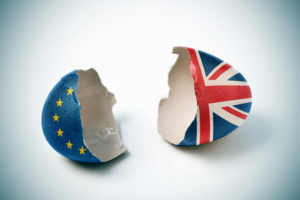 Whatever the outcome of the Brexit negotiations, there are two conclusions we can already draw from what has happened so far in terms of how Japanese businesses may need to respond.  One is that structural trends in business which were already apparent in Europe will be accelerated and the second is that differences in negotiating approaches in Europe have not disappeared, despite nearly 25 years of the European Union and single market.
In terms of organisational structure, there is a strange mix of physical disintegration and integration on a virtual level.  Currently, over half of the biggest Japanese companies in Europe have their regional headquarters in the UK.  This is because of the depth of financial and other support services that are available in the UK, the free movement of people that enables hiring many different nationalities in the UK and the ease of doing business in the English language.  The latter advantage will not disappear with Brexit of course, but if the UK does not keep its EU financial 'passport', it's possible a lot of the financial and other services will shift to Amsterdam or Frankfurt.  Brexit may also bring an end to the free movement of people between the EU and the UK.
In any case, many of the back office, functional, coordinating jobs were already moving out of the UK.  Cheaper, English speaking, well-educated employees can be found elsewhere in the EU.  Larger Japanese companies are already developing a pan-European management structure, where teams are scattered across several countries.  This is proving very challenging for Japanese employees who are more accustomed to a team working physically together, seated in a cluster of desks.  Japanese companies will have to put processes in place to enable discussions and decisions to be made via remote communications and maintain a generous budget for travel.
The second conclusion is that Europe is still split between the pragmatists and the principles and rules based groups.  The pragmatists, often traditional trading nations such as the UK, Netherlands and Denmark, tend to negotiate step by step, concession by concession, whereas Japanese companies prefer to acquire all information and know all the risks before making one big decision.  Principles and rules based countries such as France or Germany clash with the pragmatists because they refuse to make concessions on what they would consider key principles (such as the free movement of people) or deviate from the rules which have been set in place.
This is why the European Union has become bogged down so often in processes and discussions and seems remote, bureaucratic and corrupt to ordinary citizens.  Many Europeans – particularly the British – don't understand or are not attracted to a European vision for the future. There are two further lessons to be learnt from this for business.  One is that, no matter what happens in Europe, the British provide an important counterbalance to the French and the Germans in a management team, if you want pragmatic solutions to problems.  The second is that management must not become so inward looking that it fails to communicate its vision to the rest of the employees.
John Plender sought in a recent Financial Times article to answer the question of why Japan has not had a populist uprising, as so much of the Western world has.   One of the possible factors he mentions – the lack of much immigration – was of course immediately taken up in the comments section by various Brexit supporters.
Weeding through the comments and looking at those from people who are actually Japanese or have lived or live in Japan gave some further possible answers and also prompted me to add a few of my own:
Japan already has a nationalist, nativist, populist government
Shinzo Abe – on course to be the longest serving Prime Minister in post-war Japan – is openly nationalist, elected on a ticket of making Japan not "great" again but "normal" – not just to get the economy growing, but also as in being able to defend itself.  He was the first foreign leader to visit Trump after his election.
On the immigration front however, his government has quietly been making all kinds of exceptions to the rules in allowing immigration, in particular sectors that are suffering labour shortages, such as the care sector (elderly and childcare).  More Asian immigrants, on company traineeships, have been arriving – although there has been controversy over whether they are just cheap, exploited, temporary labour in disguise.
Different histories of immigration
It is true that Japan has not had any large scale immigration, for more than 2000 years.  Some Chinese and Korean immigration happened before and during WWII and this remains controversial to this day as much of it was forced labour.  Many ethnic Chinese and Koreans have not taken up Japanese nationality.  Koreans in particular have been the targets of occasional abuse from far right groups.
But to see this as a lesson for the UK would be a failure to see the utterly different starting points for the two countries.  98% of the Japanese population is Japanese.  Whereas across Europe we have been migrating around each other's countries for more than 3000 years, and more recently large scale migrations from former colonies and war zones – most countries in Europe have over 10% of the population who are not "native".  If you want to go back to ethnically homogenous nations, then some elaborate and intricate ethnic cleansing will have to happen.  I for one will be suspect, as by German definitions, I am an immigrant as my mother was not born in the UK.
The cultural argument
A subtle point was made in one of the FT comments, lost on the Brexiteers perhaps, that because Japan does not have a large immigrant population, immigrants cannot be blamed by Japanese people for any woes they may have.  Indeed, one of the strongest cultural characteristics of Japanese people is their urge for self improvement, to the point of blaming themselves or pointing to other's personal failings, rather than blaming the economy or politicians or the "elite".
The economic argument – why Donald Trump might be right
Although income inequality is rising in Japan (and surveys show it is the number one concern for Japanese people – whereas in the UK it was immigration and for the US it was terrorism), unemployment remains low.  The workforce is shrinking and the population is ageing.  Japan leads the world in robotics yet has retained a strong manufacturing base.  Real wages have not increase much, rather decreased over the past few decades.  The rate of post retirement employment is high.
Initially I was repelled by the bullying way Trump seemed to have forced Ford to rethink its plans to expand manufacturing in Mexico and instead increase production in its Michigan factory, but as another comment in the Financial Times points out, these decisions are hotly contested inside multinationals too.  Many managers would rather keep production in their home base, or near the target market if there is sufficient incentive or momentum to do so.  The success of Nissan and Toyota factories in the UK shows that the UK could have kept more of its manufacturing base, if we had the management capability and will to do so.  Robotics create jobs too, if companies are prepared to invest.
The economic argument part 2 – why Theresa May might be right
One of the factors behind Japan's relative economic stability and a lack of economic and social disenfranchisement amongst the Japanese "working class" has been the lifetime employment system that still prevails in the larger Japanese companies.  In exchange for being multi-skilled generalists, willing to relocate where necessary, Japanese companies offered security of employment right through to retirement and often beyond.
It is generally felt this system – put in place after WWII to deal with labour shortages – has reached the natural end of its life.  The number of workers on short term, insecure contracts has been rising steadily.  However, I have felt for many years now that it should not be thrown out wholesale in favour of Anglo Saxon shareholder value based capitalism, and despite many adjustments, it still persists.
The downsides of the system have been that while it works in times of economic growth, in times of low growth, when you might want to shrink middle to senior management cohorts, or the shopfloor workforce, you can't and end up with a large number of expensive, underemployed managers and workers, which are a drain on morale, barriers to change and of course, costly.
Secondly, because people are secure in their jobs, and generalists, there is a lack of clarity about expectations and performance management.  Loyalty is rewarded and pay is seniority based rather than performance based.  Consequently many Japanese employees have found themselves proving their dedication by working long hours, rather than trying to be as productive as possible in a normal working day.  This has resulted in it being almost impossible to have a two career family, as it is just not practical to have children and have both working until late at night every day, however good the childcare provision is.  Furthermore, the mental stress caused is clear, as illustrated by the recent suicide of an overworked graduate recruit at Dentsu, the Japanese advertising giant.
Thirdly, Japanese corporate governance has been poor, as the company executives are mostly lifetimers who cover up for each other, and don't realise when the company is behaving perversely, because they have no experience of other corporate cultures.
The Japanese government response to these pressures is in part to legislate, but mainly to put pressure on Japanese companies themselves to reduce overtime, hire and promote more women and improve their corporate governance.
The view which still persists in Japan is that companies themselves have obligations to society – both to the people they hire and to contribute in terms of taxes and corporate social responsibility and environmental sustainability.
Although I was not happy to be accused of being a "citizen of nowhere" by Theresa May, looking at the context of what she was saying – which was in part about the social obligations global businesspeople have – and the clumsy suggestion from Amber Rudd that companies should tally up their non-native employees, I acknowledge that there is a point to be made that companies in the UK need to take more responsibility for who they hire – British and non-British.
The education argument
The UK's economy is now 80% services based, but this should not mean that companies should get away with zero hour contracts and pressurising British workers with the threat of using cheaper temporary labour from the EU. They should indeed be offering apprenticeships and job security but also multi-skilling opportunities to counterbalance that.  They should help and expect their workers to relocate or retrain them (or as in Japanese factories, spend time on cleaning and maintenance if production has to be ratcheted down) rather than simply shut down and fire.
We need better managers and companies willing to invest in training and technology, but the UK also needs a better educated workforce to begin with.  That's where government does have a role, as all the evidence shows early intervention in children's education is the most effective in reducing later inequalities.  And that's probably the final factor in Japan's lack of a populist uprising – a highly skilled, highly educated workforce.
A few Japanese companies have started shifting the global headquarters of certain business units outside of Japan.  For example, Hitachi set up its global rail headquarters in London in 2014 and Terumo, in 2011 moved its blood management and artificial heart businesses to the USA.  As the Nikkei Business magazine points out, this was mainly a case of moving certain functions over to acquired companies and did not result in overseas operations embarking on a wholesale restructuring of the business.
In the case of Nidec, however, the acquisition of KB Electronics, based in Florida USA in 2015 was instigated by Nidec Motors Corporation, Nidec's subsidiary in Missouri USA.  NMC was part of Emerson Motors in a previous incarnation.  Then Nidec acquired EMG Elettromeccanica in Italy in September 2015 and then acquired a further division of Emerson in August.  Again this was instigated by NMC.  NMC is now functioning as the core of Nidec's Appliance, Commercial, Industrial (ACIM) divisional company, headed uip by Kei Pang, the CEO of NMC (who was educated at The King's School in Ely, UK and has a BA from the University of London, I note).
Nidec rarely despatches more than 2 or 3 people from Japan headquarters as expatriates to overseas operations.  Nidec globally is run on a matrix basis, with four Japanese executives in charge of global post merger integration, global business synergy & sales, global purchasing and global technology, running across the five regions of Japan, the USA, EMEA, China and Asia.  As the Nikkei says, the matrix is there to intervene as needed with overseas operations.  However it can easily lead to conflict.  That is where Nagamori-ism – to take up the challenge of high growth and high profitability – should help to reconcile disagreement.  It is meant to provide a structure where people can act independently and the organisation and business change accordingly.  It's progressing towards a structure which can survive even if Nagamori has gone.
Nagamori has surrounded himself with talent, and presumably potential successors, from many other Japanese companies, such as Mitsubishi Electric, Nissan, Hitachi, SMBC, Honda and Sharp.  In an interview with Nikkei Business he says what's important is to have a person who can change the company and who has a strong will to grow the business further.  He would be willing to pay more than the usual salary Japanese CEOs receive, to compensate for the responsibility for result.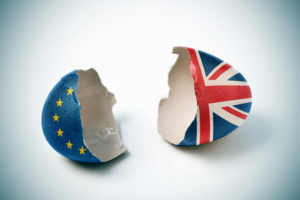 According to a poll in 2015, only 7% of UK companies were willing to speak out in favour of the UK staying in the European Union, even though two thirds believed leaving the EU would be damaging for them.  Of course the Greek crisis made it difficult to say anything positive about Europe, but I also think the British have a strong preference for talking negatively rather than positively, when asked to make a commitment to something, particularly if they feel there are plenty of downsides to getting involved.
Then, like the British professor of economics I met recently – who not only forecast the 2008 Lehman shock but also advised the UK against joining the euro – we can say, smugly, "I told you so", when things go wrong.  This apparent wisdom does not, however, take into account what might have happened if we British had got involved.  Maybe the Eurozone would have been better structured and managed, or a more balanced approach taken to Greece's membership conditions and current difficulties if the UK had participated, not only to point out the problems, but find solutions.
I've noticed when working in European teams that British pragmatism acts as a good counterbalance to French rhetoric and German methodological rigour.  Both Japanese and American managers are united however, in finding the British urge to be upfront about all the likely problems and obstacles, without suggesting any solutions, very frustrating.
Americans want to "just do it" and are not interested in the past, whereas the British look to history and their own experience, so as not to repeat mistakes.  A Japanese manager who had become used to the American management style said to me recently "how do I motivate British staff?  In the US, my team will do as I ask, because I can promise them a bonus or threaten to fire them if they don't do it, but the British team don't seem to be so motivated by money, and they know it's a lot harder to fire them here than in the US."
Some British employees are of course motivated by money, particularly in the financial sector, but for most British workers the motivation is more around self-fulfilment, a chance to put their expertise and experience into practice, to make a difference.  So if they believe that they will not be able to do something, they won't even try, as they know how demotivating and humiliating failure will be.
I discussed with the Japanese manager the concept of "jinji wo tsukushite, tenmei wo matsu" (do all that is humanly possible, then wait for the heavens to decide) – that Japanese also have a sense of fatalism, but that does not preclude doing whatever you can to make something work.  I described this conversation to a senior British executive, and she started smiling ruefully.  It turned out she had insisted to a Japanese boss that a particular course of action was not feasible.  He had persuaded her (I expect through appealing to her expertise and experience) and so she eventually went ahead, and to her surprise, she succeeded.