Rudlin Consulting provides expert analysis and consulting to anyone interested in Japanese companies in Europe, Middle East and Africa as investors, employers or customers.

Now you've found us, you can:
When I left Mitsubishi Corporation after 9 years, I felt guilty that I had not found a way to repay (in business development rather than money) the MBA they sponsored me through and worried that the wonderful sempai (mentors) who had supported my career would now be angry with me.  I was delighted and relieved therefore, when one of the sempai, very senior in the company, invited me for a drink when I was in Japan on a business trip, and explained to me and the other team members at the table that Mitsubishi Corporation should regard people who leave as alumni, just as McKinsey do.  "We may end up doing business together one day," he predicted.
Indeed Mitsubishi Corporation is now a valued customer of mine, and I have seen many other MC alumni rise to some of the top positions in the Japanese business world.  Probably the most well known one is Takeshi Niinami.  A graduate of Keio University, as so many MC people are, he was sponsored by MC through a Harvard MBA. He eventually became President of Lawson, the convenience store chain that MC had invested in, leading its turn around.
He is now the President of Suntory Holdings and was interviewed in Nikkei Business magazine about recent developments there, including the acquisition of Beam Inc (but not its acquisitions in Europe of Lucozade, Ribena and Orangina) and the "Suntory Way".
What Beam got from Suntory
"The Suntory Way means that we develop products that our competitors do not have", says Niinami.  "When I explained this to the Jim Beam factory in Kentucky they were very supportive.  Beam Inc headquarters people all had MBAs. American marketers get a sense of consumer trends from consultant's reports and decided their strategy based on that, they never went to the gemba (shopfloor) the way we do in Japan.  They just told the Kentucky factory what to do, top down, from afar.  If you told them to go to the gemba they'd probably quit. There wasn't one single person in the executive team who came from manufacturing and they weren't investing in the factory.  But the Kentucky people loved making things.  So when we told them we saw manufacturing as the most important thing and appointed someone from manufacturing to the board, their motivation shot up."
"When they came to see our factories in Japan, they became aware of the need to improve their Kentucky factory.  Beam is even older than Suntory – more than 200 years of history.  We were able to revive their DNA."
What Suntory learnt from Beam
"Beam are really good at managing profitability.  Suntory got heavily into debt to buy Beam and we are all focused on reducing this debt.  Suntory was not as good at managing cash flow as Beam but we have learnt."
What's next for Suntory and Niinami
Niinami was brought in by the previous President and now CEO and Chairman, Nobutada Saji (also from the founding family) in 2014. Niinami thinks his successor is likely to be another member of the founding family – current COO NobuhiroTorii – and seems in favour of this, as a way of maintaining Suntory's spirit.  He also expects Suntory to remain a privately held company, despite discussions to the contrary when he first became President. The advantage, he says, is that Suntory is able to contribute to society, through the Suntory Hall (a famous concert venue in Tokyo) and also a water sustainability initiative, without having to justify this to shareholders.
As an outsider, Niinami feels he was able to see objectively how good the Suntory spirit was, and how to roll it out globally.  He has set up a Suntory University to help with this.  Although Niinami is only 59, he says he is willing to finish his career at Suntory.  "I am already "of age" and I don't think anyone will be asking this "odd fish" to join them."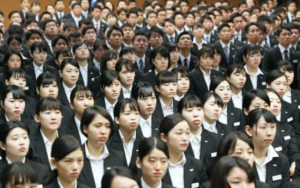 It's not surprising that Mizuho, one of Japan's megabanks, has fallen in popularity from the top spot for 2018 new recruits to #17 for those graduates aiming to join in 2019, according to recruitment agency Disco.  As previously blogged, Mizuho's former president, now chairman, Yasuhiro Sato has been very clear that the bank should lose around 30% of its workforce globally, through greater use of information technology, and yes, AI.  His successor Tatsufumi Sakai shows no signs of reversing this.
The other megabanks have fallen less dramatically out of favour, from #2 to #4 in the case of MUFG (dropping the Tokyo from Bank of Tokyo-Mitsubishi UFJ as of April 1) and from #5 to #14 in the case of Sumitomo Mitsui Banking Corporation.
Japan's airlines JAL and ANA have stayed in the top 5, at #1 and #3 respectively. Perennial favourites, the trading companies Itochu and Mitsubishi Corp have also gained popularity, up from #7 to #2 and #9 to #6 respectively.
Manufacturers such as Toyota (#5 from #12), Sony (#11 from #31) and Denso (#19 from #33) have become more attractive, as graduates realise that the Internet of Things means traditional companies are now moving into more innovative IT related areas.
Japanese graduates who have studied at foreign universities favour foreign companies operating in Japan such as Procter & Gamble, Google and Amazon, or management consultancies, whereas no foreign owned company is in the top 10 for domestically educated Japanese graduates.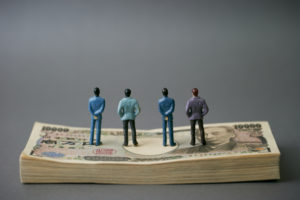 Any company in the UK that employs over 250 people is supposed to have submitted their gender pay gap estimates by the end of this month.  Only around half of the 9000 companies who qualify have complied.  We ran our Top 30 Japanese companies through the Financial Times' useful search and comparison tool  and found that 12 have not submitted any data, and some have only submitted data for one or two subsidiaries – for example Hitachi group, which has submitted data for Hitachi Consulting, but not for Hitachi Vantara, Hitachi Rail or Horizon Nuclear Power, all of whom would qualify.
The average pay gap of those who did submit data is around 13%, slightly lower than the national average of 18%.  There are some interesting patterns in that there is a gender pay gap in women's favour in the automotive and tyre businesses – Kwik-Fit and Stapletons (both owned by Itochu) and Micheldever (acquired by Sumitomo Rubber in 2017) and also Toyota Motor Manufacturing and NSG Pilkington Automotive.  Looking at the detail on the FT site, it seems this is to do with there being a lot of men in the lower paid jobs (presumably tyre fitting, shopfloor, delivery) and some well paid women in the higher paid, presumably managerial/executive jobs.
The gender pay gap is particularly bad in finance, although no worse for Japanese banks than for other UK based financial services companies.
The wooden spoon goes to Fujifilm, with a 41% pay gap, who also get our wooden spoon for being the biggest laggard in filing their annual reports at Companies House, meaning we have only just been able to finalise our Top 30 for 2016/7 as of today.
As you can see from the table below, there has been a small increase (1.4%) in the number of people employed by the larger Japanese companies in the UK, but this is distinctly lower than the 7.4% increase the previous year and is mainly explained by growth at ARM, as promised by SoftBank, and the workforce increases at manufacturers like Honda, Unipres and Hitachi Rail.  We'll have to wait until the final figures come out in the summer for the European region to see whether the UK is lagging behind significantly.
Top 30 Japanese employers in the UK (March 29 2018) & gender pay gap
Rank
Company
UK employees 2016-7*
UK employees 2015-6
UK employees 2014-5
UK change 15/16
UK change 16/17
Gender gap
1
Fujitsu Services
9,326
9,892
11694
-15.4%
-5.7%
17.9%
2
Nissan
7,755
7,657
7440
2.9%
1.3%
N/A
3
Honda Motor Europe (sales)
6,539
5,430
5268
3.1%
20.4%

27.1%

    Honda of the UK Manufacturing
4.5%
4
Itochu
6,515
6,697
6679
0.3%
-2.7%
    Kwik-Fit
-15.2%
   Stapleton's (Tyre Services)
-24.9%
5
Hitachi

(Hitachi Consulting )

3,998
3,484
2747
26.8%
14.8%

30.3%

6
Mitsubishi Corp (primarily Princes Foods)
3,532
3,482
1767
97.1%
1.4%
N/A
7
Ricoh UK
3,484
3,693
3331
10.9%
-5.7%
17.4%
Ricoh UK Products
10.4%
Ricoh Europe
32.2%
8
Sony
3,143
2,849
3422
-16.7%
10.3%
N/A
9
Toyota

Motor Manufacturing

3,098
3,233
3352
-3.6%
-4.2%

-6.4%

Toyota (GB) (sales)
29.7%
10
Dentsu Aegis London
2,757
2,589
2127
21.7%
6.5%

14.5%

Dentsu Aegis Manchester
1.8%
11
Canon
2,693
2,744
2643
3.8%
-1.9%
15.8%
12
SoftBank (ARM)
2,173
1,749
24.2%
15.5%
13
Nomura
2,166
2,468
2498
-1.2%
-12.2%
36.9%
14
NSG Pilkington Automotive
2,128
2,167
2128
1.8%
-1.8%

-12.1%

Pilkington Technology Management
31.7%
Pilkington UK
8.3%
15
Mitsubishi UFJ Financial Goup
1,987
2,069
2100
-1.5%
-4.0%
N/A
16
Denso
1,897
1,925
1930
-0.3%
-1.5%
N/A
17
NYK Group (Yusen Logistics)
1,855
1,919
1780
7.8%
-3.3%

4.0%

18
Mitsui Sumitomo & Aioi Nissay Dowa (Insure The Box)
1,809
1,765
305
478.7%
2.5%

19.0%

19
Calsonic Kansei
1,778
1,729
1571
10.1%
2.8%
N/A
20
Konica Minolta
1,572
1,469
1278
14.9%
7.0%
18.2%
21
Sumitomo Rubber (Micheldever Tyre Services)
1,543
-19.9%
22
Yazaki
1,462
1,345
1700
-20.9%
8.7%
N/A
23
Brother Industries
1,384
1,254
535
134.4%
10.4%
N/A
24
Olympus
1,348
1,362
1368
-0.4%
-1.0%
N/A
25
Fujifilm UK
1,257
1,247
1300
-4.1%
41.0%
Fujifilm Speciality Ink Systems
8.70%
26
Sumitomo Corporation (Howco Group)
1,249
1,405
1350
4.1%
-11.1%

17.5%

27
Unipres
1,237
1,095
1089
0.6%
13.0%
N/A
28
JT Group
1,086
1,473
1545
-4.7%
-26.3%
N/A
29
Sumitomo Mitsui Banking Corporation
1019
946
871
8.6%
7.7%
34.9%
30
Suntory
933
909
884
2.8%
2.6%
N/A
TOTAL
81,180
80,046
74,702
7.2%
1.4%
13.29%
One of the issues that Japanese people who come to work in Europe find most challenging is the multiple nationalities of people they have to work with.  Whether you are based in London, Duesseldorf or Amsterdam, it is highly likely that your colleagues will be a mixture of not just British, German or Dutch but also Romanian, Lithuanian, Polish, Spanish or indeed Indian or Chinese.
Much of the global leadership or management training that is offered in Japan is based on American models. Europeans are used to American management styles so they will tolerate them – at least superficially. However, many of these "one size fits all" models are not ultimately effective in getting Europeans to go beyond superficial compliance.  In fact, they can have quite a demotivating effect, particularly if they are too rigidly focused on quantitative targets and objectives.
European managers themselves find that the American model which works the best is known as "situational leadership".  This is not a new theory – it was developed in the 1960s and 1970s by the Americans Dr Paul Hersey and Ken Blanchard.  It suits the European context because the key idea is that there is no one best style of leadership, and situational leaders are those who are able to diagnose the situation, adjust their leadership style and communicate accordingly.   They also need to be able to take account of the "performance readiness" – in other words the ability and willingness – of the various members of the team.
National cultural differences are not specifically mentioned in the model, but in my training I always relate situational leadership to what is known about the preferences in each European country for top down or consensus oriented decision making styles, as well as direct or indirect and formal or informal communication in the ways of giving feedback or direction.
Of course, this can be somewhat overwhelming for someone who is new to the European workplace. It is particularly tough for Japanese people who have worked in the more traditional Japanese companies, where people just do as best they can whatever their bosses tell them, whether they are willing or able or not.
But I think Japanese managers have two big advantages.  Although this is a generalization and may not apply to all Japanese managers, in my twenty-five years' experience of working with or in Japanese companies, most of the Japanese people I have met have been humble about their own abilities and also curious about other cultures. This means they are willing to learn and to accept that their usual way of working may have to be adjusted.
Situational leadership is one topic of Japan Intercultural Consulting's new Performance Management for Japanese expatriate managers seminars. Further details and registration can be found here: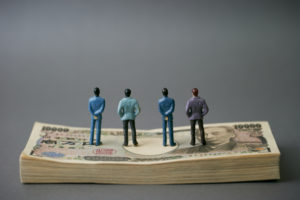 As previously blogged, March is an anxious time in Japanese companies.  Not only are most corporate restructurings and promotions announced at the beginning of April, but pay rises for the new financial year will kick in.
Prime Minister Abe has been pressurising Japanese companies to increase wages for some years now, and yet Japanese companies are still sitting on piles of cash.  Japanese wages have not increased more than 5% a year since the early 1990s, mostly averaging around 2-3% wage rises a year.  The Japanese economy has been in a period of deflation since the late 1990s until the past year or so, so these are real wage increases.  Nonetheless, there is a vicious circle between deflation and low pay increases, which Abe wants to break as part of his 3 Arrows for reforming the Japanese economy.
Low Japanese salary levels
Although I knew Japanese salary levels were not that high relative to other developed economies, I was surprised to see in the Nikkei Business magazine that average British salaries for the head of  R&D at a pharmaceuticals company (£400K) or a CFO of a multinational (£390K) are so much higher than Japan (less than £200K) and even the USA (£200K to £250K).  I wonder if these figures are net of any bonuses. Traditionally, Japanese companies paid 1/18 of salaries monthly, retaining the remaining 6/18 for twice yearly bonuses.  Increasingly these bonuses are performance related, particularly at management levels.
Earnings distributed to shareholders or retained
Nikkei Business then goes on to analyse how earnings are distributed in Japanese companies, between labour, retained earnings and shareholders.  The proportion paid to shareholders has been steadily increasing for Japanese companies, recently outstripping the proportion paid to labour (which has been in decline since 2008), but still below the retained proportion, which has been fairly steady these past 10 years.  In the US retained earnings is the lowest proportion, declining since 2009, whereas shareholders have the highest share, increasing since 2008, with labour's share declining since 2000, with a slight bump upwards around 2007/8.
Root causes of labour's declining share
Root causes for this might be that labour's negotiating power has fallen – unionization in Japan has fallen from nearly 60% of the workforce in the immediate postwar period to under 20% by 2017.  Also thanks to Abe's labour reforms, companies are not paying out so much for overtime – theoretically at least there is less overtime being done – but this is not being replaced by increases in base salaries.
Who could pay their employees more?
The juiciest bit of Nikkei Business's feature is in the listing up and analysis of companies who have the biggest potential for increasing salaries:
1 . Tokyo Electron (scores highest on Return on Equity 10, net cash 9 and revenue growth 9 with a 3/10 on returns to labour
2. Nintendo (Dividend payouts 9, capital to asset ratio 9, net cash 10, returns to labour 2)
3. Kakaku.com (ROE 10, capital to asset ratio 9, revenue growth 9, returns to labour 4)
4. Subaru (net cash 10, revenue growth 8, dividend payouts 8, returns to labour 2)
=5. Start Today (revenue growth 10, ROE 10, dividend payouts 7, returns to labour 3)
=5. Chugai Pharma (capital to asset ratio 9, net cash 9, dividend payouts 8, returns to labour 3)
=5. Yahoo, Recruit, with MonotaRO and Fanuc at =9.
Other companies in the top 30 who are also active in Europe include Murata, Kao, Keyence, Shimano, Astellas and Hoya.
It's an intriguing mix of new internet companies, growing fast, but perhaps preferring to pass on success to shareholders rather than employees and traditional, older companies who are preferring to retain earnings for a rainy day.
The special feature concludes with an interview with Hideto Fujino of Rheos Capital Works, in which he says investors want to hold shares in Japanese companies who raise salaries, if this is to attract more motivated, talented employees.  "We don't see payroll as a cost, but an investment".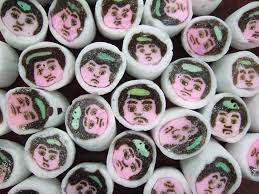 March has always been a stressful, uncertain month in Japan.  Most companies, schools and universities start their new year around April 1st and this is also when corporate promotions and restructurings are announced.
Prime Minister Abe has been adding to the stress by trying to push through various labour market reforms, aimed at expanding "discretionary labour" by the end of the parliamentary session in June, but has had to row back on some of them due to the data on which they were based turning out to be severely flawed.
Status conversion rule
One piece of legislation which will be enacted from April this year is the new status conversion rule.  This will allow fixed term employees renewing contracts for more than five years – usually temporary workers dispatched from staffing companies, or part time workers or contract workers – the right to switch to indefinite employment with no fixed period.  In other words, the kind of lifetime employment, regular contract that Japan's seishain (proper staff – see other posts on this here) have.
The gap in status, job security and benefits between seishain and" irregular workers" has been an enduring sore in Japanese society since the immediate postwar period of labour shortages in Japan when the lifetime employment system became established.  The proportion of irregular workers in the Japanese workforce has grown since the 1990s, to around 37.3% of the workforce – 10% up on 10 years' ago.
Irregular workers will disappear – maybe
Toyo Keizai magazine has an article headlined "Irregular workers are disappearing" saying the new status conversion rule will be a big shock to companies that rely on non-permanent employees.  However surveys show very few employees and even HR managers are aware or understand the new rule, and companies are not making much effort to stimulate interest in it, unsurprisingly.
Japanese recruitment agencies go global – again
Presumably it will also be a shock to staffing agencies in Japan too, who have done rather well out of the rise in this sector of the workforce.  There is a further rule imposing a three year deadline for temporary employment from a temping agency, after which the company will have to hire the employee directly – which will come into force from September.
No wonder recruitment agencies have started a second bout of acquisitions overseas – recent acquisitions in Europe include Outsourcing acquiring JBW, Liberata and Ntrinsic in the UK and Orizon in Germany and Recruit acquiring USG People in the Netherlands.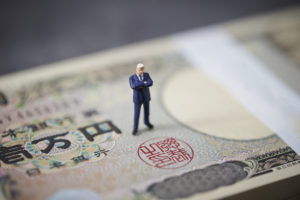 I partly set up this blog to address the lack of good quality information on Japanese companies in English, as well as to analyse how European and Japanese business cultures interact. An article in the Nikkei Business magazine regarding the impact of the European Union's new financial regulations, Mifid II, on Japanese share prices unexpectedly fed into both those motivations.
Mifid II (The Markets in Financial Instruments Directive II, well explained by the Financial Times) has been causing much irritation amongst friends of mine who are investment advisors or equity analysts now unable to find jobs, thanks to the most well known aspect of it, which is that asset managers will now have to pay for research and phone calls to analysts.  Before January 2018 the cost of this was built into the trading fees.
As the Nikkei Business article points out, it is not efficient for large securities brokers, who provide services to customers globally, just to charge research service fees to European investors.  In any case, as pointed out by the Financial Times article, the requirements in Mifid II have an impact on US brokers' status and also cover any asset that has an underlying product listed in the European Union.
So many brokers are cancelling the big ticket investor relations events that they used to host for free.  CITIC CSLA used to hold a Japan equities IR event every February, but this has been cancelled for 2018.  The rumour is that there was a concern that there would not be enough participants, now costs have to be justified to investors.
"People are no longer spending money on research" says Richard Kaye, Analyst for Japan at Comgest, questioning whether Mifid II is really "helpful".  Daiwa Institute of Research's Shungo Koreeda says that foreign investors are likely to become much more discriminating in their choice of research from Japanese securities companies.
As foreign investors account for around 70% of  trading in Japanese equities, if there is insufficient information available on Japanese equities to help investment decisions, it may have a negative impact on the Japanese stock market, concludes Nikkei Business.
The wheels have been coming off Japan's post-war HR system for some years now – whereby seishain or "proper" employees in Japan have been hired straight out of university, onto generalist, lifetime employment tracks, heavily weighted towards seniority-based promotion.  It stabilised the workforce in the immediate post war period when there were labour shortages, and worked well throughout the boom years, when there were places for everyone to go in an ever-expanding organisation.
Since the economic bubble burst, Japanese companies cut back on graduate hires and used contract staff to fill the gaps, but these contract workers had lower status, without job security and benefits, and there have been accusations that overreliance on less motivated contract workers to do quality checks, under pressure, has caused some of the recent scandals. Japan's labour market is still relatively less mobile than in Sweden, Switzerland or the USA, according to Hays.
So maybe it's time for "outsiders" to have a higher status.  This idea was floated by Nagisa Inoue in the Nikkei Asian Review, and now its sister magazine, Nikkei Business has a special feature "Your sell by date as an employee – the increasing pile up of employees who only have 'age'".
It looks at Panasonic, who have hired around 500 a year into management positions – over 40% of whom are over 35 years old. Panasonic's founder, Matsushita Konosuke, said employees were family – and up until recently, managers were meant to select their successors from their juniors and develop them.  Now they have been allowed the option of saying they do not see any suitable successors, and can ask to look for outside hires.  The salary system is also being adjusted so that higher salaries than the norm for a position can be offered to those outsiders with specialist skills.
"I did think the next promotion was going to be me – I even tried to improve my TOEIC score so I could work globally, and made efforts to widen my job", said a 40 something Panasonic employee – but his new boss was hired from outside.
Denso, the Toyota group automotive manufacturer set up a new division to develop components for the "connected car" and around 2/3 of its employees were hired from outside the company.  The division is also deliberately placed in Yokohama, away from the headquarters in Aichi prefecture and from the Tokyo branch office.  "We wanted to cut ourselves off from Denso culture" says one manager.