Rudlin Consulting provides expert analysis and consulting to anyone interested in Japanese companies in Europe, Middle East and Africa as investors, employers, partners or customers.

Now you've found us, you can:
Takeda's French CEO Christophe Weber is on another charm offensive ahead of the get-the-popcorn-out annual shareholders' meeting on June 28th, with an interview in the Nikkei Business.
I found the interview very easy to follow, compared to other interviews with Japanese Presidents.  I suppose this is for the same reason that Prime Minister Abe's speechwriter writes his speeches in English first, and then translates them back into Japanese.  The resulting Japanese is much clearer and more logical.  On the other hand, the interview is stuffed with Anglo Saxon finance concepts like EBITDA, EPS and scenario planning, which must be difficult for more traditional Japanese stakeholders to swallow.
I also get the impression the Japanese interviewer felt able to be more blunt in their questions.
Why did you buy Shire?
"We have already been focusing on R&D during our major reforms at Takeda, and this is going well.  So we didn't need to make this acquisition, it was more a case of doing this in order to accelerate the reforms at Takeda, to make us even more competitive."
The board did not all agree at first?
More than half of Takeda's board are external directors.  "There were many questions.  We had several meetings before we reached a final decision…  Shire had R&D strengths in the same areas Takeda is focusing on, which is why we decided to buy them.  We did a lot of scenario planning and clarified the risks, thinking about what would help Takeda succeed  in the long run."
So there are no big risks?
"It's not zero, but f we have an appropriate buffer, we can avoid risks.  For example, selling off businesses which are not within the scope of our strategy".  Presumably it's this kind of approach that is worrying Takeda's founding family shareholders.
How do you see the fall in Takeda's share price on the news of the acquisition?
"Of course we weren't happy.  We weren't able to explain the decision in full, so I think if we can explain in more detail from now on, people will be persuaded.  We will maintain the dividend.  We will increase earnings per share.
Shire turned down your approach a few times.  What were your thoughts then?
"It would have been good to have progressed more quickly, but it is important to start negotiations from a point relative to the upper limit of a rational offer price.  I also wanted it to be a friendly not hostile approach."
So was it the most appropriate price in the end?
"Yes. If not, we would not have gone ahead"
Shire is known as a company that is good at making money.  Why is this?
"It's because they focus the business. 65% of turnover is in the US and profitability is also high.The organisation is lean and they focus their research."
Something Takeda can learn from?
"Yes, very much so. I think there will be some great outcomes from the merger.  We can accelerate the improvement of Takeda." (You can feel Takeda's founding family wince at this point)
With this acquisition, Takeda will enter the world's top 10 pharmaceutical companies.  Are you happy that Takeda will now have the scale to continue as an R&D led company, or do you want to expand further?
"I think we will be competitive enough.  We will have regional balance, sufficient funds for R&D, an appropriate strategy, excellent candidate drugs. I don't see any weaknesses… We are not going to let the pursuit of M&A go to our heads.  We are very cautious in evaluating businesses.  We also use partnerships with universities and other companies in order to develop drugs and have over 180 such joint development projects."
Takeda has just set up a Health Innovation Park in Shonan, Japan to encourage such partnerships.  Weber does not think this model is appropriate outside Japan, however.  In the US, venture capital is more readily available. It's true that Japanese companies in the same supply chain, or who might even be competitors in other areas, are much more willing to cooperate in an ecosystem, for mutual benefit. It's a strength of Japanese companies which I hope they hold on to, despite pressures from Western shareholder shareholder oriented capitalism.
More than half of top management are not Japanese.  Dublin, where Shire's headquarters are, is a low tax base – will you shift Takeda's headquarters outside of Japan?
"No No No No. Takeda is a Japanese company.  The headquarters inarguably are in Japan. The name will remain as Takeda. We are in the middle of building a new global headquarters in Tokyo, in Nihombashi.
So is there a meaning to being a Japanese company?
Being a leading Japanese company has meaning on the world stage.  When in 2017 we acquired ARIAD, they themselves were looking for a Japanese partner, because of Japan's strengths in their area of research.
What were your feelings when you were approached to be CEO of Takeda?
I was really surprised.  I had never met Yasuchika Hasegawa, the then president of Takeda.
That's amazing!  What made you take the job?
I was attracted by Takeda's wish to be a global leader and their vision and values.  It is an industry where you need to have a strong sense of responsibility, and Takeda has that in their DNA.  Actually most people told me not to take the job.  There is the rumour that foreign CEOs don't do well in Japan as there have been more cases of failure than success.
And how was it since you took the job?
For the first few months I was in listening mode.  More than 70% of employees are outside Japan and they need to be heard too.
Were there things that were difficult, because it was a Japanese company?
One thing I realised was that you cannot say "the Japanese company way" as every Japanese company is not the same. There are elements in common of course, but there are big differences."
With the acquisition of Shire, the company will expand further – what are the priorities for management?
It is quite simple – to make sure employees feel motivated and happy, and that the company succeeds.  My responsibility is to ensure the environment is where diverse employees can give their best.  It's important to take time to communicate.  I am conducting town hall meetings in each operation.  After a short explanation of trends, we have a Q&A.
Weber says he has been a manager for 25 years and made many mistakes, but his main philosophy is to never stop learning.
In 2016 Weber set up a Vision 2025, to encourage the development of highly innovative drugs to bring to the world and be a company that is trusted by all stakeholders.  "At Takeda, the patient is number one".  He defines "Takedaism" as fair, sincere, honest and tenacious.
With this deal, you have become one of the most famous business people in the world.  Aren't you getting invitations to join other companies?
My timeframe is the 2025 deadline for realising the vision. I have said repeatedly I will stay at Takeda until then.  I have not become president in order to become famous. I believe this acquisition is the right thing for Takeda to do. That is why we are doing it.
If you do leave Takeda before 2025, you owe me a dinner.
Of course, but I get to choose the restaurant.
Nikkei Asian Review has an interesting article on Weber's impact on Takeda here (in English).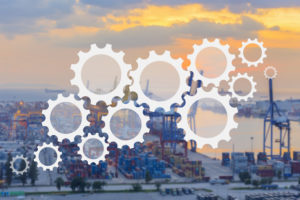 The report on Sky News about the Dutch government advising Dutch companies not to use British made parts in goods for export before Brexit spurred me to do some more analysis into the impact this kind of advice might have on Japanese automotive suppliers based in the UK. In fact I even stayed up until 1am last night doing it – I'm that obsessed.
The results of tweaking my database of Japanese companies in Europe reveal that there are around 40 Japanese automotive suppliers in the UK who have production facilities in the UK.  They range from solder suppliers to paint production to car seat manufacturers, from 7 to over 1000 employees, employing around 13,600 in total.
Are 13,600 jobs in UK-based Japanese automotive suppliers at risk?
So should those 13,600 people be worried about their jobs right now?  75% of those Japanese companies have similar production sites elsewhere in the European Union. So supply to EU car plants could easily shift to those sites.
The 40 automotive suppliers with production sites in the UK can of course continue to supply the UK based car manufacturers, if there is enough demand to sustain viable production levels. There is a theory (blog post here) in the Japanese automotive world that viable production levels require a market of 100 million people, which is greater than the UK population.  Of course UK based car plants are not just supplying the UK, but the EU and in the case of Honda, their Civic model is also exported to the USA and even to Japan.  In fact almost 80% of British car production is exported, the majority of this to the EU.
What were the secret UK government promises to Japanese car manufacturers in the UK?
So the 13,600 jobs are less at risk, if the UK based car manufacturers can sustain their exports to the EU after Brexit.  Which is why there is the concern that a lack of a deal with the EU means 10% tariffs on British car exports to the European Union.  Presumably the secret promises that the UK government has made to Japanese car manufacturers include some kind of bung to ensure that any cost of the tariffs is compensated for.  Whether this is allowed under WTO rules or acceptable to the EU, I leave to the trade wonks.  I suspect the answer is no.  It also explains why the UK government is so keen on the customs partnership solution and max fac.  Presumably they see this as enabling them in real time to have a grip on what is being traded and tariffs imposed, so they can compensate UK car manufacturers accordingly or set up a fast lane for them in processing at the borders.
The quandary facing Japanese automotive suppliers with no UK production base
The UK government presumably also pitched max fac to the car manufacturers as the technical solution to the worries flagged up in the report in the Financial Times yesterday, of delays at the borders disrupting just-in-time supply chains for automotive parts coming in from the EU.  This is why Japanese car manufacturers like Nissan have been pressurising automotive suppliers to set up in the UK, preferably in the new industrial park right by Nissan's factory in Sunderland.
Weeding through my database, I have identified 33 Japanese automotive suppliers with sales arms in the UK but who do not have production in the UK.  So should they now consider setting up production bases in the UK?  They have to take a view on how likely it is that UK based car production will be maintained after Brexit.  How will the Nissan-Renault alliance resolve itself – will Renault become dominant, in which case, expect French production to be prioritised?  Nissan also has another EU based plant, in Spain. Honda wants its UK plant to be a global hub, but also has a factory in Turkey (which exports car models such as the CIvic to the EU under the EU-Turkey customs union).  Toyota has car plants in France and Russia.
Consolidate supply chain within EU, leave importing to UK to the last possible minute
A further complication is that the import and export of automotive components is not just a one off – the same part may go back and forth several times between multiple factories, having solder/paint/other components added.  Concerns about rules of origin and the paperwork involved, and possible delays at the border, along with the car manufacturers themselves essentially saying to suppliers "that's your problem not ours" might lead a supplier to conclude that the best solution is to consolidate the supply chain within EU borders, until the final moment when the component has to be brought to the car manufacturers' UK site for assembly.  There might be some more warehouses at the Sunderland industrial park, and maybe some finishing/assembly facilities, but a safer, cheaper bet would be to put most production in Eastern European countries such as Slovenia or Slovakia, which does indeed seem to be what has happened over the past year or two.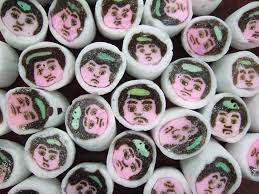 Mid May is usually the deadline for applying for graduate entry at Japanese companies, in the job hunting process (known as shukatsu – a good explanation from Japanese recruitment agency Disc here) for final year students in Japan. This usually prompts some interesting analyses from the Japanese business media on what's new and changing on the graduate recruitment scene.
An article in Nikkei Business focuses on the banking sector, a traditional favourite for arts graduates of top universities.  All the megabanks are reducing their graduate intake – MUFG by 10%, SMBC by 20% and Mizuho by a whopping 50%.
Mizuho had already announced that it was looking to reduce headcount by a quarter but this cut in graduate hires is not simply about hitting that target. Mizuho's recent recruitment brochure is headlined "We want to meet people who are not very Mizuho".  They are drastically reducing the number of "specialist" track graduate hires – mainly counter staff – more commonly known in other companies as the ippanshoku track that attracted mainly female graduates – the old "Office Lady" track.
For the generalist track, Mizuho have started targetting science graduates at universities, with a view to developing Big Data analysts, and also Japanese graduates of foreign universities, or foreign students at Japanese universities.  They say they are looking for creative people, who have a spirit of challenge.  As the Nikkei says, it's not clear how easy this will be for banks which are usually the choice for people looking for long term security and stability.
Japanese companies are no longer "family" but a tree to perch on
Graduate attitudes to employment may be going Mizuho's way, however. Another article in the Nikkei Business looks at "May sickness" – the feelings of depression that hit graduates who joined the company in April.  With the labour shortage being felt in Japan, companies are worrying about the persistently high (by Japanese standards) proportion of graduate recruits who leave within the first 3 years – stuck at around 33% for the past few years, compared to around 20% in the late 1980s and early 1990s.
The usual explanation for persistently high numbers quitting is that when companies cut their graduate intake in tough times, graduates take whatever job they can find, and may end up at a company that does not suit them. But this does not explain why now, when graduates can take their pick of many offers they still end up unhappy with their choice.
The annual survey of Japanese graduates by the Japan Productivity Centre provides a clue.  Since 1971, graduates are asked which of three reasons most closely reflects why they chose their employer.  In 1971, the biggest reason (chosen by 25%) was "because the company had a durable future".  This is now the least popular reason, chosen by less than 10%.  "Because the work is interesting" was the least popular reason in 1971, chosen by around 15%.  This dipped below 10% in the 1980s, then rose, and is now declining, to just below 20%.  The most popular reason is now "because I can develop my own abilities and individuality"  – chosen by over 30%, compared to less than 20% in 1971.
Tama University's Yasuyuki Hatsumi concludes this shows that young Japanese people no longer see companies as a family to join for life, rather as a tree to perch on temporarily.  He suggests that Japanese companies might need to plan for this, and allow employees to take a year's sabbatical, to rethink their career paths and take up further professional development.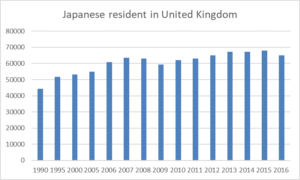 The UK is the only top 10 European economy where the number of Japanese residents has declined from 2015 to 2016.
The number of Japanese residents in the UK hit an all time high in 2015 of just under 68,000, according to Japan's Ministry of Foreign Affairs. This fell by 4.5% in 2016. The last time there was a significant fall in Japanese residents in the UK was 2007-9.  Presumably this can be attributed to the Lehman Shock, and numbers have been climbing steadily since 2010.  So why has there been another drop?  Brexit might be the easy answer, but the referendum vote was in June 2016, so it seems a rather immediate impact.
There are more Japanese in the UK than anywhere else in Europe, both in absolute and relative terms. The second highest population of Japanese in Europe is in Germany (44,027) and the third highest is France (41,641), with other countries having substantially less Japanese presence (4th is Italy, with 13,808).
I was surprised there were that many Japanese people in France as there are fewer large Japanese companies and regional headquarters in France relative to Germany or the UK. Fortunately, the Ministry of Foreign Affairs breaks down the total by whether they are permanent residents or long term residents – broken down by intra company transfers, self-employed and students/academic related. 
As you can see from the graphic, France has a relatively larger proportion of students, self employed and government related people, whereas the UK has relatively more permanent residents and Germany relatively more intra company transferees.
Number of permanent Japanese residents in the UK has risen, but academic, corporate and diplomatic residents have fallen
The number of permanent Japanese residents in the UK has risen by 4.5% to 19,785 (30% of all Japanese in the UK) and the number of long term residents has dropped 7.9% to 45,813.
The UK still has the highest number of intra company transfers in Europe – 17,841 – but this is 4% down on 2015.  The bigger falls were in students/academics/researchers – 13.8% (from 19,100 to 16,461) and government related – a 25.7% decrease from 934 people to 743.  So is this due to young Japanese becoming more reluctant to study overseas?  Is the UK losing its centrality as a diplomatic posting?
Comparing the UK to trends in Germany and France shows that Japanese are still studying in Europe, just increasingly more in Germany or France (also large Japanese student populations in Italy, Spain and Switzerland and significant increases in the Netherlands and Ireland).  Diplomats and other government officials are also gravitating more towards Germany and France (there are also a large number of Japanese government people in Switzerland).
Germany hosts almost double the number of Japanese companies than the UK does (1811 compared to 998) so the other key difference between Germany and the UK is the density of Japanese people on intra company transfers per Japanese company.  The UK has by far the highest density – of around 18 Japanese residents per company, then Belgium with 12, then France with 11, Germany, Netherlands and UAE with 9.  This is due to the large number of regional headquartered financial services and trading companies in London.
So what has changed since 2015 that has not impacted the other European countries so much, apart from Brexit?  I conclude it must be the increasing difficulty of obtaining Tier 2 intra company transfer visas (as I mentioned in my comments to the Financial Times recently) and also student visas (as explained in this 2016 report).  Government agency/diplomatic visas are dealt with separately I assume – maybe this is an element which can be explained by the UK's declining international influence and more a question of reduced demand rather than reduced supply?  Either way, Brexit and visa restrictions will be a combination precipitating further rebalancing away from the UK and to the continent, I predict.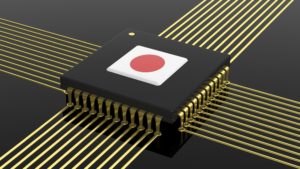 I had anticipated the "do you have any questions for us?" at a recent final interview for a non-executive directorship for an investment trust focused on Japan.  I was advised by another experienced non-executive director to think of a thought provoking question, to show the board I was capable of bringing a different perspective, something they had not thought of before.
On reflection, I probably erred too far on the "thought provoking".  It was a genuine question, however, and I was genuinely interested in their answer.  As the fund's strategy was to invest only in Japanese companies, how do you define a Japanese company?
Listed in Japan or majority of business in Japan?
The fund defined it as being listed on a Japanese stock exchange.  This may seem a clear enough definition, but does this mean Sharp, now owned by a Taiwanese company, Hon Hai, is a still a Japanese company?  How about Hitachi Power Tools and Calsonic Kansei, now both owned by American buyout firm KKR?
Other Japan focused funds also invest in companies that are listed outside Japan, so long as a significant majority of their business is in Japan.  But if percentage of sales in Japan is the criterion, then there are plenty of Japanese companies who are listed in Japan, for whom a majority of their business is outside Japan – Takeuchi for example exports 95% of its diggers to overseas markets and 68% of Sony's business is outside Japan.
Avoiding 'country risk'
Why does it matter?  It matters to the boards of such funds, because if they define "Japanese" as Japan listed or majority of business in Japan, then clearly they need to consider the "country risk" of Japan and ensure the strategy is adjusted, or mitigation is put in place accordingly. 
They need an expert in Japanese economics or politics to read the entrails on whether Prime Minister Abe will be re-elected as leader of the LDP in September, and if so whether he will be in a strong enough position to carry on with his "Three Arrows" of reform.  They need to be able to judge whether the recent dip in Japan's GDP growth is temporary, or likely to be revised upwards in June, as often happens. They might need some inside track on trade friction around the world and how this might affect the Yen.
But if the strategy is to invest in specific Japanese companies with long term growth potential, then this is not the same as investing in the Japanese economy or a Japanese index tracker.  The aim should be to look for companies that will succeed no matter what happens to the Yen or Abe.
Managed by Japanese executives?
Specifying that those companies should be Japanese indicates to me that there is thought to be something unique to Japanese companies that makes them worthy of special attention.  So should it be that the management of the company is Japanese?  In which case, how should Takeda be classified – likely to become even more dominated by non-Japanese executives after the acquisition of Shire?
What about other companies who, like Takeda, have substantial overseas business acquired through acquisition, but manage it mostly through an international HQ based outside Japan, such as Japan Tobacco (Swiss HQ) or Dentsu (Dentsu Aegis Network in the UK)?
Or how about SoftBank, founded and run by Masayoshi Son, ethnically Korean and educated in the USA?  The original telecoms business is clearly Japanese, but what about ARM in the UK and Sprint in the US – not to mention Softbank's massive Vision Fund which notably is not investing much into Japanese companies at all?
Where Japanese companies have the edge…
I propose some further, admittedly fuzzier definitions of "Japanese". Firstly, the business should reflect an aspect where Japan has an "edge" – a comparative advantage.  For example, any business that is focused on the elderly, as Japan has the most rapidly ageing population in the world, with over 25% over the age of 65.  Or a business which has evolved from Japan's traditional manufacturing and craftsmanship strengths, what is known as monozukuri in Japanese – highly sophisticated machine tools, robotics and components.
But I think there is something more than that to being "Japanese".  It's about the corporate culture and governance – a different model to the Anglo-Saxon shareholder value maximization model.  Investing in a Japanese company should be for long term capital growth rather than a quick dividend, as well as some satisfaction that the investment is going into a company which does not engage in creative destruction type capitalism. 
…is also where the risks lie
And this is where the risks also lie.  Japan's stakeholder capitalist model means job security, but also hidden underemployment and low productivity.  Jealous guarding of corporate reputation can mean cover ups when something goes wrong.  Strong loyalty to other members of the corporate family can mean deference to seniors without questioning or challenging orders given.  Extreme risk aversion can mean opportunities missed.
Understanding and mitigating these risks is not something that can be resolved by an informal chat with a contact in a ministry, nor by looking at exchange rate forecasts and putting some hedges in place.
This was the conversation I wanted to have, and where I thought I could add value, but that's the trouble with the "any questions for us" coming at the end of the interview.  As the board chair said – fascinating question, but you'd need a whole afternoon or a seminar to thrash it out.  And no, I did not get the job.
I often advise Europeans who are trying to communicate a proposal, or want to have a discussion with Japanese counterparts to try to put their idea into a visual format. This has several benefits. One is that it should reduce the amount of English text that the Japanese person has to plough through to understand what is being proposed.  A second reason is that it depersonalizes the discussion if there is a graphical representation – a "thing" that can be pointed at and disagreed with during the argument, rather than having to argue with someone's abstract idea.
Thirdly, Japanese written language – kanji – is highly graphical as a communication method, so Japanese people are more receptive to complex concepts being communicated in a graphical and holistic way rather than the textual, linear form common in the West.
So I was quite surprised to hear a young Japanese expatriate woman tell me that her colleagues in the UK based market research agency she works for are much more accustomed to representing their findings in a graphical way than she was used to in Japan.  Specifically, she said that they use infographics and sometimes even send the report to clients as a video, using the infographics and clips of customers being interviewed.
With the advent of "Big Data", data visualization is a growing industry.  So should Japanese companies be acquiring companies or hiring people who have those skills, or is this another area which will simply be automated, and all that is needed is to buy in or develop some software?
Automation tools already exist for data visualization, but the key is to think about why you want to put the data into a visual format in the first place.  It is usually to give insights which will then provoke a discussion.  An infographic does not of itself provide the solution.  Discussions require human beings to provide their different interpretations of the infographics and ideas about how to act on them.  The infographic provides the "thing" that can be pointed at and disagreed with, but also allows people of diverse backgrounds and native languages to have a more equal chance of contributing to the debate, because there is less of a language or technical barrier.
The market research agency at which the Japanese woman worked was founded in the UK and acquired by a Japanese company in 2014. But it also has offices across Asia, multinational staff who travel across Europe and a call centre based in the UK covering over 30 languages.
The UK is the obvious location for global marketing services, not just because it is the home of English language communication, but because of its multinational workforce, who can ensure the data is interpreted appropriately for different cultures. This is why Japanese marketing and advertising agencies have been acquiring many British companies recently. I just hope Brexit does not damage this advantage by putting up too many barriers to immigration and free movement across Europe.
This article by Pernille Rudlin originally appeared in Japanese in the Teikoku Databank News
Effective communications with Europeans is one topic of Japan Intercultural Consulting's new Performance Management for Japanese expatriate managers seminars. Further details and registration can be found here: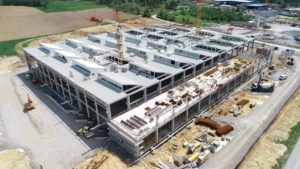 Here's my rough translation of the article in the Nikkei today (May 14th 2018):
Yaskawa Electric is building a new parts factory in Slovenia and will shift a proportion of parts production from its factory in the UK. The British factory will continue operation for the time being, but Yaskawa will not make any further positive investments and is also considering scaling down or closing down completely. Concerned about the impact of tariffs etc caused by the withdrawal of the UK's European Union (EU), Yaskawa is integrating its European robot production so it takes place within the EU.
The industrial robot factory in Slovenia will start production this autumn. A parts factory will also be set up in the vicinity so the supply chain is fully within the EU. On 14th (local time), an investment ceremony is to be held with the government of Slovenia.
The current factory is in Scotland, England [Cumbernauld – around 150 employees], producing mainly electrical parts for industrial robots and industrial machinery for the EU. However, with the withdrawal of the EU in the UK, there is concern that procedures such as customs clearance in exporting to Europe will be complicated, in addition to handling tariffs with the EU region, so there is a possibility that it is difficult to maintain the supply network.
As "risk management requires a supply system within the EU" (Yasukawa Electric's president Hiroshi Ogasawara), production will be shifted to Slovenia's new factory and no further positive investments will be made in the UK plant.
The new parts factory in Slovenia is around 40,000 square meters, and will start operation around 2020. It will produce electric machinery parts such as servo amplifiers and inverters for supply to Yaskawa's own industrial robots, as well as external sales.
The factory in Scotland will continue to operate for the time being, but given the launch of the parts factory in Slovenia, Yaskawa will assess the status in terms of the duplication of production items and the supply and demand situation and will decide on whether to scale down or close as an option in the future.
Industrial robots are a field where Japan is highly competitive. Yaskawa Electric is one of the strongest in the world with Fanuc in Japan, KUKA in Germany and ABB in Switzerland. Electrical equipment used for controlling robots is directly related to performance such as accuracy and durability of industrial robots.
In industrial robot manufacturing, Chinese manufacturers are also gaining know-how, but it is difficult to manufacture parts used for control, which is one of the reasons why it is difficult to catch up with the Top 4 in terms of quality. Especially in Japan, in-house manufacturing of electrical machinery is becoming a source of competitiveness.
For Yaskawa Electric, Europe is the production base for industrial robots as a third region after Japan and China.  KUKA and ABB's shares of the European market are high, but KUKA is under umbrella of China's home electronics giant, Midea Group, so the market is shifting. Yaskawa Electric aims to expand its market share by proceeding with its localization.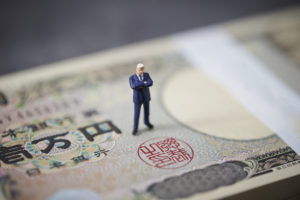 It is surprising to see in a Toyo Keizai ranking how many of the 50 largest (by employee number) foreign owned companies in Japan are French (6), and how few are British (2 and are both pharmaceutical companies), considering the similar size of their economies. Switzerland is punching well above its weight with 5 companies, and Germany has stakes in 4.
Nissan is included in the rankings, and is the largest, although the French owned portion is 43.4%.  Second is Gibraltar Life Insurance, which you may think you've never heard of, and is in fact a Japan only brand, formerly known as Kyoei, but acquired by US company Prudential Holdings in 2001.
In third place is Sharp – 65% owned by Taiwanese company Hon Hai/Foxconn.  Others in the top 5 are Mitsubishi Fuso Truck and Bus, 89.2%  owned by German company Daimler and MetLife, another American insurance company, which became dominant in Japan through acquiring American Life Insurance Co (Alico) which had a significant business there.
Other European-owned companies in the rankings include:
#11 JATCO (France – a subsidiary of Nissan)
#12 UD Trucks (Sweden – acquired by Volvo in 2007)
#13 Bosch (Germany – acquired machinery business from Eisai in 2012)
#16 Chugai (Switzerland – Roche acquired controlling stake in 2017)
#19 Veolia Japan (France)
#22 Novartis (Switzerland)
#28 Glaxo Smith Kline (UK)
#30 NOK (Freudenberg capital partnership 25% – Germany)
#31 VSN (Staffing company acquired by Swiss company Adecco in 2012)
#32 AstraZeneca (UK)
#36 Ikea (Netherlands – yes, they moved their HQ from Sweden to the Netherlands)
#37 Bayer (Germany)
#38 Adecco (Switzerland)
#40 L'Oreal (France)
#40 Nestle (Switzerland)
#47 Sanofi (France)
#50 Valeo (France)
The only British owned company in the 51-100 rankings is Seiyo Food-Compass, the Japanese subsidiary through acquisition in 2001 of the food services Compass Group.  Advertising agency Asatsu ADK is also in the top 100 but was acquired from British company WPP by Bain in December 2017.
If the UK is really looking to be a more global country post Brexit, making acquisitions in countries like Japan might be a way forward, but I guess the UK has become too used to acquisitions going the other way.