Rudlin Consulting provides expert analysis and consulting to people working in or with Japanese companies in Europe.
Whether you want to approach Japan headquarters (the 'honsha') as a supplier, subsidiary or partner, we can help you understand its corporate culture and strategy, and identify the people and processes necessary for success.
We can also provide cultural awareness training for your employees, as the exclusive representative in Europe of Japan Intercultural Consulting.
For more insights into Japanese corporate cultures, subscribe to our free newsletter.
Toyo Keizai has ranked the top 500 companies in Japan with the most non-regular staff (see our previous post for what this means and why you should care if you work for a Japanese company). Consciously or unconsciously, however, the "total employee" number they use includes overseas employees and the non-regular staff number is for Japan hired staff only, as far as I can work out.  Maybe it's an indicator that overseas staff are seen as "regular" after all.  It certainly would account for the large increase in regular staff at NTT Data over the past 5 years for example – as they have been on a major acquisitions spending spree overseas – and will grow further once they integrate Dell Services.
Here's the breakdown for our Top 30 in Europe.  As you can see, the numbers are missing for some major employers like Canon, Sony, and Bridgestone.  Checking on the sources, which are mostly the Japanese stock exchange submissions, it seems these companies do not break down employee numbers by contract type.
Although my old employer Mitsubishi Corp is  not in the Top 30 employees in Europe (they do not disclose regional break down of consolidated employee numbers), I note that the number of non-regular employees has fallen 8% the past five years (presumably due to the re-introduction of the "regular employee" administration track), although they still represent 20% of the total consolidated employees (18,054 out of 72,000).  Conversely, regular employee numbers have risen by 23%. As there are only around 6000-7000 employees in the Japanese offices of Mitsubishi Corporation, and around 10% of them are classified as non-regular, this must mean the other 17,000+ are non-regular staff in consolidated companies (not the main MC offices) in Japan.  That still leaves 46,000 or so "regular" employees of consolidated companies outside Japan.
Employment status in Japan, is, as they say "complicated".  But you can bet Japanese employees have a very clear idea who is in-group and who is out.
My first essay on Japan, a thesis for my Modern History & Economics degree, was on the day labourers in post-war Japan and the so-called dual labour market.  It's with a sinking heart, nearly 30 years' on, that I have to acknowledge that the concerns I had then, about the harm done by erecting an impermeable wall in a labour force between 'permanent' and 'temporary', continue to this day, when thinking about how to improve diversity and inclusion in Japanese companies.
The Japanese word for "regular" or "permanent" or "lifetime" employee is seishain.  The character for sei can also mean "proper" "right" or "honest" and shain means employee.  This says it all really.  Technically, seishain are people who join the company as new graduate hires, on or around April 1st, in a cohort.  They usually don't have a formal employment contract or job description, but the unwritten agreement is that they will be rotated through a generalist track, and will agree to be moved to whatever location that might involve.  In return for this flexibility they are guaranteed management level jobs and salaries after a certain amount of time, and will not be forced out of the company until they reach retirement age.  Even when they reach retirement age, the company will make efforts to re-employ them, off line management.  The salaries may be modest, but there are plenty of benefits and the company union (membership is automatic for seishain) will protect them at least until management level.
There are no barriers as such to women (or non-Japanese) joining the seishain track, but very few do.  When I first started working at Mitsubishi Corporation in Japan, there were plenty of women seishain, but they had joined the administrative seishain track –  so-called Office Ladies – which meant that they had not signed up to be rotated or relocated and were therefore not candidates for management positions.
Like many Japanese companies in the 1990s, Mitsubishi Corporation abolished the Office Lady track, as it was becoming uneconomic to have so many administrative people on seniority based pay, and numbers were rising beyond what was needed for increasingly automated office support.  The assumption had been that women would leave as soon as they got married, or at least once they had their first child, but in fact women were getting married later or not getting married at all, or not having children, and staying at the company.
Once the Office Lady track was removed, if there was a further need for administrative staff, companies hired temporary workers to fill administrative positions. Similarly, for manufacturers in Japan there was a steady increase in the number of factory workers who were on short term contracts.  Overall, the Japanese workforce is now heading towards 40% being on short term or part time contracts.  But as I have written in a previous article, in some white collar sectors this actually led to too many disengaged support staff making too many errors, so some Japanese companies have quietly reintroduced the Office Lady track.
The assumption is that to become a manager, you need to have worked in several locations
Those women who were already on the old Office Lady track were offered the chance to shift into what Mitsubishi rather clumsily called "kouiki jimushokushou" which meant "wider area administrative roles".  The "wider area" referred I think both to the idea that they could be relocated and that their job content might be broadened, as a path towards the management track.  They could undergo training and take various tests before making a full transition to management.
To this day, most Japanese companies operate on the assumption that to become a manager, you have to have worked in several locations and if the company is globalising, to have worked overseas if you want to be a senior manager.
So, you can probably see where this is going in terms of hitting Prime Minister Abe's targets for the percentage of women who should be in management – even if there are plenty of women employees, most of them are not viewed as "proper" management material.  They are more often than not on part time or temporary contracts. I even heard recently about some Japanese women who were on the management track, who asked to be expatriated abroad (because they had already studied abroad or been brought up outside of Japan as child, so had the linguistic ability and resilience needed), but had their requests refused.  They then quit the company and moved to Europe or the USA under their own steam, to do MAs and MBAs, only to find male employees, sponsored by Japanese companies, on the same courses "learning to be global" but still far less effective than they were.
So, one solution might be for Japanese companies to track these women down abroad and try to lure them back into management positions.  Actually, some of them are consultants at the company I represent in Europe – Japan Intercultural Consulting. As my informant said, they might be open to moving back to Japan under the right circumstances, because many of them have older parents living there they feel obligations towards.  But they know that they will still somehow be regarded as not quite 'proper'.
Another solution to making Japan HQ management more diverse, in terms of gender and nationality would be to have more non-Japanese employees in management positions there.  The official objection usually given to this is that there is too big a language barrier.  But of course the real issue is again that people hired abroad are not viewed as seishain. Until Japanese companies address this taboo on non-seishain becoming managers in more than name, the "inclusion" part of Diversity & Inclusion is a long way away.
For more detail on the technicalities of regular versus non-regular status in Japan, and how overseas employees might be classified, and some figures for the Top 30 Japanese employers in Europe, please see the next post.
We are delighted to see our clients in Europe Astellas and Fujitsu join the Nadeshiko brand listing by the Japanese Ministry of Economy Trade and Industry (METI). METI has been announcing its picks for listed Japanese companies who are most promoting women's success (measured by ratio of female managers) and also their Return on Equity for the past 4 years now.   Other of our clients in Europe who have been selected again include Chugai Pharma, Hitachi, Nissan, Mizuho, and Daiwa Securities.
We have revised our Top 30 companies in Europe again – this time to include Japan Tobacco (another new entrant to the Nadeshiko list too) and Kyocera, bumping Nomura and Komatsu out of the Top 30.  Top 30 companies that have dropped out of the Nadeshiko list are Toshiba, NYK and Suntory.  Interestingly, neither of the Kyoto maverick companies Kyocera and Nidec disclose the proportion of women in management – a deliberate snub of Tokyo's bureaucrats and politicians?
We've included columns on the female manager ratio in Japan and also % of sales outside Japan, because we had a hunch that the more 'global' the company in terms of proportion of sales overseas, the less there would be women in management.  The overall average for the Top 30 is just under 5% which is lower than the Japanese national average of 6 to 11% depending on which survey you look at. We crunched the numbers and indeed there is a statistically significant, moderate negative correlation between the proportion of sales overseas and the number of women in management in Japan.  Why this  might be we would be delighted to discuss – and will discuss at our next Honsha Lunch in London.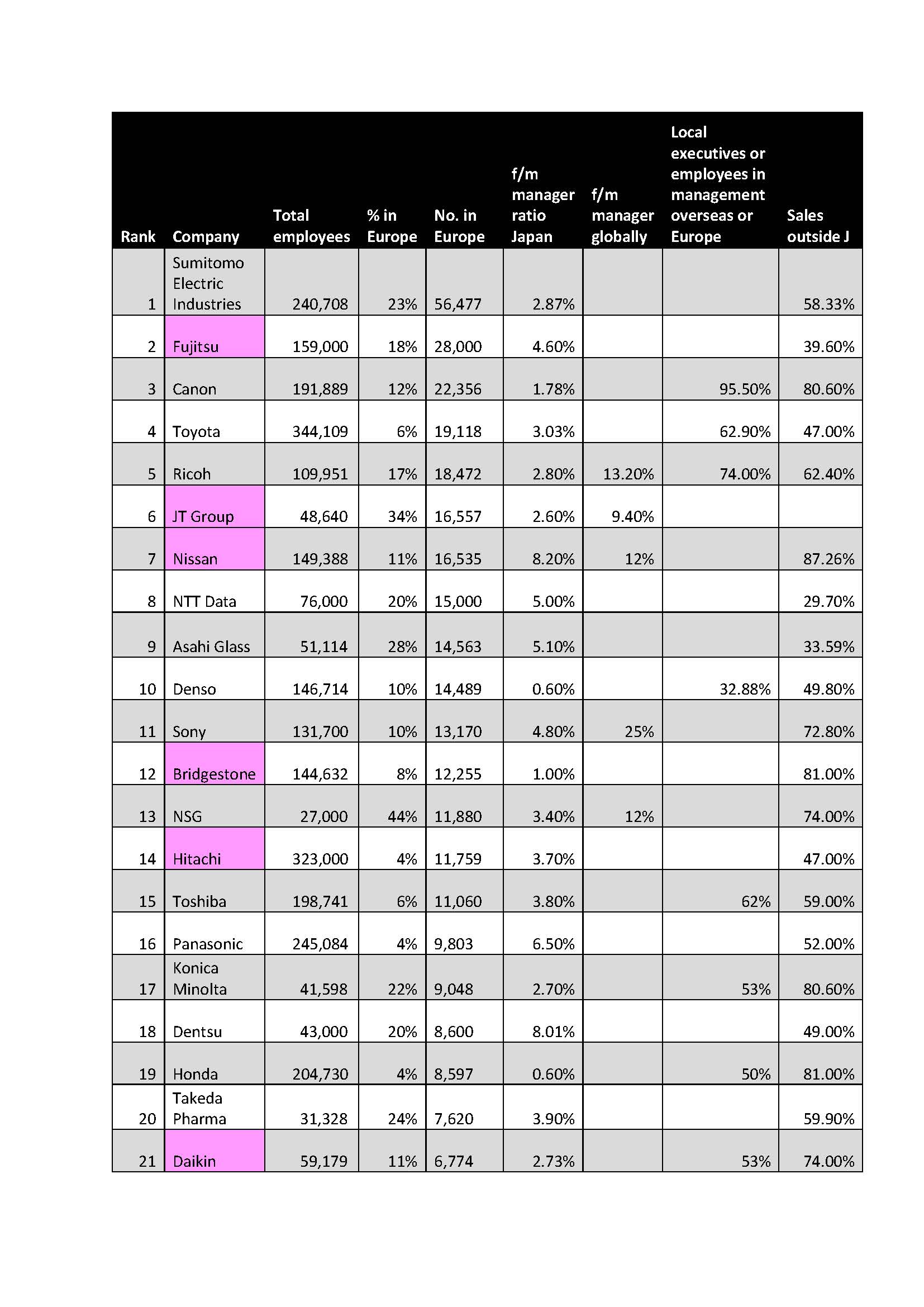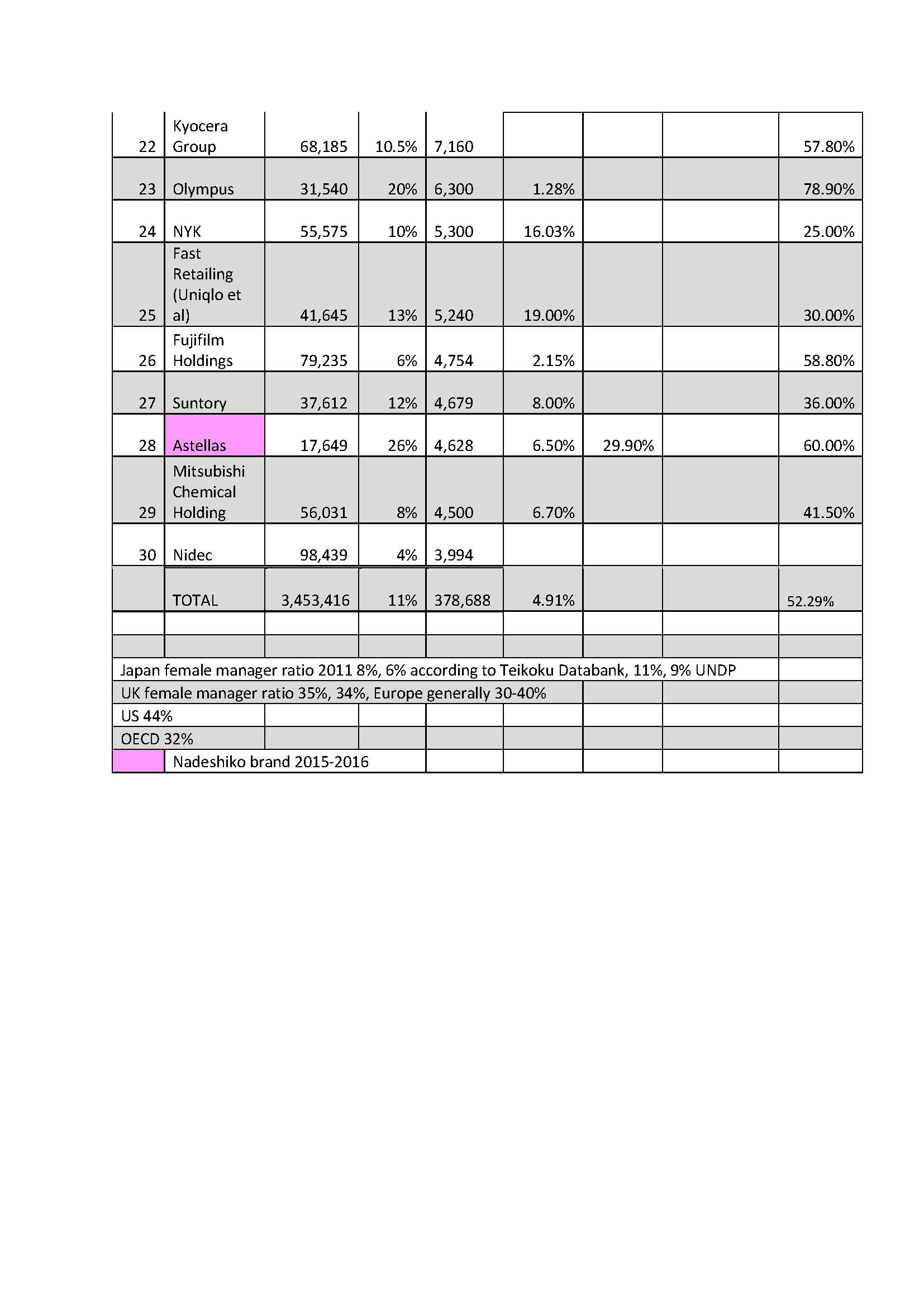 Japanese salarymen are envied around the world  – as Junko Okamoto, former Yomiuri journalist and Dentsu consultant and now CEO of Glocomm says – for not being fired no matter what they do or how little they do.  So you would think this means they have a high degree of engagement towards their employers.  But actually, no matter what survey you look at, Japanese tend to come lowest in terms of engagement and trust.
For example – in Gallup's 20011-2012 global survey of 142 countries and 20,000 people:
Japan – 7% engaged, 69% not engaged, 24% actively disengaged
UK 17% engaged, 57% not engaged, 26% actively disengaged
France 9% engaged, 65% not engaged, 25% actively disengaged
Germany 15% engaged, 61% not engaged, 24% actively disengaged
USA 30% engaged, 52% not engaged, 18% actively disengaged
Japan's percentages are not far off China, so maybe it's an "Asian" thing, you might think.  But another survey by Aon Hewitt looking just at Asia Pacific levels of engagement found that Japan – at 33% actively disengaged – had the lowest engagement score.
As Okamoto points out, there is no direct translation of "engagement" in Japanese and also, the Japanese may have a tendency to be understated and modest in such surveys.  However, if the wording is framed differently, there is still seems to be a problem.  Edelman issues a world trust survey every year of 28 countries, including the question of whether people trust their own company.  Japan comes bottom on 40%, compared to 64% for the US, 57% for the UK, 29% for China, 83% for India – even lower than Russia on 48%.
There are many reasons you could list up for Japanese salarymen's disengagement – and Okamoto does so:
Long working hours
Low or even decreasing take home pay
Rigid corporate culture – based on precedent, demerit/points off systems, emphasis on sheer doggedness
Seniority based promotion
Inappropriate assignment of people
Sexual harassment, power harassment, maternity harassment
Rigid compensation and HR systems (egalitarian to the point of unfairness or too strictly perfomance based)
Okamoto adds "friends foreign and Japanese who work for foreign companies often point out that Japanese companies force you to travel economy class even if you're very senior, which would be unthinkable in their companies, or that foreign companies will incentivise their best people to stay, with money or motivational schemes."
Employees of Japanese companies don't understand what is being rewarded.  They point to those who are slacking off and yet are paid the same.  But even the slackers are unhappy, because they feel like the company is not making the best use of them.  Japanese people seem to think that work should be a penance and that you become happy by working hard.  Okamoto cites various Western researchers who say that you should first find out what makes you happy, and then you will succeed.
Okamoto's conclusion, as is mine, is that Japanese companies are bad at communicating – to their staff as well as to the outside world.  "Being hired by a Japanese company is like getting married.  The company is your family or your home.  And although the divorce rate has risen in Japan recently, it's still lower than the USA.  In Japan the view is that even if you hate the other person or don't love them any more, there is a shared fate.  However in the USA you either get a divorce or if you don't want to get a divorce you put more effort in with gifts and words of love… Japanese companies and their employees are like a married couple who have forgotten each other's good points and become stale."
Thanks to global market pressures, the days of being a "hatarakanai ojisan" (middle aged guy who doesn't actually do any work) in a Japanese company are over, according to Toyo Keizai magazine.  It used to be that even if there was not any work for a lifetime employee in their 50s to do, they would be allowed to continue coming into work until such time as circumstances changed or they retired of their own accord.
Now most Japanese companies use "requested retirement" sessions to persuade employees to leave the company of their own volition if there is no longer a role for them.  However, it is forbidden to use words like "fired" in such interviews.  It is possible, but only under very rare circumstances, to actually fire a lifetime employee in Japan – it mainly has to be proved that there is gross incompetency. So when an IBM Japan employee in his 50s sued last December for work related illness, claiming that repeated "requested retirement" sessions caused him to become depressed, the deciding factor in his claim being accepted was that his boss had said "if you don't accept our request, you will be fired".
Toyo Keizai have managed to get hold of IBM Japan's "Requested Retirement Manual" which apparently was developed for internal management training by a consulting company.
The manual recommends using the carrot and stick technique to start the discussion. The stick is that given the person's abilities and the current situation of the company, they cannot continue in their current role.  The carrot is that  discussions about redeployment or reemployment will be done in a kind and understanding way.  The manual encourages the manager to put themselves in the others' shoes.
It has recommendations on how to deal with the four stages of:
Denial – nothing to do with me: explain the personal situation and future in detail
Resistance – why me, why not someone else:  listen sympathetically and allow them the right to differ
Exploration – will there be a job elsewhere, can I support my current lifestyle?: guidance – would they like to meet with a counsellor?
Decision – still feeling worried, but will take up the challenge: encouragement – offer personal support and best wishes for success
It also contains advice for dealing with different reactions and personality types – the submissive type, the proud type, the logical type, the desperate, the complainer, the crier, the silent and the angry.  It also gives examples of likely questions and how to deal with them, including one I heard about years ago when companies in Japan first started "shoulder tapping" people to leave, which is the "my daughter is getting married – please let me stay until after the ceremony".  The reason for this being that the father wants to be introduced with a high employment status at the wedding rather than as someone who is mysteriously unemployed or in a lower status job.  The manual recommends a tough stance on this saying that there can be no exceptions made given the urgency of the situation, global competition etc.
I suppose it is only this kind of question, plus the inability to say clearly that the person will lose their job that makes this different from other countries, and there is nothing unique particularly to IBM as a foreign company/gaishi.  There is even a comment at the bottom of the article from someone who experienced very similar methods at a Hokkaido local government agency.  In fact IBM Japan is more Japanese than other foreign companies as it still has a company union.  90% of the employees used to belong to it in the 1960s but now only around a 100 or so are members.  It was probably one of those members that leaked the manual to Toyo Keizai.
The advice an employment lawyer gives to those who do not want to leave is to say so immediately in an email or letter and repeat this in at least two meetings.  Then say that any further meetings are a hindrance to your work.  The manual does indeed say that if it is clear that there is no interest in leaving, "then do not approach any further".
As the article concludes, many Japanese companies are embarking on similar processes in order to restructure, and how far employees are prepared to fight this is both a mental health and a financial choice.
UPDATE: By coincidence it was just announced today that the Tokyo District Court on Monday nullified the firing of five employees by IBM Japan Ltd. and ordered the company to pay their lost salaries. And apparently IBM Japan was found guilty of breaking the Trade Union law last July too.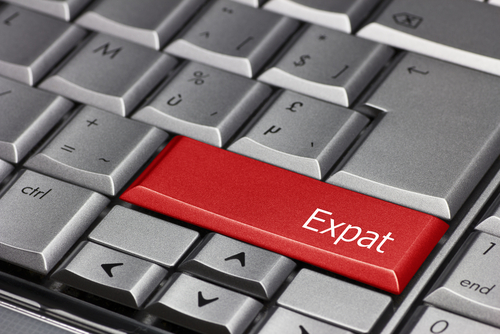 Over 1 million Japanese people are living abroad, according to Diamond magazine, and the number of countries business people are being sent to is increasing each year.  The era when only those who could speak foreign languages were sent abroad is over. However the number of people who want to work abroad is shrinking.  When you ask why people are so negative about expatriation, the most common reason is "worries about my career when I return".
Diamond gives the example of Mr D, born in Tokyo, who works for an automotive parts manufacturer and had never been abroad – his furthest business trip was to Osaka.  He worked in the domestic manufacturing division  Only his peers who had been good at languages or studied abroad were sent overseas so he never thought the day would come when he would be asked to transfer.  But his company became partly owned by a foreign company and as a consequence some of their executives joined the management team.  The President declared that he would like 30% of all employees to have had some kind of overseas experience, and that this was essential for the survival of the company.  Mr D is waiting for his orders to go abroad.  So far, none of his peers have refused the offer.
According to a global survey by UK recruitment company Hydrogen, the most popular destination for expatriation is the US, then the UK, Australia, Singapore and Canada.  However by far the most rapid increase in expatriation is to Asia.  Particularly for manufacturers, countries where there are factories are the most likely, so in Mr D's case, his destination is likely to be Indonesia or Thailand.
But even if it was Europe or the US, would Mr D's anxiety disappear?  To Mr D, it makes no difference – all regions are "foreign".  Why did Mr D join a company where there was a high chance of being expatriated?  It turns out it was the only company out of 200 that he applied to that made him a job offer in the post Lehman Shock recruitment Ice Age, so Mr D lied about being willing to go abroad.
Another reason for not wanting to go abroad is that most companies will refuse to set a time limit on how long the expatriation will be.  This is due to the fact that they do not know how long it will take before the expatriate becomes effective in their job in the overseas subsidiary.  Usually this is around 3-5 years.  But sometimes expatriates end up overseas for more than 10 years, and the expatriation has become a "one way ticket".
Mr D worries that even if his stint abroad is only 3 years, it will still be a "blank" in his career development.  Particularly as there is major restructuring going on in the domestic operation and new products will be developed and old product lines disposed of while he is away.  Staff who were working on products that were thought to be the heart and soul of the company found themselves being sidelined to "window gazing seats".
Mr D fears not only that he won't be able to return to his own division but that by being abroad for 3 years he will miss out on the new technologies being developed in Japan.
Rather than forcing Japan HQ staff to become more "global minded" by sending a large number of them abroad – an expensive and high risk strategy I would argue –  why not bring more overseas employees and managers to Japan for short term secondments so they can absorb enough HQ knowledge that they can transfer to the local factories themselves when they return?  If more non-Japanese employees work in Japan then the HQ will get used to being more globally minded.  It would then only make sense to send Japanese HQ staff abroad who are clearly marked out for senior global management roles, so that their expatriation is seen as a career development step rather than a blank.
Shigenobu Nagamori, the billionaire founder of the world's biggest manufacturer of micro-motors for hard disks and optical drives, Nidec, has acquired more than 40 companies in Japan and overseas.  He comments in a Nikkei Business article that "you cannot just leave foreign acquisitions alone to get on with things by themselves.  You need thorough mutual understanding and to even replace management if necessary."
"Although you no longer hear about Japanese companies sending lots of managers over to their overseas subsidiaries who end up issuing all sorts of misguided directions, you now hear of companies who say 'we think the same way as the counterpart management' and so decide to buy the company and then just leave the management as is."
"This is an illusion.  Actually they are being left alone because the Japanese company doesn't really understand what they are doing. It ends up with compromising on the necessary management reforms and profit targets."
"I have regrets myself. We acquired 10 or so companies in Europe and North America from about 2010.  We were warned by various companies who had M&A experience and financial institutions that we couldn't restructure foreign companies the way we would Japanese acquisitions and that it was best to 'leave it up to the foreigners' otherwise they will quit"
"I thought that was true at the time.  I also took on board the advice that Japanese managers needed to be people with Harvard degrees and a network amongst foreign executives."
"However one company did not make any improvement no  matter how often I set profit targets.  I thought there must be something wrong with the company management as such a company should as a matter of course achieve profit margins over 15% but I was told that it was the limit for their industry."
"In Japan you would try to persuade the management to adopt our "kaizen" knowhow (knowledge of how to improve) but we hit a wall with this in the West.  So in 2012 we changed the management of the acquired company.  But you can't do it like pulling a trigger.  I make a point of visiting each company at least once a year and have dinner not just with the executives but also the managers and discuss things with them.  I also encourage them to send emails directly to me and I respond to them.  I am trying to understand all the ideas people have for improving profitability."
"It's important that people in the company understand my thinking and I understand whether they are capable of understanding.  If they are then it doesn't matter if the CEO is changed. "
"It's the same in Japan.  Communication is important.  If you just cut back costs and improve profit, the company will not survive in the long term.  Where is there waste, how can we make the most profitable products – the basics are the same in Japan or elsewhere. If this is understood, then overseas companies can be reformed too."
"I think Japanese companies are too scared to touch their overseas subsidiaries.  They overthink the differences.  I used to be like that, but there is no need.  The basics of management are the same everywhere."
Sending Japanese students abroad as interns has become very popular in the past year or so, according to Nikkei Business.  The Uniqlo brand owner Fast Retailing sends around 73 students a year to Singapore, London and Melbourne.  Sompo Japan Nipponkoa despatched 10 interns to Singapore earlier this year and Softbank has sent 5 interns to work for its Sprint subsidiary in Kansas.
It is seen as one solution to the shortage of graduates who have overseas experience or the interest in working abroad.  Most "global minded" graduates head for prestigious and well paid trading company jobs.  Returns on the hefty investment in such internships are not guaranteed however.  Whether enough interns actually then join the companies who sponsored them, or whether a short internship is any substitute for prolonged periods of study abroad is not yet clear.  My view is that Japanese companies should invest similarly in internships for non-Japanese recruits or at least offer short secondments to Japan as part of their graduate induction programmes, if they are really serious about making their Japan HQs more globally minded.