Rudlin Consulting provides expert analysis and consulting to anyone interested in Japanese companies in Europe, Middle East and Africa as investors, employers, partners or customers.

Now you've found us, you can: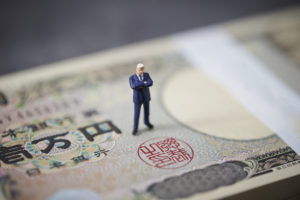 Ryohei Yanagi is a self-styled untypical Japanese business person – not only is he holding down several jobs – as CFO of Eisai pharmaceutical company and also a Visiting Professor at Toyo University and a Visiting Lecturer at Waseda University, but he has changed employers in his career, even more unusually switching from a foreign company (UBS) to a Japanese company, rather than the other way round.
ROE of 8% was not plucked from nowhere
He is also a very dynamic speaker, and not low on ego.  In his talk to the Daiwa Anglo-Japanese Foundation earlier this month he claimed credit for setting the ROE target of 8% in the Ito Review instigated by Prime Minister Abe as part of his Abenomics structural and governance reforms.  Yanagi was criticised for plucking this figure out of nowhere, which was seen as unrealistic given that ROE in Japan had been averaging at just over 5% over the past 30 years.
He took us through his research, to point out that the Price Book Ratio only moves into positive territory (in other words the company is valued on the stock market at a higher rate than the cash and assets it has) when ROE is 8% in Japan.  Apparently investors are discounting cash held by Japanese companies by 50%, because they fear that the company might make a stupid investment, and overpay, or just sleep on the cash instead of using it productively.  By contrast, US companies' average ROE over the past 28 years has been around 14%.
Shareholder value destruction rooted in Japan's main bank governance system
Yanagi sees the root cause of this shareholder value destruction as being the main-bank governance system that used to dominate Japanese blue chip companies – whereby each major company had a "main bank" from one of the keiretsu, who provided most of their funding, governance and cross shareholding along with other keiretsu members. This main bank system was crumbling even before the Ito Review set the ROE target and other corporate governance reforms.  Foreign shareholders now represent the largest shareholder group on average – owning around 30.8% of listed Japanese companies' shares, up from less than 10% 30 years' ago.  Since the governance reforms of 2012-2015, Japanese companies' ROE has increased to 9% and the Price Book Ratio has become positive.
Of course this analysis provoked quite a lot of questioning from the audience – many of whom were investing in Japanese companies, and had qualms about any notion that Japan should adopt wholesale the Anglo Saxon short term shareholder value maximization model.  Yanagi was not saying that Japanese companies should drop their commitment to the environmental and social elements of ESG, but should look at the return on equity of such initiatives too.
An investment in a Japanese company is not just an investment in the Japanese economy
He gave the example of Eisai's commitment to manufacturing – for free – medicine to eliminate the neglected tropical disease lymphatic filariasis. He believes Eisai will see a return to the cost of this, as it will increase the capacity utilization of Eisai's factory in India, and improve their skills, and this factory then has the capability to produce other profit making drugs which can be exported to Europe.
There are quite a few investment funds in the West focused on Japan, and also several funds that exclude Japan because of its historically low returns. Most emphasise that they are aiming for long term capital growth, rather than quick returns. Usually they define a "Japanese company" as listed in Japan, or if listed elsewhere, having the majority of their business in Japan.  As mentioned in another post, looking at companies like Takeda or SoftBank, or at this increase in foreign shareholdings, and more emphasis on return on equity – I do wonder whether the definition needs to be refined further.
An investment in a Japanese company is not just an investment in the Japanese economy.  Many Japanese companies have the majority of their revenues from outside Japan.  Takeda has more non-Japanese than Japanese executives.  Whilst no shareholder should tolerate value destruction, the Japanese company's traditional long term perspective, with emphasis on positive environmental and social contribution, rooted in specifics of the Japanese market and society, and now with added improved corporate governance, is surely an attractive one.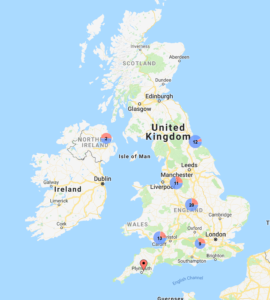 "1000 Japanese companies in the UK, employing around 140,000 people" are the figures usually given when talking about the impact of Japanese companies on the UK economy, and therefore what impact their reaction to various shades of Brexit might be. This reaction will depend on which sector they operate in, so I will undertake over the next few blog posts to break the 1000 down into groups of similar companies and draw out relevant data on them from our Rudlin Consulting database (if you would like to purchase a customised version of this database, please do contact us).
I have picked on the automotive sector first, and in particular those companies which have production sites in the UK.
There are 55 Japan affiliated companies who manufacture automotive components or vehicles in the UK, employing around 26,125 people – this represents 5.5% of all Japanese companies in the UK and nearly 19% of all employees of Japanese companies. Here's an interactive map of where they are located.
Why the focus on the automotive supply chain?
You can immediately see why automotive production has been the focus of a lot of debate about the need to stay in the single market and a customs union with the EU, protecting just-in-time supply chains between the UK and the EU. Not only does this sector employ a proportionately larger number of people per company than average, but production in this sector is based in areas which are badly in need of secure, skilled, blue collar jobs.
As you might predict if you have been following Brexit, most of these regions in which these companies' production sites are located  were strongly in favour of leaving the European Union.  According to our data (using the BBC's tool), the average vote for Leave in the regions with Japanese automotive production was 58%.
Automotive supply chain jobs not threatened by Brexit?
As other researchers have pointed out, voters may have had stronger reasons for voting Leave than concerns about automotive jobs.  Or maybe they did not believe that these jobs were under threat.
Perhaps Leavers thought Nissan, Toyota and Honda's production in the UK would be fine because the British are continuing to buy Qashqais, Yaris's and Civics, but actually 88% of Toyota's UK production is exported, 67% to Europe, 80% of Nissan's UK production is exported, 76% to Europe and 75-80% of Honda's UK production is exported to Europe. As we noted previously, the UK's car market is not big enough on its own to support a full scale car production industry.
Since Brexit, there have been reassurances from the UK government that Nissan (and presumably other car companies) will not be impacted by tariffs or regulatory impediments in their exports to Europe and all three companies have announced further investments in their UK operations.
On-shoring is not happening
But all three Japanese car companies have also emphasised that they need frictionless supply chains. So the obvious answer might be for all their suppliers to move production on-shore or at least set up bigger warehouses or assembly facilities in the UK.  Nissan has indeed encouraged its suppliers to set up near it in an industrial park in Sunderland. Those 55 companies who already have production in the UK might see a rise in orders and indeed some mention in their annual reports that there are potential benefits as well as costs to Brexit for them.
The problem with on-shoring is that, depending on where the company is in the supply chain, their own suppliers might be based in the EU, and in fact the same component  may need to pass back and forth between the EU and the UK several times, in which case they face higher costs if there is further instability in the exchange rate between sterling and the euro post Brexit and also frictions at the border when rules of origin and regulatory compliance need to be checked.
So for a truly frictionless supply chain and complete currency hedge, the whole chain will have to produce on-shore. This represents a substantial cost to suppliers, who are mostly trying to spread the risk by dual sourcing or globally sourcing and making sure that they are not too reliant on one car manufacturer as a customer.
In fact 40 of the 55 companies who already have production in the UK have production sites elsewhere in the EU, and the trend seems to be to open production sites in Slovakia or transfer production from the UK to the Czech Republic rather than onshore – reinforced by Jaguar Land Rover's new factory in Slovakia and the Toyota Peugeot Citroen manufacturing joint venture in the Czech Republic.
Many of the 15 who only have production in the UK also supply other industries beside the automotive sector, or are highly reliant on Honda or Nissan so will presumably stay so long as they stay. Or, if they supply other customers outside the UK, they can hope that the soon to be signed EU-Japan Economic Partnership Agreement's reduction of tariffs and regulatory harmonization for car parts means they can easily import components made in their factories in Japan into the EU.
It's not just about manufacturing though
Since the Chequers' agreement amongst the Conservative cabinet was announced, which, if accepted by the EU, would enable the continuing frictionless production supply chains, various other sectors have been pointing out that as 80% of the UK's GDP is actually generated by services, their exclusion from any single market-type deal does not make sense for the British economy.  Furthermore, the distinction between services and manufacturing is not as obvious as it used to be. 10% of Nissan Motor Manufacturing's 7500 staff are in design and development. Most of these staff are based at the technical centre in Cranfield. They represent a huge variety of nationalities and travel frequently across Europe and to Japan, working with counterparts in Nissan technical centres in Belgium, Russia and Spain. If it becomes difficult for them to travel for work, or send prototypes back and forth to clients – and if the UK no longer has any influence on the regulatory standards that they need to comply with – then it won't just be production jobs that are in danger of being offshored.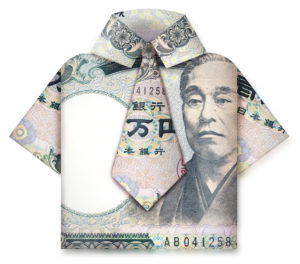 Japanese blue chip companies such as Hitachi, NEC, Panasonic,Sharp, Sony and Toshiba have been hiving off non-core business since 2011, through sales to private equity funds such as KKR, or to Chinese companies or other Japanese blue chips.  It often seemed like the kiss of death to the employees concerned at the time, but in many cases has resulted in successful turnarounds.
Fujitsu, having absorbed Toshiba's mobile phone business, then sold off the unit to Polaris, a domestic Japanese investment fund. According to Nikkei Business magazine's article on how to dispose of non core business, Polaris's President Yuji Kimura is confident of future growth, despite the stagnation of the Japanese  mobile phone market.  Polaris has decided to focus on the Raku Raku range of models, which are simplified smartphones, aimed at the elderly.
However other spin offs, such as Hitachi, Sony and Toshiba's LCD businesses merging to form Japan Display and Haier's acquisition of Sanyo's white goods business from Panasonic, are still struggling.
Nikkei Business magazine highlight three points for success:
1. Review business scope
WIthdraw from markets were there is strong price competition even if it is an area that the company has a strong technological edge and look for other markets where the technology can be put to use.  Even if this means shrinking the size of the business, build up a structure which is profitable.
2. Understand where you can win and make nimble, strategic investments
For example, only 1 year and 3 months after KKR acquired Panasonic's healthcare business in 2013, they surprised everyone by acquiring the diabetes healthcare business unit from Germany's Bayer.  The company was renamed PHC Holding.  Its CFO Masahiro Uda says "we never could have done this if we remained within Panasonic"
3. Change the organisational structure
When Pioneer sold off their DJ audio unit to KKR in 2015, they had to switch from a mass production product development mentality to a small scale production mentality.  Many processes became obviously unnecessary and were consquently realigned and development cycles became much shorter.
KKR Japan's CEO Hirofumi Hirano adds a further point – that you must not forget to have a dialogue with employees, to explain to the union what the aim of the acquisition is, and what you see as the potential for the company.  "There is still a strongly rooted mistrust of investment funds in Japan" he says.  In the 1990s they were seen as asset strippers, and even though their image has improved recently, you still hear them being called "vulture funds".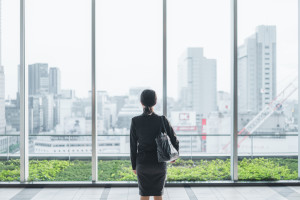 According to Nikkei Woman magazine, the clear message from this year's annual best places to work for women survey is that companies must have an "all inclusive" approach to diversity, not just focus on initiatives for women.
The survey was sent out to 4347 listed Japanese companies with more than 100 employees. The responses were scored on 4 factors – 2 for engagement (how many women were in management and progress on promoting women) and 2 for working practices (degree of work life balance, degree of diversity)
The companies in the rankings are not so different from previous years and other similar rankings  – a mix of non-Japanese companies (Johnson & Johnson at #1, IBM, Accenture), life insurance (Mitsui Sumitomo Life, Daiichi, Nissay, Sompo all in the top 20), health and beauty (Kao, Shiseido), recruitment agencies, retail and travel companies.  Non-life insurance financial services companies also make an appearance – the biggest riser being Sumitomo Mitsui Banking Corporation, up from #26 to #19.
The kind of initiatives Nikkei Business (reporting on the survey in its sister publication) highlights that are more widely inclusive include J&J's Open&Out, a LGBT network, unconscious bias training for male employees and having agile workplaces – where place and time of work are not restricted.
The four "do's and don'ts" the Nikkei Business proposes for a wider diversity and inclusion strategy are:
      

Don't think of better utilisation of women as just for women's benefit, see it as an important management strategy

      

Don't think of shorter hours as just for women who need to look after children, but have everyone working productively and efficiently

      

Don't have management development sessions for women only, add awareness raising sessions for male managers
 

     

Don't see childcare and elderly care as for women only, include men as carers
All pretty obvious really, and not necessarily practiced wholeheartedly in Europe either, but good to see it spelt out in a mainstream business magazine.  The message that this is about improving the work life of all employees is likely to resonate well with traditional Japanese companies, sometimes termed the "last functioning socialist organisations".
Takeda's French CEO Christophe Weber is on another charm offensive ahead of the get-the-popcorn-out annual shareholders' meeting on June 28th, with an interview in the Nikkei Business.
I found the interview very easy to follow, compared to other interviews with Japanese Presidents.  I suppose this is for the same reason that Prime Minister Abe's speechwriter writes his speeches in English first, and then translates them back into Japanese.  The resulting Japanese is much clearer and more logical.  On the other hand, the interview is stuffed with Anglo Saxon finance concepts like EBITDA, EPS and scenario planning, which must be difficult for more traditional Japanese stakeholders to swallow.
I also get the impression the Japanese interviewer felt able to be more blunt in their questions.
Why did you buy Shire?
"We have already been focusing on R&D during our major reforms at Takeda, and this is going well.  So we didn't need to make this acquisition, it was more a case of doing this in order to accelerate the reforms at Takeda, to make us even more competitive."
The board did not all agree at first?
More than half of Takeda's board are external directors.  "There were many questions.  We had several meetings before we reached a final decision…  Shire had R&D strengths in the same areas Takeda is focusing on, which is why we decided to buy them.  We did a lot of scenario planning and clarified the risks, thinking about what would help Takeda succeed  in the long run."
So there are no big risks?
"It's not zero, but f we have an appropriate buffer, we can avoid risks.  For example, selling off businesses which are not within the scope of our strategy".  Presumably it's this kind of approach that is worrying Takeda's founding family shareholders.
How do you see the fall in Takeda's share price on the news of the acquisition?
"Of course we weren't happy.  We weren't able to explain the decision in full, so I think if we can explain in more detail from now on, people will be persuaded.  We will maintain the dividend.  We will increase earnings per share.
Shire turned down your approach a few times.  What were your thoughts then?
"It would have been good to have progressed more quickly, but it is important to start negotiations from a point relative to the upper limit of a rational offer price.  I also wanted it to be a friendly not hostile approach."
So was it the most appropriate price in the end?
"Yes. If not, we would not have gone ahead"
Shire is known as a company that is good at making money.  Why is this?
"It's because they focus the business. 65% of turnover is in the US and profitability is also high.The organisation is lean and they focus their research."
Something Takeda can learn from?
"Yes, very much so. I think there will be some great outcomes from the merger.  We can accelerate the improvement of Takeda." (You can feel Takeda's founding family wince at this point)
With this acquisition, Takeda will enter the world's top 10 pharmaceutical companies.  Are you happy that Takeda will now have the scale to continue as an R&D led company, or do you want to expand further?
"I think we will be competitive enough.  We will have regional balance, sufficient funds for R&D, an appropriate strategy, excellent candidate drugs. I don't see any weaknesses… We are not going to let the pursuit of M&A go to our heads.  We are very cautious in evaluating businesses.  We also use partnerships with universities and other companies in order to develop drugs and have over 180 such joint development projects."
Takeda has just set up a Health Innovation Park in Shonan, Japan to encourage such partnerships.  Weber does not think this model is appropriate outside Japan, however.  In the US, venture capital is more readily available. It's true that Japanese companies in the same supply chain, or who might even be competitors in other areas, are much more willing to cooperate in an ecosystem, for mutual benefit. It's a strength of Japanese companies which I hope they hold on to, despite pressures from Western shareholder shareholder oriented capitalism.
More than half of top management are not Japanese.  Dublin, where Shire's headquarters are, is a low tax base – will you shift Takeda's headquarters outside of Japan?
"No No No No. Takeda is a Japanese company.  The headquarters inarguably are in Japan. The name will remain as Takeda. We are in the middle of building a new global headquarters in Tokyo, in Nihombashi.
So is there a meaning to being a Japanese company?
Being a leading Japanese company has meaning on the world stage.  When in 2017 we acquired ARIAD, they themselves were looking for a Japanese partner, because of Japan's strengths in their area of research.
What were your feelings when you were approached to be CEO of Takeda?
I was really surprised.  I had never met Yasuchika Hasegawa, the then president of Takeda.
That's amazing!  What made you take the job?
I was attracted by Takeda's wish to be a global leader and their vision and values.  It is an industry where you need to have a strong sense of responsibility, and Takeda has that in their DNA.  Actually most people told me not to take the job.  There is the rumour that foreign CEOs don't do well in Japan as there have been more cases of failure than success.
And how was it since you took the job?
For the first few months I was in listening mode.  More than 70% of employees are outside Japan and they need to be heard too.
Were there things that were difficult, because it was a Japanese company?
One thing I realised was that you cannot say "the Japanese company way" as every Japanese company is not the same. There are elements in common of course, but there are big differences."
With the acquisition of Shire, the company will expand further – what are the priorities for management?
It is quite simple – to make sure employees feel motivated and happy, and that the company succeeds.  My responsibility is to ensure the environment is where diverse employees can give their best.  It's important to take time to communicate.  I am conducting town hall meetings in each operation.  After a short explanation of trends, we have a Q&A.
Weber says he has been a manager for 25 years and made many mistakes, but his main philosophy is to never stop learning.
In 2016 Weber set up a Vision 2025, to encourage the development of highly innovative drugs to bring to the world and be a company that is trusted by all stakeholders.  "At Takeda, the patient is number one".  He defines "Takedaism" as fair, sincere, honest and tenacious.
With this deal, you have become one of the most famous business people in the world.  Aren't you getting invitations to join other companies?
My timeframe is the 2025 deadline for realising the vision. I have said repeatedly I will stay at Takeda until then.  I have not become president in order to become famous. I believe this acquisition is the right thing for Takeda to do. That is why we are doing it.
If you do leave Takeda before 2025, you owe me a dinner.
Of course, but I get to choose the restaurant.
Nikkei Asian Review has an interesting article on Weber's impact on Takeda here (in English).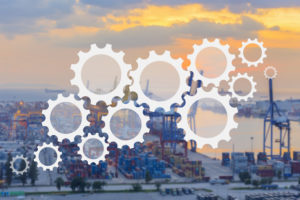 The report on Sky News about the Dutch government advising Dutch companies not to use British made parts in goods for export before Brexit spurred me to do some more analysis into the impact this kind of advice might have on Japanese automotive suppliers based in the UK. In fact I even stayed up until 1am last night doing it – I'm that obsessed.
The results of tweaking my database of Japanese companies in Europe reveal that there are around 40 Japanese automotive suppliers in the UK who have production facilities in the UK.  They range from solder suppliers to paint production to car seat manufacturers, from 7 to over 1000 employees, employing around 13,600 in total.
Are 13,600 jobs in UK-based Japanese automotive suppliers at risk?
So should those 13,600 people be worried about their jobs right now?  75% of those Japanese companies have similar production sites elsewhere in the European Union. So supply to EU car plants could easily shift to those sites.
The 40 automotive suppliers with production sites in the UK can of course continue to supply the UK based car manufacturers, if there is enough demand to sustain viable production levels. There is a theory (blog post here) in the Japanese automotive world that viable production levels require a market of 100 million people, which is greater than the UK population.  Of course UK based car plants are not just supplying the UK, but the EU and in the case of Honda, their Civic model is also exported to the USA and even to Japan.  In fact almost 80% of British car production is exported, the majority of this to the EU.
What were the secret UK government promises to Japanese car manufacturers in the UK?
So the 13,600 jobs are less at risk, if the UK based car manufacturers can sustain their exports to the EU after Brexit.  Which is why there is the concern that a lack of a deal with the EU means 10% tariffs on British car exports to the European Union.  Presumably the secret promises that the UK government has made to Japanese car manufacturers include some kind of bung to ensure that any cost of the tariffs is compensated for.  Whether this is allowed under WTO rules or acceptable to the EU, I leave to the trade wonks.  I suspect the answer is no.  It also explains why the UK government is so keen on the customs partnership solution and max fac.  Presumably they see this as enabling them in real time to have a grip on what is being traded and tariffs imposed, so they can compensate UK car manufacturers accordingly or set up a fast lane for them in processing at the borders.
The quandary facing Japanese automotive suppliers with no UK production base
The UK government presumably also pitched max fac to the car manufacturers as the technical solution to the worries flagged up in the report in the Financial Times yesterday, of delays at the borders disrupting just-in-time supply chains for automotive parts coming in from the EU.  This is why Japanese car manufacturers like Nissan have been pressurising automotive suppliers to set up in the UK, preferably in the new industrial park right by Nissan's factory in Sunderland.
Weeding through my database, I have identified 33 Japanese automotive suppliers with sales arms in the UK but who do not have production in the UK.  So should they now consider setting up production bases in the UK?  They have to take a view on how likely it is that UK based car production will be maintained after Brexit.  How will the Nissan-Renault alliance resolve itself – will Renault become dominant, in which case, expect French production to be prioritised?  Nissan also has another EU based plant, in Spain. Honda wants its UK plant to be a global hub, but also has a factory in Turkey (which exports car models such as the CIvic to the EU under the EU-Turkey customs union).  Toyota has car plants in France and Russia.
Consolidate supply chain within EU, leave importing to UK to the last possible minute
A further complication is that the import and export of automotive components is not just a one off – the same part may go back and forth several times between multiple factories, having solder/paint/other components added.  Concerns about rules of origin and the paperwork involved, and possible delays at the border, along with the car manufacturers themselves essentially saying to suppliers "that's your problem not ours" might lead a supplier to conclude that the best solution is to consolidate the supply chain within EU borders, until the final moment when the component has to be brought to the car manufacturers' UK site for assembly.  There might be some more warehouses at the Sunderland industrial park, and maybe some finishing/assembly facilities, but a safer, cheaper bet would be to put most production in Eastern European countries such as Slovenia or Slovakia, which does indeed seem to be what has happened over the past year or two.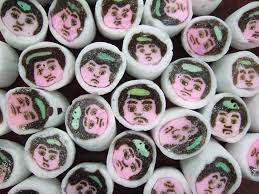 Mid May is usually the deadline for applying for graduate entry at Japanese companies, in the job hunting process (known as shukatsu – a good explanation from Japanese recruitment agency Disc here) for final year students in Japan. This usually prompts some interesting analyses from the Japanese business media on what's new and changing on the graduate recruitment scene.
An article in Nikkei Business focuses on the banking sector, a traditional favourite for arts graduates of top universities.  All the megabanks are reducing their graduate intake – MUFG by 10%, SMBC by 20% and Mizuho by a whopping 50%.
Mizuho had already announced that it was looking to reduce headcount by a quarter but this cut in graduate hires is not simply about hitting that target. Mizuho's recent recruitment brochure is headlined "We want to meet people who are not very Mizuho".  They are drastically reducing the number of "specialist" track graduate hires – mainly counter staff – more commonly known in other companies as the ippanshoku track that attracted mainly female graduates – the old "Office Lady" track.
For the generalist track, Mizuho have started targetting science graduates at universities, with a view to developing Big Data analysts, and also Japanese graduates of foreign universities, or foreign students at Japanese universities.  They say they are looking for creative people, who have a spirit of challenge.  As the Nikkei says, it's not clear how easy this will be for banks which are usually the choice for people looking for long term security and stability.
Japanese companies are no longer "family" but a tree to perch on
Graduate attitudes to employment may be going Mizuho's way, however. Another article in the Nikkei Business looks at "May sickness" – the feelings of depression that hit graduates who joined the company in April.  With the labour shortage being felt in Japan, companies are worrying about the persistently high (by Japanese standards) proportion of graduate recruits who leave within the first 3 years – stuck at around 33% for the past few years, compared to around 20% in the late 1980s and early 1990s.
The usual explanation for persistently high numbers quitting is that when companies cut their graduate intake in tough times, graduates take whatever job they can find, and may end up at a company that does not suit them. But this does not explain why now, when graduates can take their pick of many offers they still end up unhappy with their choice.
The annual survey of Japanese graduates by the Japan Productivity Centre provides a clue.  Since 1971, graduates are asked which of three reasons most closely reflects why they chose their employer.  In 1971, the biggest reason (chosen by 25%) was "because the company had a durable future".  This is now the least popular reason, chosen by less than 10%.  "Because the work is interesting" was the least popular reason in 1971, chosen by around 15%.  This dipped below 10% in the 1980s, then rose, and is now declining, to just below 20%.  The most popular reason is now "because I can develop my own abilities and individuality"  – chosen by over 30%, compared to less than 20% in 1971.
Tama University's Yasuyuki Hatsumi concludes this shows that young Japanese people no longer see companies as a family to join for life, rather as a tree to perch on temporarily.  He suggests that Japanese companies might need to plan for this, and allow employees to take a year's sabbatical, to rethink their career paths and take up further professional development.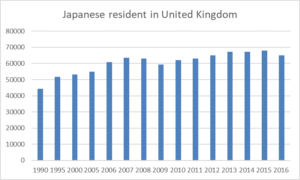 The UK is the only top 10 European economy where the number of Japanese residents has declined from 2015 to 2016.
The number of Japanese residents in the UK hit an all time high in 2015 of just under 68,000, according to Japan's Ministry of Foreign Affairs. This fell by 4.5% in 2016. The last time there was a significant fall in Japanese residents in the UK was 2007-9.  Presumably this can be attributed to the Lehman Shock, and numbers have been climbing steadily since 2010.  So why has there been another drop?  Brexit might be the easy answer, but the referendum vote was in June 2016, so it seems a rather immediate impact.
There are more Japanese in the UK than anywhere else in Europe, both in absolute and relative terms. The second highest population of Japanese in Europe is in Germany (44,027) and the third highest is France (41,641), with other countries having substantially less Japanese presence (4th is Italy, with 13,808).
I was surprised there were that many Japanese people in France as there are fewer large Japanese companies and regional headquarters in France relative to Germany or the UK. Fortunately, the Ministry of Foreign Affairs breaks down the total by whether they are permanent residents or long term residents – broken down by intra company transfers, self-employed and students/academic related. 
As you can see from the graphic, France has a relatively larger proportion of students, self employed and government related people, whereas the UK has relatively more permanent residents and Germany relatively more intra company transferees.
Number of permanent Japanese residents in the UK has risen, but academic, corporate and diplomatic residents have fallen
The number of permanent Japanese residents in the UK has risen by 4.5% to 19,785 (30% of all Japanese in the UK) and the number of long term residents has dropped 7.9% to 45,813.
The UK still has the highest number of intra company transfers in Europe – 17,841 – but this is 4% down on 2015.  The bigger falls were in students/academics/researchers – 13.8% (from 19,100 to 16,461) and government related – a 25.7% decrease from 934 people to 743.  So is this due to young Japanese becoming more reluctant to study overseas?  Is the UK losing its centrality as a diplomatic posting?
Comparing the UK to trends in Germany and France shows that Japanese are still studying in Europe, just increasingly more in Germany or France (also large Japanese student populations in Italy, Spain and Switzerland and significant increases in the Netherlands and Ireland).  Diplomats and other government officials are also gravitating more towards Germany and France (there are also a large number of Japanese government people in Switzerland).
Germany hosts almost double the number of Japanese companies than the UK does (1811 compared to 998) so the other key difference between Germany and the UK is the density of Japanese people on intra company transfers per Japanese company.  The UK has by far the highest density – of around 18 Japanese residents per company, then Belgium with 12, then France with 11, Germany, Netherlands and UAE with 9.  This is due to the large number of regional headquartered financial services and trading companies in London.
So what has changed since 2015 that has not impacted the other European countries so much, apart from Brexit?  I conclude it must be the increasing difficulty of obtaining Tier 2 intra company transfer visas (as I mentioned in my comments to the Financial Times recently) and also student visas (as explained in this 2016 report).  Government agency/diplomatic visas are dealt with separately I assume – maybe this is an element which can be explained by the UK's declining international influence and more a question of reduced demand rather than reduced supply?  Either way, Brexit and visa restrictions will be a combination precipitating further rebalancing away from the UK and to the continent, I predict.