Rudlin Consulting provides expert analysis and consulting to anyone interested in Japanese companies in Europe, Middle East and Africa as investors, employers, partners or customers.

Now you've found us, you can: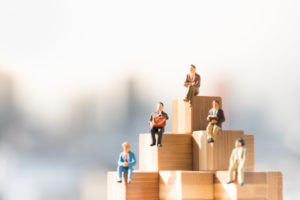 I was surprised to see this explanation of  five generations of "workstyle reform" blockers in the Nikkei Business magazine came with a big red caution notice to readers not to take offence. The categories are not to be taken as hurtful stereotypes but based in research, and do not apply to all people of a particular age group, they explain.
So with that in mind, here's a precis of the 5 types identified. Even though I'm not Japanese, I'm afraid I do recognise aspects of myself in the "middle manager" category, and am trying not to take offence. Although some of the characteristics are obviously derived from each age group's experiences of the Japanese domestic economy and society, I am also reminded that there is plenty of evidence each generation around the world has complained about the other generation for the past thousand years or more.
1. The Veteran
Born between 1947-1951, so 66-71 years' old
Work comes first
Believes in the virtue of hardship
Over strong sense of competition
Clings to past experiences of success
No intention of changing how they work
Gets angry if their way of working is rejected
Will oppose competitors' opinions regardless of content
Caught up with "how things were" in the past.
2. The Executive
Born between 1952-1960 so 57-66 years' old
Don't rock the boat – doesn't want to challenge
Laissez-faire
Always talks about "ideally"
People are people, I am what I am
Rather than change workstyle, is interested in what happens after retirement
Uninterested in reform, regardless of content
Just wants results, doesn't make concrete proposals
Won't listen, as retiring soon anyway
3. The middle manager
Born between 1961 and 1970, so 47 to 57 years' old
Superficial
Thinks too highly of self
Extremely hedonistic
Sees everything in cost/benefit, mercenary terms
Reform should be done cheerfully, enjoyably without trying too hard
Won't do it if not fun
Will oppose anything which increases own workload
Tells everyone to do their best and doesn't do anything themselves
Will change the content of any reforms on a whim
4. The shop floor leader
Born between 1971 and 1986, so 31-47 years' old
Pessimistic
Not good at interacting with other people
Prioritize risk avoidance
Strong sense of resignation – "they won't understand"
"If this reform fails, there is no future for me"
Won't promote reform if don't trust the company
Too busy watching others' reactions to say own conclusions
5. The staff member
Born between 1987 and 1994, so 23 to 31 years' old.
Little sense of crisis
Not good at making an extra effort
Prioritizes personal life
Everything in moderation
"Is reform really necessary?" Won't do it unless feels it's necessary
Let other people take up new challenges or jobs requiring some thought
No empathy with the reasons behind the reforms
Doesn't take the company so seriously, ignores directions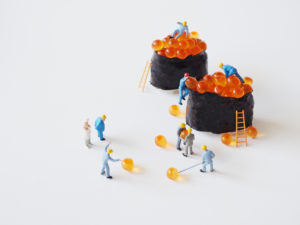 Mitsubishi Corporation has evaded the perennial "death of the sogo shosha" (trading company) threat again, this time by shifting away from resources and commodities.  Non-resource related business now accounts for 70% of its profit, a complete about face from 2011, when it first started categorising its revenues in this way, and non-resource business was 30% of profits.
One contribution to this was Mitsubishi Corp's acquisition of Norwegian fish farmer Cermaq in 2014, for $1.4bn.  Not only is its production ending up as sashimi in Japan, but it has outlets in the US via supermarket chain Costco. Mitsubishi has also been acquiring businesses in chemicals, automotive, fertilisers and materials sectors and recently raised its stake in Toyo Tires.
Nonetheless, higher resource and commodity prices were a key driver of its recently announced 22% increase in net profit for the last quarter and it has lifted its forecast for the full year to a record level.
It is not being complacent however, as it also announced in its new mid-term plan – to take it through to 2022 – that it will be revising its HR system for the first time in 20 years.  The main change is that the amount of time it will take before a graduate hire can take up a "kacho" grade management position from 20 years (ie not until early 40s) to 10 years. After 10 years, management appointments will be made on merit rather than seniority or which division the person originally came from.
Salary will be based on complexity of the job role, achievement of individual objectives and performance. Depending on performance, salary could be 50% higher than current levels.  Employees above a certain level will also be awarded shares on retirement in order to ensure that company performance is reflected in their compensation.
The current 7 business groups will be split into 10.  6 groups such as "natural gas" and "automotive" will be designated as profit drivers and encouraged to increase profitability. 4 groups such as "petroleum and chemicals" and "industrial infrastructure" will, through restructuring of industries and creation of new businesses, be the growth drivers.
As, like many Japanese companies, particularly the trading companies,  businesses were run on very vertical lines, there was a lack of cross fertilization between groups, so people will be appointed to develop businesses that cut across business groups. A Chief Digital Officer and digital strategy department will also be set up to respond to digitization, artificial intelligence and the Internet of Things.
The Nikkei points out that rivals Mitsui and Marubeni already have Chief Digital Officers and are investing in digital start ups but also that being behind on this does not seem to have impacted Mitsubishi's top performance amongst trading companies – so far.
It's often said that Mitsubishi is about organisation and Mitsui about people, if you want to get anything done. So this seems like (a somewhat familiar, from my own experience there 20 years' ago) attempt to move the company forwards by tweaking the organisation, but also trying to make sure the organisation doesn't squish the younger people coming up through the ranks – who are an increasingly precious resource in Japan's ageing and shrinking population.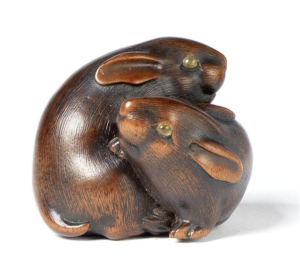 My Gmail translation app decided that the headline to this article in the Nikkei should read "Fujitsu response to nits that cannot hunt." It was some kind of misreading of "nito", an old Japanese word for "two hares"- referencing the Japanese saying "he who hunts two hares will not even catch one".  The two hares in this case being the targets of having more than 50% of sales from overseas business and an operating margin of over 10%.
Investment in IT in Japan is booming, and margins are rising, but Fujitsu continues to struggle to make profits overseas, and this is weighing down its share price.  Fujitsu's President Tatsuya Tanaka said when he became President in 2015 that Fujitsu must change shape and characteristics. He was the first President in the post war period (apart from the temporary President Mazuka) to come from a sales background and has strong ties to Toyota, Panasonic and other Fujitsu customers who have been strong globally.  Some changes have taken place such as the sale of Nifty – an ISP – to Nojima and the car electronics business to Denso. The mobile handset business has been sold to an investment fund and the PC business to Lenovo. It was decided that in January 2019 Fujitsu will sell off its shares in Fujitsu Components, a company with semi conductor and components factories in Mie Prefecture.
Fujitsu is shifting towards IT services, away from manufacturing with these moves.  Free cash flow has improved as a result and investors seem positive towards the restructuring but the share price has not improved. Operating profit overseas is still stuck at 1.7%, compared to overall consolidated profit margin of 4.5%. Overseas business has mainly been the sales of servers and personal computers – both affected by price wars. There has not been so much business in customizing systems, Fujitsu's main strength. Hideaki Tanaka of Mitsubishi UFJ Morgan Stanley believes Fujitsu should focus on supporting Japanese companies overseas to improve profitability.
Overseas business is still only 36.8% of turnover, and trying to reach 50% is likely to be at the sacrifice of profit margin. Japan's labour shortage means IT investment is likely to continue domestically. Competitors such as NTT Data and Nomura Research Institute (despite the name, an IT supplier) are both forecasting record high profits this year. "We don't mind if they stop overseas business all together " says one foreign securities house.
In fact Fujitsu does seem to be taking an axe to its overseas business, particularly manufacturing, and in Europe, where it has always been proportionately larger than most other Japanese companies. It annouinced that it plans to reassign 5,000 employees across the group on October 26th 2018, mainly from indirect functions such as HR, and accounting, and into professional sales and consulting. The last remaining computer factory in Europe, in Augsburg will be shut down by 2020, potentially affecting around 1,800 jobs. This demotion of overseas business has also resulted in the demotion of executives heading up those businesses, including Duncan Tait, one of the most senior non-Japanese, as Fujitsu has also decided to reduce the numbers on its executive board and move away from a regional to a more country based structure.
IT services account for around 80% of Fujitsu profits but although profit margins are improving, they are still not growing as fast as competitors, such as Nomura Research Institute, whose operating margin improved 0.6% on the previous year to 13.8%. Fujitsu is lagging behind in the development of upstream businesses such as AI and IoT.
Fujitsu also announced that it will partner with Ericsson in the development of 5G  – "the era of a single company doing everything by themselves is over" says President Tanaka.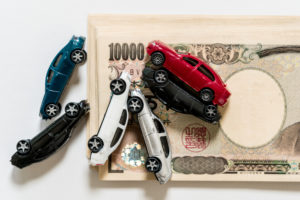 "We don't have any room to store increased stocks" says Hiroshi Seko, the UK MD of G-TEKT, a Japanese automotive supplier. According to the Nikkei newspaper, BMW have asked the automotive body work supplier stock 3 months' worth of supplies for the Mini because of concerns about the impact of Brexit on supply chains, when normally they only hold around a week's worth. G-TEKT imports 60% of the raw materials from France but does not actually have anywhere in their factories' grounds to store these raw materials.
G-TEKT has just started up its fourth factory in the UK (2 in Gloucester, 2 in Wales), to supply Jaguar Land Rover and Toyota.  It has increased employees from 568 to 808 over the past 3 years but is struggling to hire all it needs, particularly from continental EU, because of Brexit.
UK sales represent around 7% of G-TEKT's global turnover, most of its sales in Europe. It has also just started to build a factory in Slovakia, again to supply JLR, from 2019.
Similarly, Takayuki Furuuchi the UK MD of Japanese automotive supplier Faltec, whose only production in Europe is their factory in Sunderland to supply Nissan, is also wondering if current lead times are sustainable. Faltec imports more than half of its metal materials from outside the UK and is worried that with a no deal Brexit, ithere will be difficulties in the logistics of supply of stainless steel from France and other EU supplier countries.  These supply trucks pass through the Channel Tunnel to Dover. The Dover port authority estimates that a two minute inspection time would lead to a 27 mile tail back of traffic.
Faltec currently has a 2 day lead time from when Nissan orders the parts to when they expect delivery.  Faltec is wondering whether it needs to adjust its procurement, but it has taken many years to build up a supply chain which meets car manufacturers' rigorous standards and it will likely take a long time to make any changes to this.
According to a Japanese automotive supplier executive, "if there are logistical hold ups, then suppliers will just have to hold more stock". Faltec is currently investigating holding stock at its own risk and whether there are any warehouses available nearby.
Nissan is starting production of its next generation SUV Qashqai for the European market from 2020.  Expecting that suppliers will be expanding production as a consequence, the local authorities have given the go ahead for a new industrial park near the Nissan factory in Sunderland. But if chaos after Brexit affects the supply chain, there will be an impact on companies' European strategy.  Both Faltec and G-TEKT have been successfully expanding in the UK for over 20 years – Faltec increased employee numbers over the past few years in the UK, from 341 to 396.  With UK sales at around 6-7% of turnover for both companies, they are not facing a huge hit on a global scale from Brexit, but as suppliers, they have to accommodate whatever car manufacturers request.
"It has been 40 years since Japan's automotive industry first set up shop in the UK. The British automotive industry is facing a turning point, not just for car manufacturers but for parts suppliers who have invested so much time and money into the UK", concludes the Nikkei.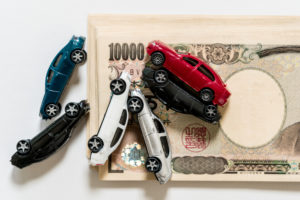 Itochu was stuck at the number 4 position among Japan's trading companies for many years, until the "genius" Masahiro Okafuji became President in 2010. Thanks to his management style, Itochu even managed to push Mitsubishi Corporation out of the top spot, and recorded its highest ever operating profit in 2017.
According to Diamond magazine, these achievements have their roots in the aggressive "vulture fund" techniques that Okafuji introduced. These are quite different from the usual trading company matching of demand and supply, middleman role. As Diamond magazine describes it, first of all, having taken control through acquisition of shares, the business model and organisation are thoroughly analysed, then the profitable areas are developed so that the share price improves, so that their shares can then be sold off at a profit. If there are any weaker businesses, even if there is a long history and the founder has nurtured them, they are cut away.  Itochu did this with various Japanese fashion and food acquisitions from 2010 onwards.
Of course trading companies can make profit in other ways from their acquisitions, by becoming involved in their supply chains and logistics.  Itochu also often sees brands as commodities, to be merged, sold off or cut back as necessary. This does of course mean that employees attached to those brands are also no longer needed.
Okafuji says with regard to human resource development "we are in commerce. So it is a question of knowing what makes money and what doesn't".  Diamond magazine contrasts this with other trading companies such as Mitsubishi Corporation "on the noble path" and Mitsui "focusing on commodities".
Itochu is in our top 5 Japanese companies in the UK, by number of employees – largely because it acquired garage chain Kwik-Fit in 2011, which has just under 5000 employees. It has other associated businesses too –  as I walked past my local Kwik-Fit garage recently I saw an Isuzu truck (Itochu has a large stake in Isuzu) with Stapleton's Tyres branding (also owned by Itochu) making a delivery.  It also owns First Response Finance – who provide instalment credit to sub prime customers wanting to buy used cars – and a car dealership chain in Germany.  There are no signs as yet of any selling off of these investments.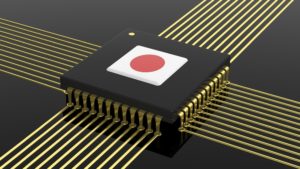 It's tough for Japanese companies to distil what makes them distinctive. Thanks to lifetime employment, most employees have no experience of other companies to compare and contrast their own company with.
One thing that Japanese companies have been excellent at, and have tried to replicate when they expand overseas, is their collaborative networks of companies or "ecosystems", working as supply chains or in consortia. A few Japanese companies have realised this is a strength, and are trying to incorporate collaboration with customers or co-creation with partners into their vision and values, to the extent that this is in danger of no longer being a differentiator.
Some new research from Nikkei Business usingTeikoku Databank's database of Japanese business relationships has come to the rescue with some fascinating insights on how Japan's business ecosystems have been evolving and how they differ from company to company.
The magazine feature starts with a 2 by 2 matrix to illustrate which big companies and which ecosystems are doing well and not so well over the past 5 years.  Matching this against our Top 30 Japanese companies in the UK and Europe, the category members are as follows:
++ Turnover growth was above average both for the company and its ecosystem:
+- Above average growth for the company but below average growth for its ecosystem:
Denso
Honda
Sharp
NYK
Nidec
Murata
Ricoh
Fujifilm
Astellas
–+ Below average growth for the company but their ecosystems had above average growth
Nissan
Sony
Itochu
Mitsubishi Corp
Sumitomo Corp
SoftBank
Marubeni
Mitsui
– – The company and its ecosystem both had below average growth:
Canon
Eisai Pharma
Sumitomo Electric Industries
Mitsubishi Chemical
Mitsubishi Heavy
Kao
Panasonic
Fujitsu
Takeda
Hitachi
Kyocera
Toray
Mitsubishi Electric
Panasonic stays faithful to its big ecosystem
Unsurprisingly the trading companies have the most companies in their supply ecosystem, but Panasonic beats trading company Marubeni to the number 5 spot with 55,781 companies in its ecosystem.  Mitsubishi Electric is at #9, SoftBank at #11, Hitachi at #12, Fujitsu at #14, Sharp at #19 for having the most number of ecosystem members.
Suzuki Motors, Isuzu, Daihatsu, Daikin, Kubota, Mitsubishi Electric and Sumitomo Corp all stay faithful to their supply chain, whereas Canon, Rakuten and Shiseido have low loyalty to suppliers.
Sharp's rationalization post acquisition by Hon Hai is showing – having reduced the numbers of suppliers in its ecosystem by 25% over five years – and it is also the least "faithful" amongst the electronics and IT companies. Fujitsu has also reduced its supplier numbers by around 10%, and Ricoh and Mitsubishi Electric have cut back a little too. Panasonic has remained relatively faithful and with the same number of suppliers over the past five years. Hitachi's supplier numbers have also remained steady, but less fidelity than Panasonic.  Canon and Sony have both substantially increased the numbers of companies in their ecosystems – presumably as they have diversified into new areas such as medical systems and entertainment.
Panasonic's ecosystem remains balanced across several sectors – manufacturing, ICT, logistics/delivery, retail, educational/professional and construction, whereas there has been a clear shift by Sony towards building up its ecosystem in educational/professional, ICT, retail, and logistics/delivery.  Sharp has shrunk its ecosystem in all sectors over five years apart from logistics/delivery.
Automotive supply chains
The reduction in suppliers that Carlos Ghosn started in the 2000s at Nissan has continued – the number of companies in its ecosystem has shrunk 40% over 5 years and it is also the least faithful of the car brands to its suppliers. Only Suzuki and Daihatsu have expanded their ecosystem, and are also relatively faithful to suppliers, as is Honda. Honda, Toyota and Mitsubishi Motors have all shrunk their ecosystems by around 10%, Subaru by 20% and Mazda by 30%.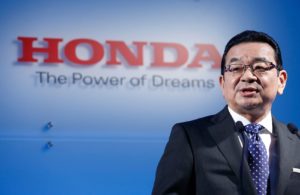 "Europe is the heart of global car culture" says Takahiro Hachigo, Honda's President since 2015. Although Honda has less than 1% market share in Europe, it competes with European car brands in its main markets of the USA and China. The UK factory has been streamlined, and production lines consolidated as a global production centre, exporting Civics to Europe and the USA.  Hachigo says that they are therefore committed to the Swindon factory as a global supply base, regardless of Brexit. "If there is a no deal Brexit, there will be temporary disruption, so I am very much hoping that this disruption will be avoided and outstanding issues resolved", says Hachigo.
However, as the Nikkei points out in their interview with Hachigo, if there is a no deal Brexit, without a transition period to 2020, Honda's exports to Europe will be affected immediately and supply chain issues may make it difficult to export so easily to the USA too.
Honda has committed to a 30 year plan with a goal of "pursuit of quality" – to develop cars that will still sell at a high price, in an age of car sharing and electric vehicles. Hachigo also seems very keen in the interview to keep participating in Formula 1 (another UK strength). UK has that "luxury car maker" image, with Rolls Royce and Bentley, so it is understandable that Honda still wants to keep a base there, but as the Nikkei says "difficult management decisions will be needed in the future" to realise this strategy.  I also wonder whether Honda's current brand image, in Europe at least, really is convincing as a luxury, higher price positioning.
Brexitwatch Top 30 Japanese employers in UK October 4th 2018
Company
UK employees 2017-8*
2015-18 developments
1
Fujitsu
9,326
The Register reports (20 Sep 2018) rumour that moving back to country based model rather than matrix to be announced Oct 1 2018. UK seems to be losing regional power (3 executives in UK with EMEIA responsibilities have left)
2
Nissan
7,956
Will cut 200 back office jobs across UK and Europe (Chronicle 20 Sep 2018). Warns of serious disruption if Hard Brexit Oct 4 2018
4
Itochu (Kwik-Fit)
6,513
Itochu sold off Quantum Group, dissolved Bramhope Group parent 2017-8
3
Honda
6,472
Warned 18 Sep 2018 that Brexit will cost it tens of millions of pounds in paperwork, but remains committed to production in Swindon
5
Hitachi
4,796
Hitachi Capital opened branch in Netherlands 2017
6
Ricoh
3,547
Telford manufacturing site has been designated "Business Development site" in 2017 restructuring plans. Was closure of its MFP Recycled Machines business but also investment in customer experience centre and product lines eg 3D printing. Ricoh Europe Finance in UK is treasury/funding for Ricoh Group – changed currency to Euro 2017. R UK acquired Ridgian 2015 and fully integrated 2017. 2018 acquired Moving Ahead and Women Ahead (social enterprise)
7
Sony
3,483
Registered Sony Europe BV overseas establishment in UK in Aug 2018. Merged Sony DADC UK with Austria Branch to form Sony DADC Europe in UK 2017.
8
Mitsubishi Corporation
3,170
MC International Europe transferred shares in Triland Metal and Princes (food and drink manufacturer) to Japan HQ.
9
Toyota
3,095
No longer producing Avensis. Will produce new Auris (changing name to Corolla) from Burnaston from end 2018. Warning Oct 2 2018 that no deal Brexit would stop production
10
Dentsu
2,851
Dentsu acquired John Brown Publishing, eCommera 2015. Liveposter 2016. The Customer Framework and Gleam Futures 2017
11
Canon
2,728
12
SoftBank
2,418
Acquisition of ARM 2016
13
Marubeni
2,300
Half of employees = Marubeni Automotive (car dealerships)
14
NTT
2,211
NTT Data Services formed 2016 to absorb Dell IT services unit. NTT and NTT Data, Dimension Data to merge globally
17
Nomura
2,194
Nomura Financial Products Europe GmbH granted securities trading license May 2018. Negotiating for Paris to be post Brexit banking/lending hub Oct 4 2018
16
Mitsubishi UFJ Financial Goup
2,194
Amsterdam to be base for post Brexit investment and securities business
15
NSG (Pilkington)
2,159
Architectural and automotive glass
18
Mitsui Sumitomo & Aioi Nissay Dowa
1,933
MS Amlin (acquired 2015/6) announced June 2017 (approved June 2018) setting up post Brexit EU base in Brussels and restructuring of UK March 2018. Aioi Nissay Dowa Insurance shut down PLC and converted to Societas Europeae. Ownership of Mitsui Sumitomo Insurance transferred from Europe to Japan 2018
19
Denso
1,897
Automotive manufacturing
20
NYK Group
1,875
Container shipping merged into Ocean Network Express 2017/8
21
Calsonic Kansei
1,778
CK Europe UK HQ also owns CK Spain and CK Russia – expanding business there
22
Sumitomo Rubber
1,762
Sumitomo Rubber acquired tyre distributor Micheldever in 2017
23
Konica Minolta
1,572
24
Mitsubishi Electric
1,511
Made submission to Migration Advisory Committee 2018
25
Outsourcing
1,506
Outsourcing acquired Ntrinsic 2015, Liberata, JBW, Orizon, Allen Lane 2016, Northgate 2018
26
Yazaki
1,462
Automotive manufacturing
27
Unipres
1,396
Investing for next generation Nissan Juke to be launched 2019
28
Brother Industries
1,384
Brother acquired Domino Printing 2015
29
Olympus
1,348
Medical equipment
30
Sumitomo Mitsui Financial Group
1,339
Established German entity to deal with Brexit risk
TOTAL
88,176
© Rudlin Consulting Ltd

If you would like more detailed analyses, by sector or individual companies, please contact pernillerudlinrudlinconsultingcom, outlining the kind of areas you would like covered – we can incorporate a range of data and information in English and Japanese, covering the history, development and structure of Japanese companies in Europe, Middle East and Africa.

*greater part of year occurs in 2017, eg Apr to Mar 2018 or Jan to Dec 2017. Total of all employees at subsidiaries in UK consolidated at group level in Japan
Download pdf here: