Rudlin Consulting provides expert analysis and consulting to anyone interested in Japanese companies in Europe, Middle East and Africa as investors, employers, partners or customers.

Now you've found us, you can: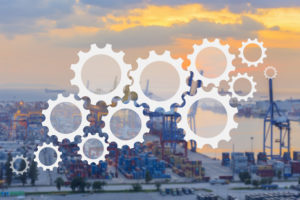 Japan's famous supply chains are under threat, and not just from Brexit and trade wars.  One of the great strengths of Japan Inc, particularly in the automotive industry, was to build eco systems of long term collaborative relationships between the Original Equipment Manufacturers or "brand name" manufacturers and Tier 1 and Tier 2 suppliers.  However the final product manufacturers were very much in the driving seat, pushing just-in-time delivery and constant pressure on cost efficiencies.
"In the past, when there was a delay in delivery the sales GM of the supplier would be on the phone to us to apologise", says THK, a major manufacturer of machine components. "Now, we have to phone them, and they often won't come to the phone."
Nikkei Business highlights three reasons why this shift in the power balance has occurred:
A decline in the number of smaller (less than 300 employees) suppliers in Japan
This was in part due to the final product manufacturers moving their factories overseas since the 1980s, which meant that many domestic suppliers could no longer stay in business. The remaining suppliers found themselves having to turn down orders from major manufacturers as they did not have the capacity.
2. Increased demand for high quality technology and components overseas
China in particular has been focusing on improving its hi tech manufacturing capability and has come to rely on Japan's high quality, high performance components.
3.  Increased demand domestically for highly specialised technology
It's becoming clear that final product manufacturers cannot go it alone in developing highly specialised technology for Industry 4.0 so Japanese final product manufacturers are having to collaborate with specialized suppliers as equals, rather than sub contractors.
So what do suppliers need to do to cope with this new eco-system?
It is dangerous for suppliers to become too reliant on one industry or one customer. Technology developed for the automotive industry can now also be used for robotics or aerospace.  There are risks to doing business with new customers.  They might steal the technology and ask Korean or Chinese suppliers to imitate it.  Which means Japanese suppliers have to make sure their technology is difficult to imitate.  But new customers that suppliers can grow with are preferable to having to compete on lead times and cost in the automotive industry.  It means Japanese suppliers have to become clearer on what their unique strengths are.
"You can improve your commercial appeal in ways other than technology.  It's important to focus your marketing on what your customer needs are" says Yuki Yamamoto, GM of corporate strategy at Hilltop.
When: Tuesday 25 September 2018  –  8.00-10.00
Where: Kings College London, Rooms SW 1.17 & SW 1.18 (The Moot Court and the Ante Room)
The UK Government has opened a consultation on whether we should apply to join the Comprehensive and Progressive Trans Pacific Partnership (CPTPP) after we leave the UK. CPTPP is a trade agreement between Australia, Brunei, Canada, Chile, Japan, Malaysia, Mexico, New Zealand, Peru, Singapore and Vietnam, which has been signed but not entered into force.
Please join the UK Trade Forum and Kings College London to discuss the issue further. We are delighted to welcome Vangelis Vitalis, who is Deputy Secretary at New Zealand's Ministry of Foreign Affairs and Trade, and was their Chief Negotiator for CPTPP from 2017 to 2018. He will be joined on the panel by Sir Martin Donnelly, former Permanent Secretary at the Department for International Trade, and Pernille Rudlin, an expert in UK-Japan business relations.
Programme
8.00 am: Registrations and coffee
8.45: Welcome from organisers
8.50: Chair's opening remarks – Guy de Jonquières, Co-Founder UK Trade Forum, former Financial Times World Trade Editor
8.55: Keynote speech –  Vangelis Vitalis, Deputy Secretary, New Zealand's Ministry of Foreign Affairs and Trade & former chief CPTPP negotiator
9.15: Sir Martin Donnelly, former Permanent Secretary, Department for International Trade
9.25:   Pernille Rudlin, Managing Director, Rudlin Consulting
9.35: Questions and discussion
10.00: Close
This event will be held under the Chatham House rule
To register, follow this link.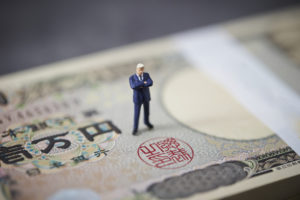 "You need to be foreign, selling wigs or pachinko machines in order to be well paid as an executive in Japan", I said in a blog post last year, when Toyo Keizai crunched their amazing database again and came out with  pay differentials for TSE listed Japanese companies,, finding that foreign executives at Nissan and Takeda, as well as presidents of Artnature (the wig company) or Universal Entertainment (pachinko) are the best paid. To which I will now add, "or retire". Japan pays even humble managers nice big retirement bonuses, so I guess it's no surpise that these are even more generous, if you're a retiring executive – moving from President to Chairman particularly.
Toyo Keizai has crunched the numbers again, this time focusing on individual executives rather than companies. Sony's former President, now Chairman Kaz Hirai comes out top with Y2.7bn/$24m total package, thanks to his large retirement pay off and performance bonus. After that, it's mostly non-Japanese again – number 2 is Joe DePinto, President of the 7-11 convenience store chain (the holding company 7 & I is Japanese) with Y2.4bn, then three board directors at SoftBank – Ron Fisher, Marcelo Claure and Rajeev Misra – the President of Softbank 's mobile side, Ken Miyauchi, is at #12. If you're wondering about Masayoshi Son, the founder of SoftBank, he doesn't feature in Toyo Keizai's Top 100, as he was only paid $1.2m.
Eduardo Minardi at #6 is another retiree, this time from Bridgestone.  Christophe Weber, the CEO of Takeda Pharma, is at #7 (his fellow board member and CMO Andy Plump is at #34). Kinya Seto, president of LIXIL, is at #8 and another retiree, Ryota Akazawa, former president (and a member of the founding family) at Fuso Chemical is #9.  Didier Leroy at Toyota is #10 (Akio Toyoda, President of Toyota is at #52).
For more details, the Nikkei Asian Review reported in English on a similar analysis by Tokyo Shoko Research earlier this year, which you can find here.
Executives at the biggest Japanese companies in Europe fared as follows:
Nissan: Chairman Carlos Ghosn at #18 with $6.5m, current President Hiroto Saikawa #36
Itochu: Chairman (retired from Presidency 2018) Masahiro Okafuji at #31 with $5m
Nomura: Koji Nagai #45 $3.8m
Fujifilm: Chairman Shigetaka Komori #46 $3.8m
Mitsubishi Corp: President Takehiko Kakiuchi #62
Canon: Chairman Fujio Mitarai #63 $3m
Hitachi: Toshiaki Higashihara #74
Dentsu: Tim Andree #75 $2.7m
Mitsubishi Electric: Chairman (retired as President 2018) Masaaki Sakuyama #88 $2.5m
Side note for Japanese corporate governance buffs, there are a LOT of Tokyo Electron executives in the Top 100 – at least 10.  Tokyo Electron forms about 40% of Tokyo Broadcasting's securities portfolio, and caused UK based shareholder activists Asset Value Investors to call TBS "an amateur fund with a small broadcasting business" and demand that they sell off their Tokyo Electron shares.
The choice of the Netherlands for Panasonic's new financial and tax base for its pan European business, to be shifted out of the UK  in October of this year to prepare for Brexit comes as no surprise – even though most of Panasonic's regional business coordination is in Germany.  In fact I even predicted Amsterdam would be a top choice for Japanese companies in 2013 when Brexit proofing strategies were first being discussed.
As pointed out in a previous post, the Netherlands has a relatively high density of Japanese company transferees, 4th in Europe after Luxembourg, UK and Belgium. This population has been expanding rapidly since 2015 too – 23% more Japanese people on company transfers in 2017 compared to 2015. The number of Japanese companies in the Netherlands has not risen much over the three years, however.  So most of these transfers will have been in order to strengthen presence there, rather than start up a new operation.
The attractions of the Netherlands as an alternative to the UK over Germany are not only that is easy to function in English, but also that Amsterdam/Amstelveen area has long had a good infrastructure of networking opportunities with an active Japanese Chamber of Commerce and the Dutch & Japanese Trade Federation, and plenty of lawyers and financial services companies with experience of supporting Japanese companies (who have been busy recently offering Brexit seminars and advice).  The Amsterdam lifestyle is congenial, and there is a long history of mostly good relations between the Netherlands and Japan.
Which is not to say that Germany has been left out either – according to Japanese Ministry of Foreign Affairs figures, Germany still has the most number of Japanese companies in Europe – 703, if only incorporated subsidiaries are counted, rather than branches.  This represents a net increase of 20 companies over the past three years,with 8% more Japanese company expats in Japan in 2017 compared to 2015.
The UK is home to the second largest number of Japanese companies in Europe – 471*, and this has remained more or less unchanged in the past three years, and there has been a small decline in the number of Japanese expats posted there.  As can be seen in the map below, Japanese companies are still most concentrated in the big Western European economies: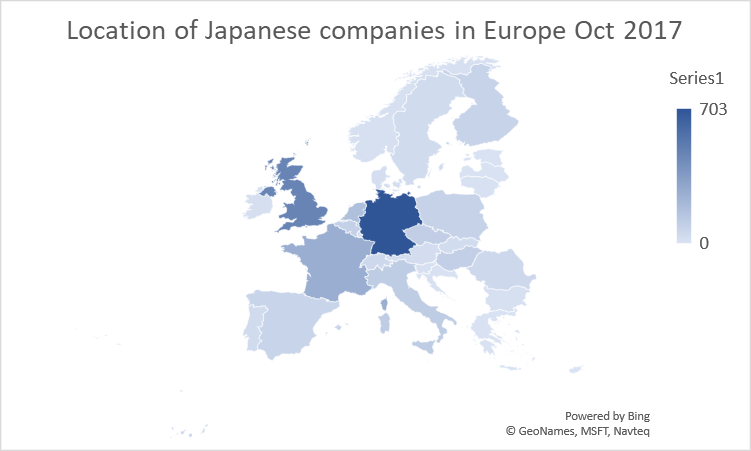 Crunching the numbers against population size reveals some interesting results – Netherlands has a high density, as you might expect, but Finland turns out to have a higher density – with a  larger number of Japanese companies than you would expect, given the size of its market.  Most of the 46 Japanese companies in Finland in our database are technology or machinery sector, often with production in Finland.  The highest density country, just as it was with numbers of Japanese expats, is Luxembourg – but of course it only has a half million population.  The Czech Republic and Hungary also have a high density of Japanese companies – again a large proportion being manufacturing.  Of the big Western European economies, Spain and Italy have relatively fewer Japanese companies than you might expect.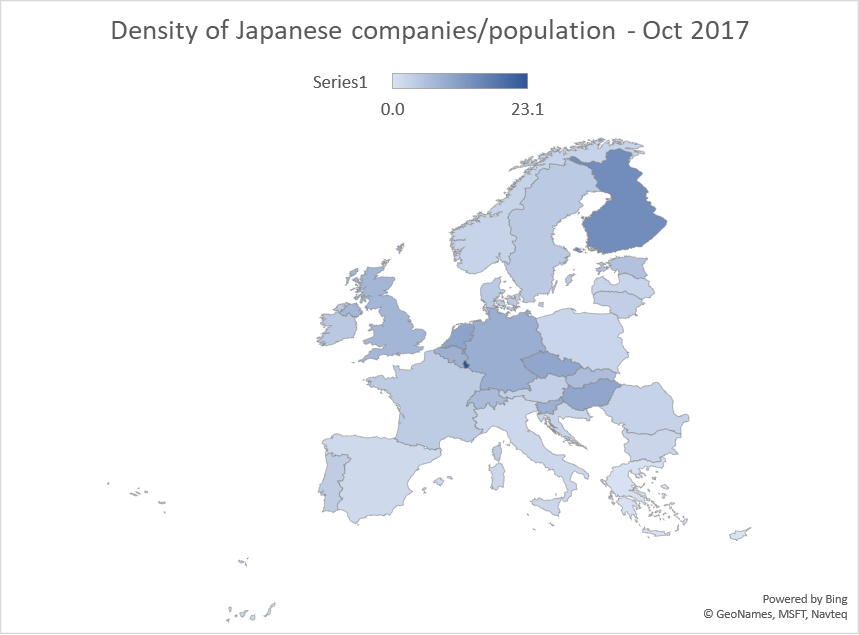 The really interesting story is where the shifts have been over the past three years – there is one clear winner – Czech Republic – it is home to 82% more Japanese companies than three years' ago.  Other growth spots are Sweden, Norway, Poland, Slovakia, Hungary, Lithuania and Switzerland. Big losers have been Italy, Austria, Bulgaria, Denmark, Greece and Latvia (although admittedly, some of these did not have many Japanese companies to start with).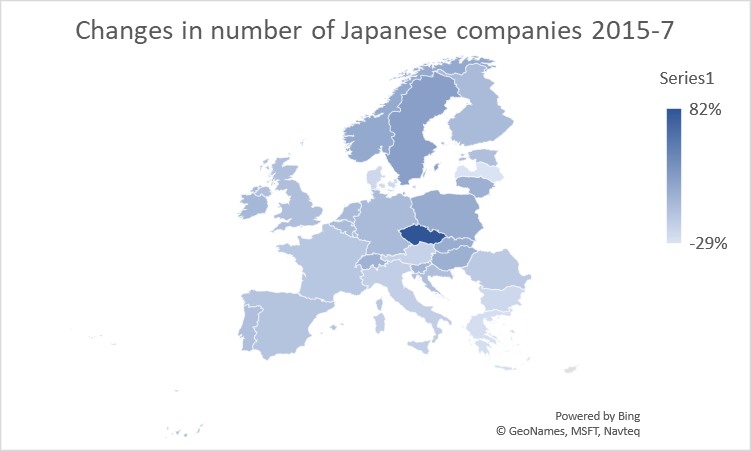 Newcomers to the Czech Republic that we are aware of have mostly been in the automotive industry: Central Glass, Linical (clinical research organisation), Nippon Paint Automotive Coatings, Hakuto (trading company), Obara (automotive welding products) and Tsubaki Automotive.
So the growth in company numbers is to the east and Nordics, mainly in manufacturing.  The consolidation and integration of services sector business and functions across Europe is benefitting the Netherlands most of all.
*The commonly used figures for Japanese companies in the UK are 800 or 1000.  There at least that many Japanese entities in the UK but some of them are multiple branches, or joint ventures or brass plate only.  I have used the narrow definition of what is called "honten" in Japanese – the main organisation/parent company, to aid accuracy and comparisons.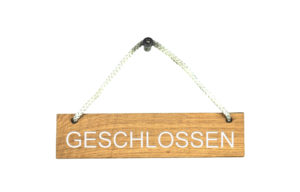 You can't have German workstyles and Japanese customer convenience, says Shion Amemiya, a 26 year old Japanese woman who has been living and working in Germany for 4 years and has now written a book about it.  The book hits a nerve in Japan because of the pressure companies are under to reform their workplace cultures and cut back on overtime.  Germany is often pointed to as an example of a thriving economy where people don't do overtime and take plenty of holidays.
Germany has one of the highest overtime rates in the EU, she says in an article in the Toyo Keizai. Actually, looking at Eurostat's 2018 figures, the UK has the highest number of hours worked per week per full time worker and Germany is somewhere in the middle.
She points out that Germans will do overtime, if there is work that needs to be finished, although there are more Germans who will stick to their rights and leave on time regardless then there are in Japan.  But as she notes, those kinds of people will not be well evaluated by bosses or colleagues.
Overtime is worked in order to finish a job, and there is a lot less "face time" overtime in Germany than in Japan.  Also, if overtime is worked on one day, Germans will then work fewer hours to compensate for this the next day, she observes.
As for holidays – she says what is great for the holiday taker is not so wonderful for the end user. She notes how in the summer, offices are empty, but that also meant that the local government officials, dentists and doctors she wanted appointments with were also away on holiday, and her favourite cafe was shut. Often, the person away is the person in charge, and nobody else can take care of their work while they are gone, and you are told to wait a month.
In Japan customers will insist on the person in charge being contacted even if they are on holiday, but in Germany she notes, customers and suppliers are seen as equals, with mutual rights – "I take a holiday, so I must accommodate other people taking holidays."
Because people don't take much holiday in Japan, it is a convenient country – shops are always open, the person in charge is always available.  Just copying another country without realising the drawbacks is pointless.  Japan needs to come up with workstyle changes that are appropriate to Japan, she concludes.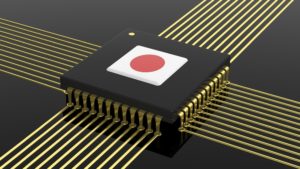 Fujitsu, one of the largest Japanese employers in Europe, has drastically reduced its hardware product range over the years, withdrawing from personal computing, mobile phones and semiconductors. Its CFO, Hidehiro Tsukano has said "we are no longer a manufacturer", according to the Nikkei. The turning point was the appointment of Tatsuya Tanaka as President in 2015, himself from the industrial solutions sales side of the business rather than an engineer, with experience in Asia.
Tsukano believes profit should come from the value added by human beings rather than things. Because of Japan's labour shortage, Fujitsu has been focusing on IT investment in retailing and service sectors, working closely with Microsoft.
However the consolidated operating profit margin to March 2018 was 3.6%, still far from the stated goal of 10%.  Profitability per head (Y1.23m) is higher than NEC (Y0.58m), but still significantly below the misnomered Nomura Research Institute (Y5.35m) and Itochu Techno-solutions (Y4m). Tanaka said at the recent annual results meeting that his aim to hit 10% operating profit margin within his term of office may have to be revised.
One major cause of this inability to reach higher profitability is Fujitsu's overseas business, which is around 40% of turnover. The hardware sales model, based on sales of servers and PCs still remains and Fujitsu is in a price war with Lenovo and HP. It has not yet switched to the business model in Japan of adding value through IT services and the most recent quarter still showed a Y6.8bn loss.
Human resource development might be the key to improving overseas profitability. Tsukano has said he wants to use some of the cash freed up from a change in the pension scheme to invest in employee education.
A management policy briefing will take place in October, and although analysts are saying there is steady progress in reforms, they need to see some concrete measures for improving the profitability of the overseas business.
Despite a small decrease over the past three years, the UK continues to be the favourite destination in Europe for intra-company transferees – 8,684 as of October 2017 according to Japan's Ministry of Foreign Affairs, compared to 8,518 in Germany.  Japanese company sponsored expats in Germany and the UK make up about 58% of all Japanese corporate expats (around 30,000) in the EU/EEA.
If you add in their dependents, it comes to over 50,000 Japanese living in Europe, at the behest of their employer. This compares to over 250,000 in Asia and just under 120,000 in North America, out of 463,000 Japanese intra company transferees and their families in globally.
Of course the number of company transferees in a country is not purely a function of the market size.  We crunched the numbers against population size and this interesting map showed up.  The tiny dark spot is Luxembourg, where the population is only just over half a million and there are 175 Japanese intra company transferees resident. The UK has the next highest density, then Belgium, the Netherlands, Germany, Switzerland, France. The highest density in Eastern Europe is in the Czech Republic.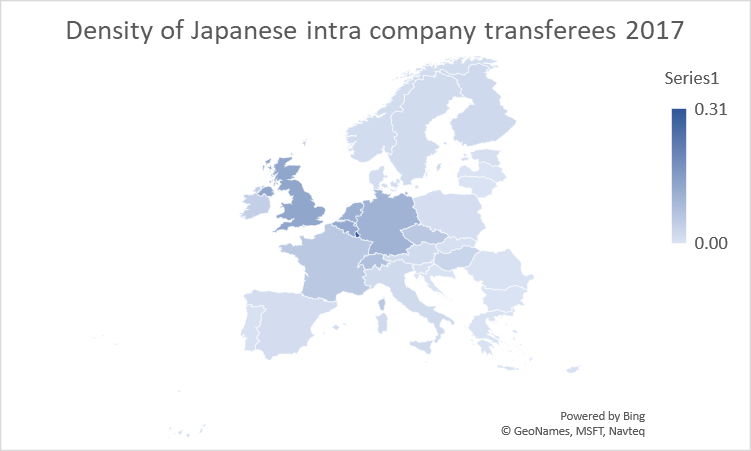 The Ministry of Foreign Affairs sticks to the old fashioned breakdown of male/female employees and Luxembourg is also an outlier there, with 41% of transferred employees being female, only surpassed by Ireland (46% 95/205 transferees), Malta (90% 19/21) and Cyprus (50% 2/4 transferees).  There are very low numbers of Japanese female employees  in Eastern European countries, and also Belgium. Maybe this has something to do with Toyota's regional headquarters being in Brussels.
The average overall of female employees transferred to Europe is 25% of the total, and there has not been much movement in this over the past three years. The reason there are far more females proportionately in some countries than others has the same root cause as why there are more dense groups of Japanese in some countries than others – it depends on the industrial sector and the nature of the operation – whether it is manufacturing or services, or a regional headquarters.
The UK has a high density of Japanese company expatriates partly because of the three large Japanese automotive production sites there, but also because of the high density of financial services and holding companies in London and the South East. Japanese banks, trading companies and insurance companies send a lot of Japanese expats to their regional HQs, which are usually in the UK, including trainees on short term secondment, many of whom are female. Technology companies such as Sony, Ricoh and Canon also have large regional HQs in the UK and a high number of expats. Similarly Ireland has a lot of financial services companies, particularly aircraft leasing.  Luxembourg does have a couple of large manufacturers headquartered there – FANUC and TMD Friction – however, as you might expect, most of the other companies are financial services related.
There also tend to be large numbers of expats every time production sites are set up – engineers on short term projects, involved in technology transfer. Double digit increases have occurred over the past three years in Japanese expats being sent to Poland, Sweden, Hungary and Slovakia following investments there.
But the biggest increases numerically have been 602 more expats in Germany (up 8% over three years), 359 more in the Netherlands (up 23% over 3 years) and 252 more in France (up 7%) compared to drop of 62 (1%) in the UK.
The Netherlands has been the choice of quite a few Japanese financial services companies, along with Luxembourg and Germany, for strengthening EU presence post Brexit, as well as a stronghold for logistics companies. Its tax regime has also been attractive for holding companies – more brass plate up till now, but it would seem, now with actual physical presence too.
So why are there proportionately so many Japanese women employees transferred to Malta? Maybe they're working at Konica Minolta's service operation there for 35 countries in the region*. A lot of smaller countries, with English and other language speaking graduate populations – such as Portugal – are becoming popular bases for outsourced support.
This suggests to us that the UK may be slowly losing its grip on being the preferred base for regional, functional and services headquarters for Japanese companies, and therefore the preferred destination for Japanese expatriates.  There is a long way to fall however.
* Andre Spitieri (non resident Ambassador to Japan from Malta) contacted me after I posted this blog to say that there are a lot of Japanese women working in Malta in the tourism industry. According to the Ministry of Foreign Affairs, there is only one Japanese company in Malta, and JETRO says it's Konica Minolta. It may well be that there are branches of the big Japanese travel agencies in Malta, to which Japanese female employees have been posted, who are counted among the 19 female intra company transferees there.