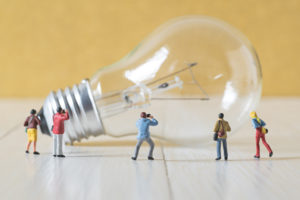 UK is the birthplace of innovation and will not sink, despite Brexit, says Toru Sugawara, the deputy editor of the Nikkei Business magazine – Japan's equivalent of The Economist (only with more business, less economy).
He acknowledges that Brexit is casting a shadow on the world economy, and that the problems will not end just with an extension, as the negotiations will drag on, unless the result of the referendum is reversed.
He points to how employment remains buoyant in the UK, despite GDP growth being the lowest in 6 years, and says that this could be because immigration from the EU is decreasing – which was one of the reasons people voted to leave. He does not mention that net immigration has not dropped, as more people are coming from non-EU countries.  So unless you believe that EU immigrants only have jobs which UK natives could do, and non-EU immigrants only do jobs that UK natives couldn't do…
He believes the UK's resilience derives from an inner strength which helped it to lead the industrial revolution as the "birthplace of innovation." Because the UK has worldclass universities  "UK research levels are extremely high. Even if they leave the EU, there are researchers who want to learn from the UK" – according to  an engineer from a major Japanese electronics company.
The UK is similar to Japan, Sugawara notes, in that neither was able to match Silicon Valley in terms of being able to turn innovations into world changing businesses.  He thinks the UK is changing, however, dating from when the British Business Bank launched in 2014, bringing together various funds for startups and small businesses and also the introduction of the regulatory sandbox, to allow new kinds of financial services to test their products.
Venture capital funding in the UK in 2018 was $7.9bn, double that of Germany or France (although what he doesn't say is that this was down from a high of $8.1bn the previous year, and that Germany and France seem to be catching up) . Dr Yuri Okina of the Japan Research Institute points out that the UK's strength is that as well as having the world's financial centre, there is a rich source of accountants, lawyers, consultants and other specialists who support an ecosystem for new business.
If this network could be boosted further, then the UK could lead the 4th wave of the industrial revolution, asserts Sugawara. He warns that Japan, who puts its funds into propping up zombie companies, with regulatory systems that impede new industries from growing, will get left behind. "That's the bigger worry" he concludes.
So he seems to be turning an encouraging pat on the back for the UK into a kick up the backside for Japan.  What he says is not going to be news to many Japanese companies, who have reacted to the difficulties they face in Japan by investing in the UK (and elsewhere in Europe). Sugawara mentions SoftBank's acquisition of the UK's ARM, but there have been plenty of other less spectacular investments. Much of it has to do with CASE (Connected, Autonomous, Shared, Electric) in the automotive industry –  Sony Innovation has invested in What3Words (a geocoding system) – also invested in by Daimler. Itochu has invested in Hiyacar and I realise now that its acquisition of UK car repair chain KwikFit probably also fits into this automotive services play. Similarly Sumitomo Corporation has invested in the Nordic parking company Q-Park and Sweden's car sharing service Aimo.  Japan's Park24 acquiring National Car Parks in the UK is probably also looking to a CASE future. Panasonic acquired Spanish automotive systems and parts company Ficosa in 2017.
So really, it's not about any one country leading the fourth industrial revolution – it will be collaborative and global by its very nature. Both Japan and the UK need to keep their doors as wide open as possible to let everyone get on the ride.
For more content like this, subscribe to the free Rudlin Consulting Newsletter. 最新の在欧日系企業の状況については無料の月刊Rudlin Consulting ニューズレターにご登録ください。
Read More