The management changes announced at Hitachi, in effect from April 1st 2022, reveal changes in the balance of power, not only in Japan headquarters, but Europe.  Alistair Dormer, a British executive, who had been CEO of Hitachi Rail, and then became the first non Japanese Executive Vice President of Hitachi, was seen as a rival candidate to fellow EVP Tokunaga Toshiaki, to become President of Hitachi.  In 2021, Dormer, resident in Japan, became Chief Environmental Officer and also Chair of Hitachi Europe, both perhaps an indication that he was sliding sideways away from the Presidency.
It now transpires that Dormer has retired from all his positions at Hitachi, apart from Chair of Hitachi Europe and will return to the UK. Kojima Keiji, who was already President, has strengthened his position by becoming CEO as well, following the current CEO, Higashihara Toshiaki, stepping down from the CEO position, but continuing as Chairman.
Kojima reorganised Hitachi from 5 divisions into three, focusing on "digital" systems and services and "green" energy and mobility as growth engines. "Green" was headed by Dormer but will now be directly managed by Kojima. Tokunaga, who spent some time in Silicon Valley, is heading up the "digital" side and is still seen as the hot favourite to succeed Kojima as President. He is quite literally Hitachi born and bred, having been born in Hitachi city, and his father also worked for Hitachi.  He is only 55, which would make him the youngest President if he succeeds Kojima in the next few years. Kojima is ten years older than Tokunaga and became President in 2021. Previous presidents Higashihara and Nakanishi were in post for 7 and 4 years resepctively.
All is not lost in terms of having the first ever non-Japanese president of Hitachi, however. A possible successor to Tokunaga, if he is willing to wait that long, could be Claudio Facchin, who joined Hitachi in 2019 as a result of Hitachi's acquisition of ABB Power Grids in 2020 and is now an executive officer and Senior Vice President of Hitachi, as well as CEO of Hitachi Energy.
The acquisition of ABB Power Grids led to a second shift in the balance of power within Europe. The acquisition resulted in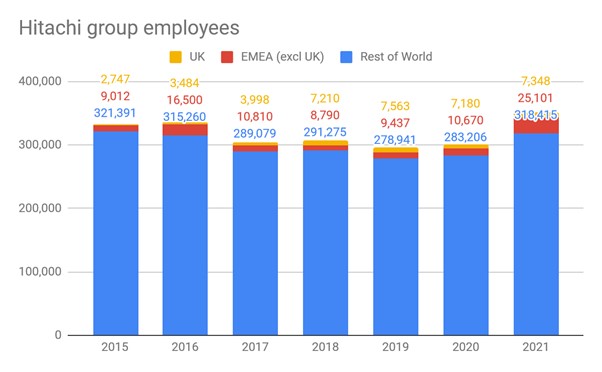 around 15,000 employees joining Hitachi in the Europe, Middle East and Africa region, but did not have so much of an impact on HItachi's presence in the UK, where its European headquarters is based.
In 2018-9 most of Hitachi's EMEA staff were in the UK, working for Hitachi Rail and Hitachi Capital but now less than a third are working there.
A further acquisition, of Globallogic, in July 2021, is likely to shift the balance further. Even though it is an American IT company, it has a substantial number of employees in Eastern Europe, including Poland and several thousand who were until recently in Ukraine.
For more content like this, subscribe to the free Rudlin Consulting Newsletter. 最新の在欧日系企業の状況については無料の月刊Rudlin Consulting ニューズレターにご登録ください。