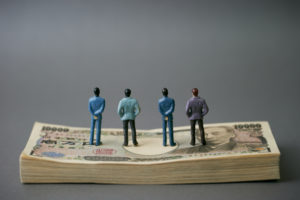 Japanese companies used to be seen as very reluctant to acquire and merge with other companies, but the record breaking £46bn acquisition, finalised in January 2019, of Irish pharmaceuticals company Shire by Japan's Takeda may not even be the peak of what has been at least 10 years' of an overseas spending spree by Japanese companies.  Faced with a declining, ageing domestic market, Nikkei Business magazine expects Japanese companies to continue their spending spree in 2019, even if there is not a big ticket purchase like Takeda/Shire.
Autonomous vehicles, Internet of Things and other new technologies are likely to be the focus of future M&A.  For example Japan's tyre maker Bridgestone has acquired the telematics business of Dutch company TomTom. "Tyre companies are also entering the era of CASE (Connected, Autonomous, Sharing Electric)" says Bridgestone's CEO Masaaki Tsuya. Sensors can be placed in tyres to understand driving conditions, for example.
In the IT sector, NEC has acquired the UK company Northgate Public Services in January 2019 and in December of the previous year acquired Denmark's KMD Holding and is looking to acquire a stake in India's Mindtree.
Food and drink companies are also active – Mizkan, Ajinomoto and Asahi Beer have all made acquisitions recently in Europe.
In the financial sector, Nikkei Business speculates that a Japanese company like SMFG or Orix might be interested in acquiring GE's aircraft leasing business GECAS, headquartered in Ireland – although GE has since denied GECAS is for sale.  MUFG might be interested in the US Bank of the West.
Most of the acquisitions of Japanese companies have been by Chinese companies, but Nikkei Business also wonders whether some of the big Western automotive suppliers such as Bosch, Continental, ZF, or Magna might not be interested in acquiring Japanese automotive suppliers.
Declutter and dispose
M&A is also an opportunity for Japan's keiretsus (conglomerates and company groupings) to do a bit of tidying up. The trendsetter in this has been Hitachi, who have been pursuing a rigorous policy of "selection and focus" in rearranging their business portfolio. Over the past 10 years or so they have sold off Hitachi Global Storage Technologies to Western Digital, Hitachi Logistics to SG Holdings, sold a 27% share in Hitachi Capital to MUFG, sold Hitachi Power Tools and Hitachi Kokusai Electric to KKR and Clarion to Faurecia.
Japanese investors and banks are keeping a watch on Hitachi High Technologies, Hitachi Chemical, Hitachi Automotive Systems, Hitachi Construction Machinery and Hitachi Metals as the next possible candidates.  Hitachi Chemical and Hitachi Metals were supposed to be two of the "Three Branches" of Hitachi along with Hitachi Cable, so the idea that they could be sold off would be heresy to some Hitachi old timers.  As the Nikkei Business magazine says, Hitachi is trying to compete as a global company, so any business that has no synergy with its "social innovation" vision is likely to be dropped.
Panasonic already sold off its security camera business and foreign funds are eyeing up Panasonic Avionics – an inflight entertainment company – as a likely next candidate. "It has nothing to do with Panasonic's main business", one investor commented.
Takeda seems to be preparing to dispose of its consumer healthcare business to help fund its acquisition of Shire, as it has spun off its vitamin drinks and other products into a separate company.
Fujitsu has also been disposing of its hardware businesses – mobile phones, car electronics and PCs and Sony's mobile phone business is still struggling, and rumours that it could be sold continue.
Spark surprise
Nikkei Business concludes with some surprise predictions from the experts it spoke to:
Astellas and Daiichi Sankyo merging
Pioneer and JVCKenwood merging
SoftBank acquiring NEC
Fast Retailing acquiring Gap
Google acquiring Recruit
Amazon acquiring 7&i (7-11 convenience store chain)
Unsettling though it may be for the employees concerned, if clarity in the focus and business of Japan's iconic companies results from these M&As, ultimately it should make for a more confident Japan Inc.
For more content like this, subscribe to the free Rudlin Consulting Newsletter. 最新の在欧日系企業の状況については無料の月刊Rudlin Consulting ニューズレターにご登録ください。
Read More