The statement by Stellantis that it may be forced to shut some of its UK operations if the current local content rules in the Brexit deal continue prompted me to take a look at the current situation for Japanese car companies in the UK.
As The Economist pointed out recently, Japanese car companies are behind in the race to produce electric vehicles – partly due to being victims of their own successes with hybrid vehicles. But there are signs of change with the new president of Toyota's announcement of new EV models and Honda's electric vehicle joint venture with Sony. Nissan has been focused on electric vehicles from the start but somewhat distracted with wrangles with Renault post-Ghosn.
Despite being laggards, Japanese car companies are still very important to the UK economy. Nissan is the largest UK manufacturer of cars and Toyota the third largest. Announcements are expected by Toyota and Nissan soon on what they are going to do with replacement models for their Corolla and Juke respectively, both currently manufactured in the UK, but I have not seen any leaks yet in the Japanese media on what the plans might be for this. As the spokespeople quoted in The Economist say, it would be helpful to longer term planning if the UK could be seen as a stable partner, and had an industrial policy – or at least acknowledge that not having an industrial policy is in its own way an industrial policy.
The danger is that Japanese car companies and their suppliers just dwindle away in the UK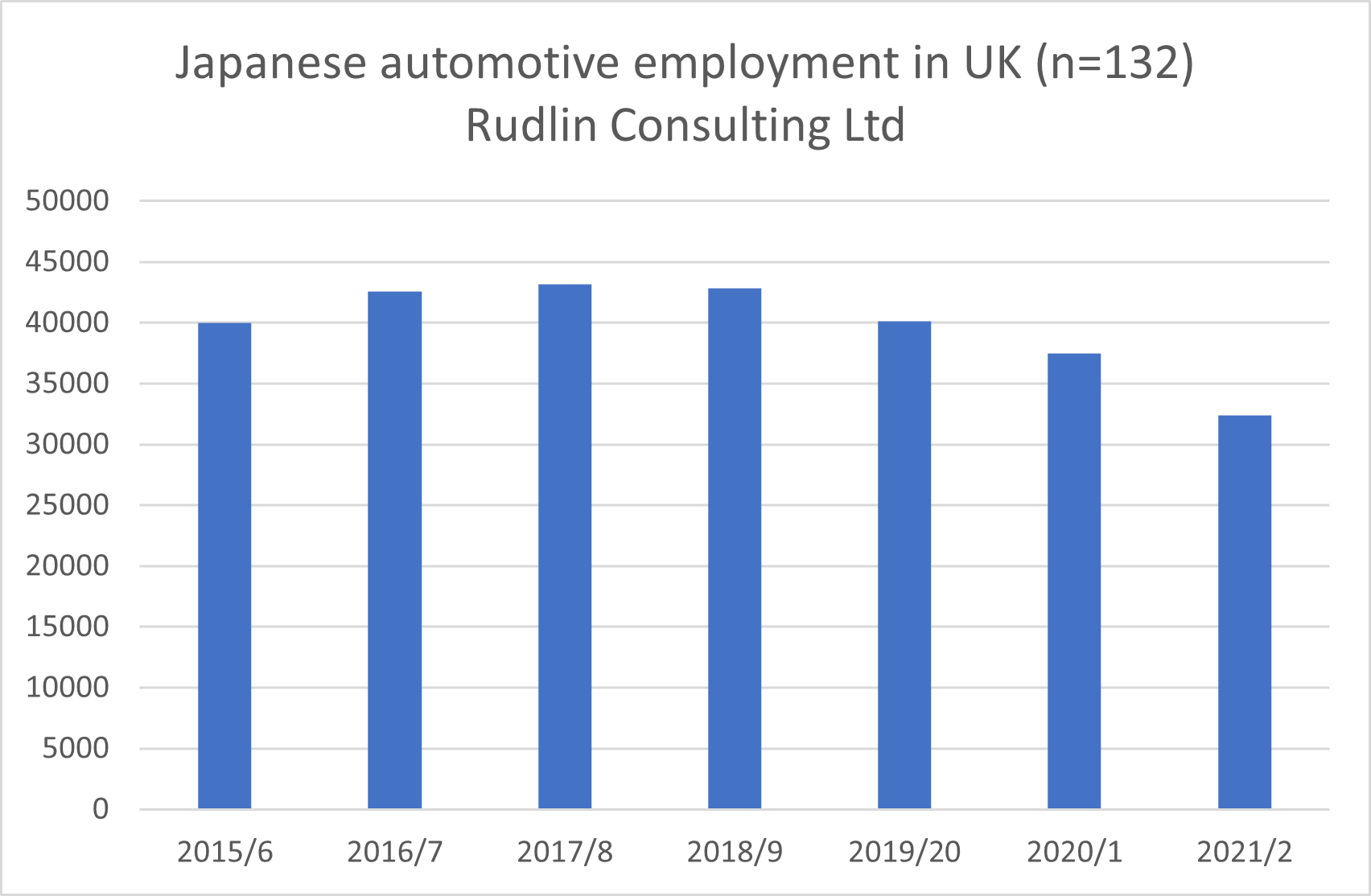 Without longer term plans in place, the danger is that Japanese car companies and their suppliers just dwindle away in the UK. The latest data I have compiled shows that employment in the UK by Japanese automotive companies has fallen 25% from 2017/8 to 2021/2 from 43,000 to 32,000. These figures exclude what could be a further 7,500 employees, working for companies which have not yet submitted their UK annual reports for FY2021/2 – Itochu's subsidiaries Kwik-Fit, Stapleton's Tyre Services and European Tyre Enterprises, GS Yuasa battery sales and manufacturing, Hitachi Astemo and Highly Marelli.
Around 4,000 of the jobs lost were from Honda's Swindon closure. The remaining 7,000 missing jobs can partly be explained by the closure of other automotive companies:
Akebono (closed 2021)
Alps Alpine (2021)
Calsonic Kansei Sunderland (2020)
CCI Corporation (2020)
Futaba Industrial UK (2019)
Hi-Lex Cable System (2021)
Honda Trading Europe (2022)
Johnan UK (2021)
Kansai Paint Europe (2020)
Keihin Europe (2021)
MC Ionic Solutions (2021)
Mitsuba Europe (2023)
Nichias Europe (2020)
Nichirin UK (2022)
Proseat (2021)
Senju Manufacturing Europe (2019)
Showa UK (2022)
The Colt Car Co (2022)
TMD Friction (2023)
Toyo Denso UK (2023)
Toyoda Gosei (2023)
TS Tech UK (2021)
TT Assembly Systems UK (2021)
UYS (2022)
Yokowo Europe (2023)
Not all of these were complete closures – some were as the result of a consolidation of subsidiaries.
Toyota Motor Manufacturing UK's employment levels have stayed relatively stable over the past 4 years at around 2,700. Nissan Motor Manufacturing of the UK's total employment numbers have dropped by 20% or 1,600 however, from 7,933 in 2017/8 to 6,335 in 2022/3.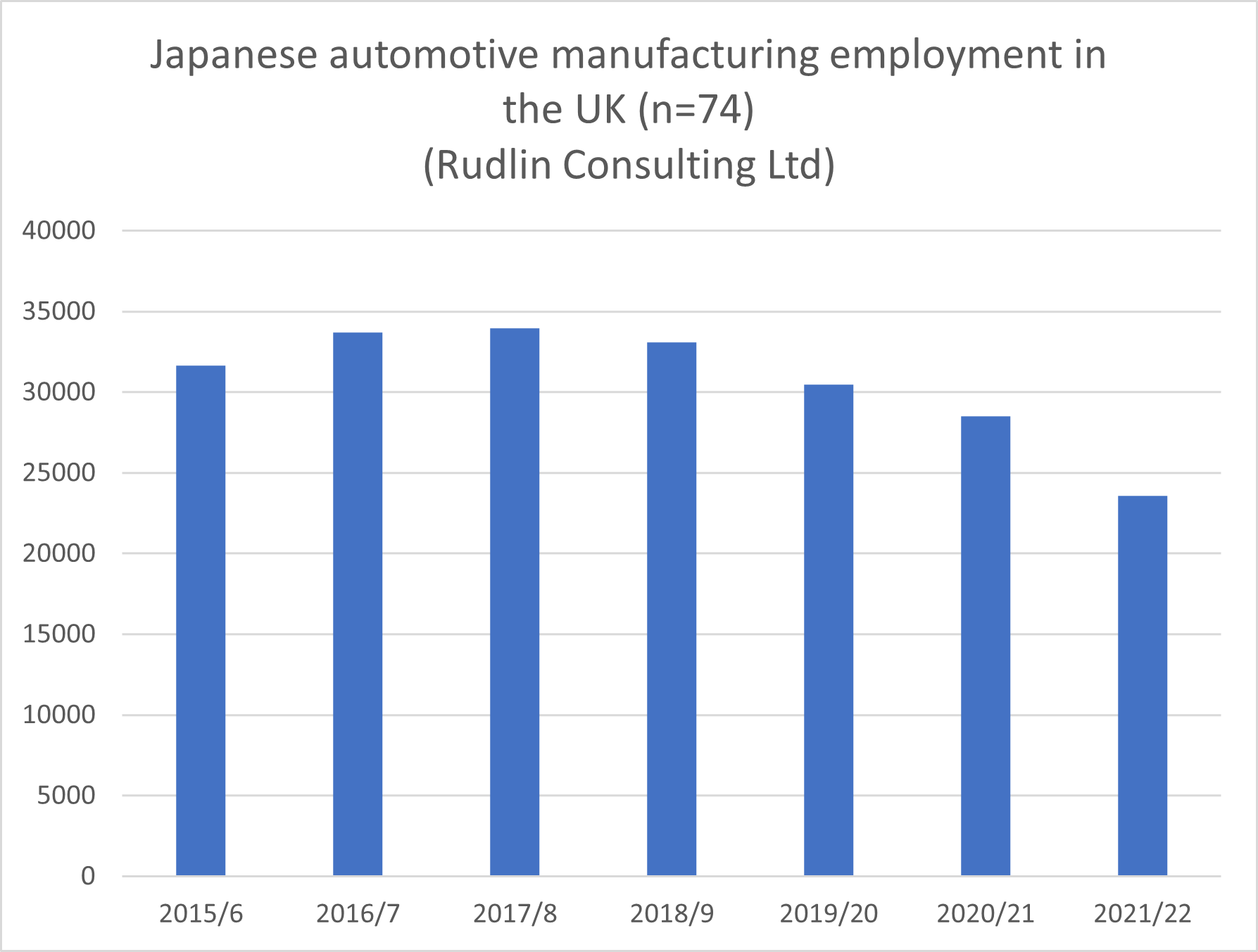 If we just focus on Japanese companies with production in the UK, there was a 26% decline in employment over 2018-2022 – unsurprisingly close to the overall trend – as around 74% of all Japanese automotive employees in the UK are employed in manufacturing operations.
Unpicking what is happening overall with Japanese automotive companies in Europe is for another day. What has been on our radar recently is how many Japanese automotive companies such as Toyota group (which includes Suzuki and Isuzu), Nissan and Honda are showing more interest in manufacturing combustion engine models in Africa, particularly Ghana, for CKD, lightweight models and SUVs.
For more content like this, subscribe to the free Rudlin Consulting Newsletter. 最新の在欧日系企業の状況については無料の月刊Rudlin Consulting ニューズレターにご登録ください。