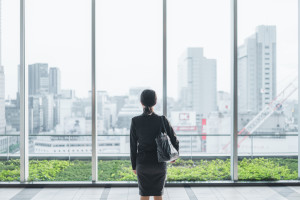 According to Nikkei Woman magazine, the clear message from this year's annual best places to work for women survey is that companies must have an "all inclusive" approach to diversity, not just focus on initiatives for women.
The survey was sent out to 4347 listed Japanese companies with more than 100 employees. The responses were scored on 4 factors – 2 for engagement (how many women were in management and progress on promoting women) and 2 for working practices (degree of work life balance, degree of diversity)
The companies in the rankings are not so different from previous years and other similar rankings  – a mix of non-Japanese companies (Johnson & Johnson at #1, IBM, Accenture), life insurance (Mitsui Sumitomo Life, Daiichi, Nissay, Sompo all in the top 20), health and beauty (Kao, Shiseido), recruitment agencies, retail and travel companies.  Non-life insurance financial services companies also make an appearance – the biggest riser being Sumitomo Mitsui Banking Corporation, up from #26 to #19.
The kind of initiatives Nikkei Business (reporting on the survey in its sister publication) highlights that are more widely inclusive include J&J's Open&Out, a LGBT network, unconscious bias training for male employees and having agile workplaces – where place and time of work are not restricted.
The four "do's and don'ts" the Nikkei Business proposes for a wider diversity and inclusion strategy are:
      

Don't think of better utilisation of women as just for women's benefit, see it as an important management strategy

      

Don't think of shorter hours as just for women who need to look after children, but have everyone working productively and efficiently

      

Don't have management development sessions for women only, add awareness raising sessions for male managers
 

     

Don't see childcare and elderly care as for women only, include men as carers
All pretty obvious really, and not necessarily practiced wholeheartedly in Europe either, but good to see it spelt out in a mainstream business magazine.  The message that this is about improving the work life of all employees is likely to resonate well with traditional Japanese companies, sometimes termed the "last functioning socialist organisations".
For more content like this, subscribe to the free Rudlin Consulting Newsletter. 最新の在欧日系企業の状況については無料の月刊Rudlin Consulting ニューズレターにご登録ください。