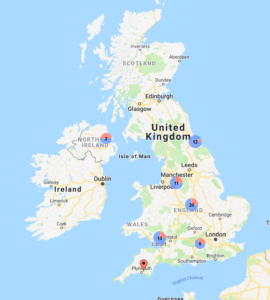 "1000 Japanese companies in the UK, employing around 140,000 people" are the figures usually given when talking about the impact of Japanese companies on the UK economy, and therefore what impact their reaction to various shades of Brexit might be. This reaction will depend on which sector they operate in, so I will undertake over the next few blog posts to break the 1000 down into groups of similar companies and draw out relevant data on them from our Rudlin Consulting database (if you would like to purchase a customised version of this database, please do contact us).
I have picked on the automotive sector first, and in particular those companies which have production sites in the UK.
There are 55 Japan affiliated companies who manufacture automotive components or vehicles in the UK, employing around 26,125 people – this represents 5.5% of all Japanese companies in the UK and nearly 19% of all employees of Japanese companies. Here's an interactive map of where they are located.
Why the focus on the automotive supply chain?
You can immediately see why automotive production has been the focus of a lot of debate about the need to stay in the single market and a customs union with the EU, protecting just-in-time supply chains between the UK and the EU. Not only does this sector employ a proportionately larger number of people per company than average, but production in this sector is based in areas which are badly in need of secure, skilled, blue collar jobs.
As you might predict if you have been following Brexit, most of these regions in which these companies' production sites are located  were strongly in favour of leaving the European Union.  According to our data (using the BBC's tool), the average vote for Leave in the regions with Japanese automotive production was 58%.
Automotive supply chain jobs not threatened by Brexit?
As other researchers have pointed out, voters may have had stronger reasons for voting Leave than concerns about automotive jobs.  Or maybe they did not believe that these jobs were under threat.
Perhaps Leavers thought Nissan, Toyota and Honda's production in the UK would be fine because the British are continuing to buy Qashqais, Yaris's and Civics, but actually 88% of Toyota's UK production is exported, 67% to Europe, 80% of Nissan's UK production is exported, 76% to Europe and 75-80% of Honda's UK production is exported to Europe. As we noted previously, the UK's car market is not big enough on its own to support a full scale car production industry.
Since Brexit, there have been reassurances from the UK government that Nissan (and presumably other car companies) will not be impacted by tariffs or regulatory impediments in their exports to Europe and all three companies have announced further investments in their UK operations.
On-shoring is not happening
But all three Japanese car companies have also emphasised that they need frictionless supply chains. So the obvious answer might be for all their suppliers to move production on-shore or at least set up bigger warehouses or assembly facilities in the UK.  Nissan has indeed encouraged its suppliers to set up near it in an industrial park in Sunderland. Those 55 companies who already have production in the UK might see a rise in orders and indeed some mention in their annual reports that there are potential benefits as well as costs to Brexit for them.
The problem with on-shoring is that, depending on where the company is in the supply chain, their own suppliers might be based in the EU, and in fact the same component  may need to pass back and forth between the EU and the UK several times, in which case they face higher costs if there is further instability in the exchange rate between sterling and the euro post Brexit and also frictions at the border when rules of origin and regulatory compliance need to be checked.
So for a truly frictionless supply chain and complete currency hedge, the whole chain will have to produce on-shore. This represents a substantial cost to suppliers, who are mostly trying to spread the risk by dual sourcing or globally sourcing and making sure that they are not too reliant on one car manufacturer as a customer.
In fact 40 of the 55 companies who already have production in the UK have production sites elsewhere in the EU, and the trend seems to be to open production sites in Slovakia or transfer production from the UK to the Czech Republic rather than onshore – reinforced by Jaguar Land Rover's new factory in Slovakia and the Toyota Peugeot Citroen manufacturing joint venture in the Czech Republic.
Many of the 15 who only have production in the UK also supply other industries beside the automotive sector, or are highly reliant on Honda or Nissan so will presumably stay so long as they stay. Or, if they supply other customers outside the UK, they can hope that the soon to be signed EU-Japan Economic Partnership Agreement's reduction of tariffs and regulatory harmonization for car parts means they can easily import components made in their factories in Japan into the EU.
It's not just about manufacturing though
Since the Chequers' agreement amongst the Conservative cabinet was announced, which, if accepted by the EU, would enable the continuing frictionless production supply chains, various other sectors have been pointing out that as 80% of the UK's GDP is actually generated by services, their exclusion from any single market-type deal does not make sense for the British economy.  Furthermore, the distinction between services and manufacturing is not as obvious as it used to be. 10% of Nissan Motor Manufacturing's 7500 staff are in design and development. Most of these staff are based at the technical centre in Cranfield. They represent a huge variety of nationalities and travel frequently across Europe and to Japan, working with counterparts in Nissan technical centres in Belgium, Russia and Spain. If it becomes difficult for them to travel for work, or send prototypes back and forth to clients – and if the UK no longer has any influence on the regulatory standards that they need to comply with – then it won't just be production jobs that are in danger of being offshored.
For more content like this, subscribe to the free Rudlin Consulting Newsletter. 最新の在欧日系企業の状況については無料の月刊Rudlin Consulting ニューズレターにご登録ください。