The UK is still overwhelmingly the most popular place for Japanese residents in the EU to live, according to Japan's Ministry of Foreign Affairs. There are nearly 63,000 Japanese nationals living in the UK, compared to 46,000 in the next most popular country, Germany.  The Japanese community in the UK has shrunk by 6% since 2014, however, whereas Germany's Japanese community has grown by 22% over the same period.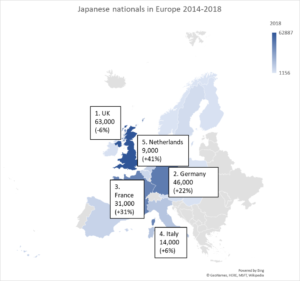 In fact all other major EU countries have more Japanese people living in them than four years' ago.  It is only the UK that has shown a net fall in numbers. The Netherlands has had the biggest proportionate rise in Japanese residents since 2014 – 41% from 6,532 to 9,223.
On the face of it this would seem to be a Brexit related shift.  The Netherlands and Germany have been the most popular alternative bases for shifting headquarters and sales staff to, away from the UK, as we noted in a previous post.
UK loss of global prestige as a destination for media and diplomats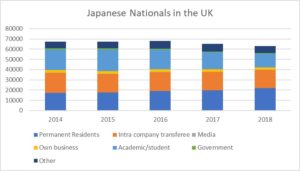 But looking more closely at the different categories used by the Ministry of Foreign Affairs for classifying Japanese nationals reveals some other non-business factors too. The biggest proportional decrease is in Japanese people in the government related category – a 44% fall from 1,286 to 722. In a further indication of the UK's drop in global prestige perhaps, the number of media related Japanese nationals has dropped 26% from 371 to 273. The largest drop in numbers is in the academic/student category – down nearly 7,000 from 20,000 in 2014 – peaking at 21,000 in 2015 and declining since.
Japanese students also put off by hostile environment
The fall in student/academic numbers is worrying, as this is a good source of income for UK universities.  When we looked at this a year ago, we noted that Japanese students are still studying in Europe – just more in Germany or France.  Or, like one participant in my seminar yesterday, they've realised they can learn English by studying in Asian universities – which are cheaper and nearer to Japan.
Talking to Japanese specialist recruiters, it may also be that the UK's "hostile environment" has made it more difficult for Japanese students to stay on in the UK after graduating, to find a job. The 27% increase in permanent residents who have Japanese nationality over the past 4 years suggests that Brexit and visa worries may have caused a large number (nearly 22,000 now) of Japanese resident in the UK to take the leap of acknowledging that they are going to stay in the UK permanently and need to make sure their status is secure.
For more content like this, subscribe to the free Rudlin Consulting Newsletter. 最新の在欧日系企業の状況については無料の月刊Rudlin Consulting ニューズレターにご登録ください。