For many years the UK was host to the largest number of Japanese automotive manufacturers and their employees in Europe. This was thanks to Toyota, Nissan and Honda all having factories there.  which in turn attracted a large number of automotive suppliers to set up plants near by.
Last year (2020-1) Poland took over the number one spot from the UK in terms of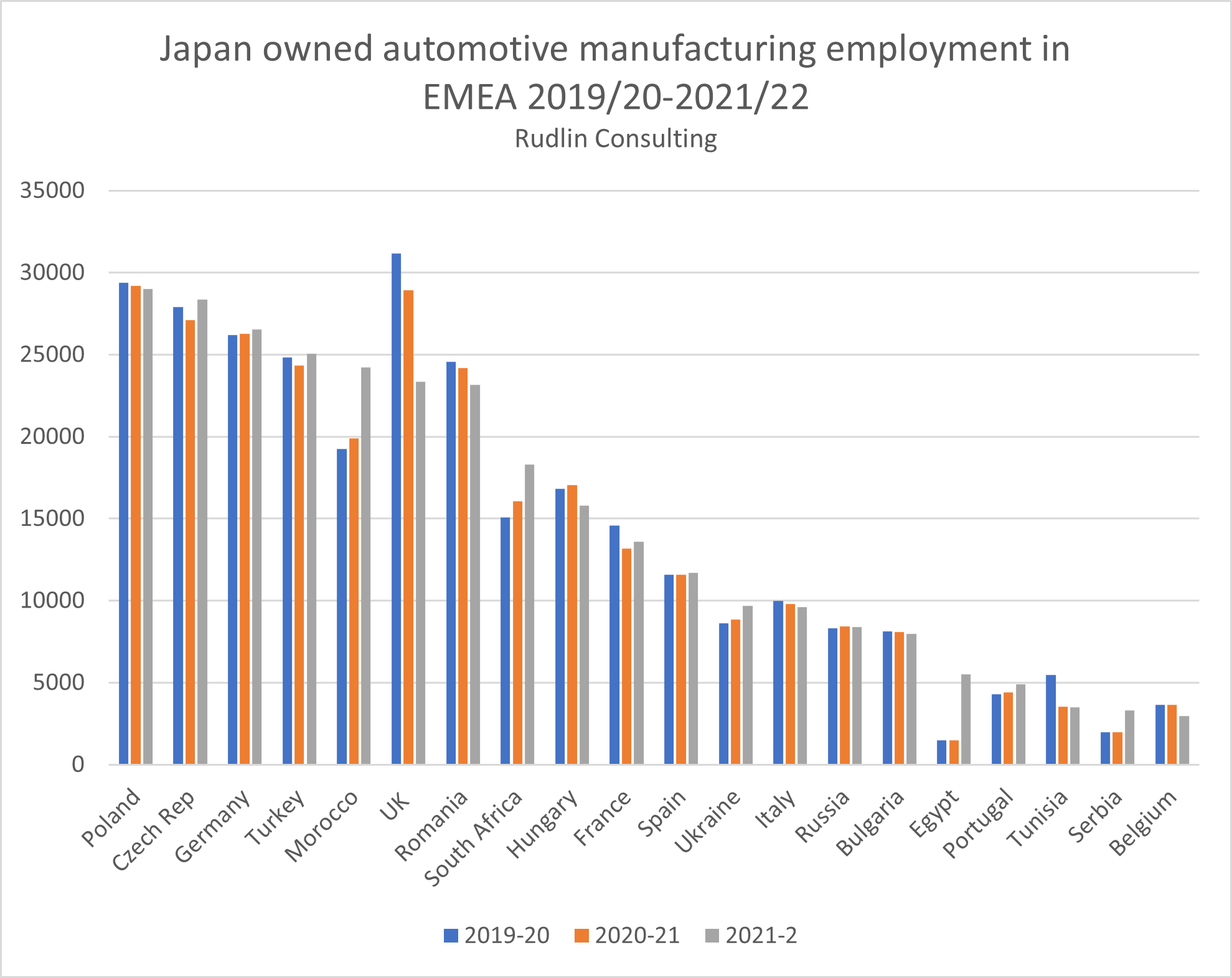 numbers of Japanese automotive manufacturing employees in the EMEA region. According to our estimates, the UK will slip to 6th position in 2021-2022, due to the closure of Honda's Swindon plant, along with many of its suppliers shutting down operations. It will be overtaken by Czech Republic, Germany, Turkey and Morocco.
There has been strong growth in employee numbers in Africa in particular – mainly in Morocco, South Africa and Egypt. This looks set to continue as labour intensive wire harness manufacturers diversify production away from Ukraine and other Eastern European countries.  South Africa has also seen more investment from Nissan and Toyota in their plants there over the past few years. Isuzu also has a plant in South Africa, in addition to manufacturing in Russia and Turkey.
Nissan's other plants in the EMEA region, apart from the UK and South Africa are in Russia and Spain (the Avila and Cantabria plants continue to operate, after the closure of plants in Catalonia) and Egypt.  It has just opened a vehicle assembly plant under licence to Japan Motors, in Ghana.
Suzuki has plants in Hungary and Egypt and Toyota now fully owns the factory it used to joint own with PSA in Czech Republic, in addition to its plants in the UK, France, Turkey, Russia and Portugal as well as engine and transmission factories in the UK and Poland.
Although Poland does not have any Japanese OEM car manufacturers based in it, it still tops our ranking in terms of employment, not just because of the Toyota engine plant, but also the other Japan owned automotive suppliers with labour intensive manufacturing there, such as Bridgestone, NGK, Pilkington,  NSK, Sumiriko and the wire harness manufacturers. Similarly, Germany is not host to any Japanese automotive OEMs, but is host to many mid sized Japanese automotive and other industrial component manufacturers.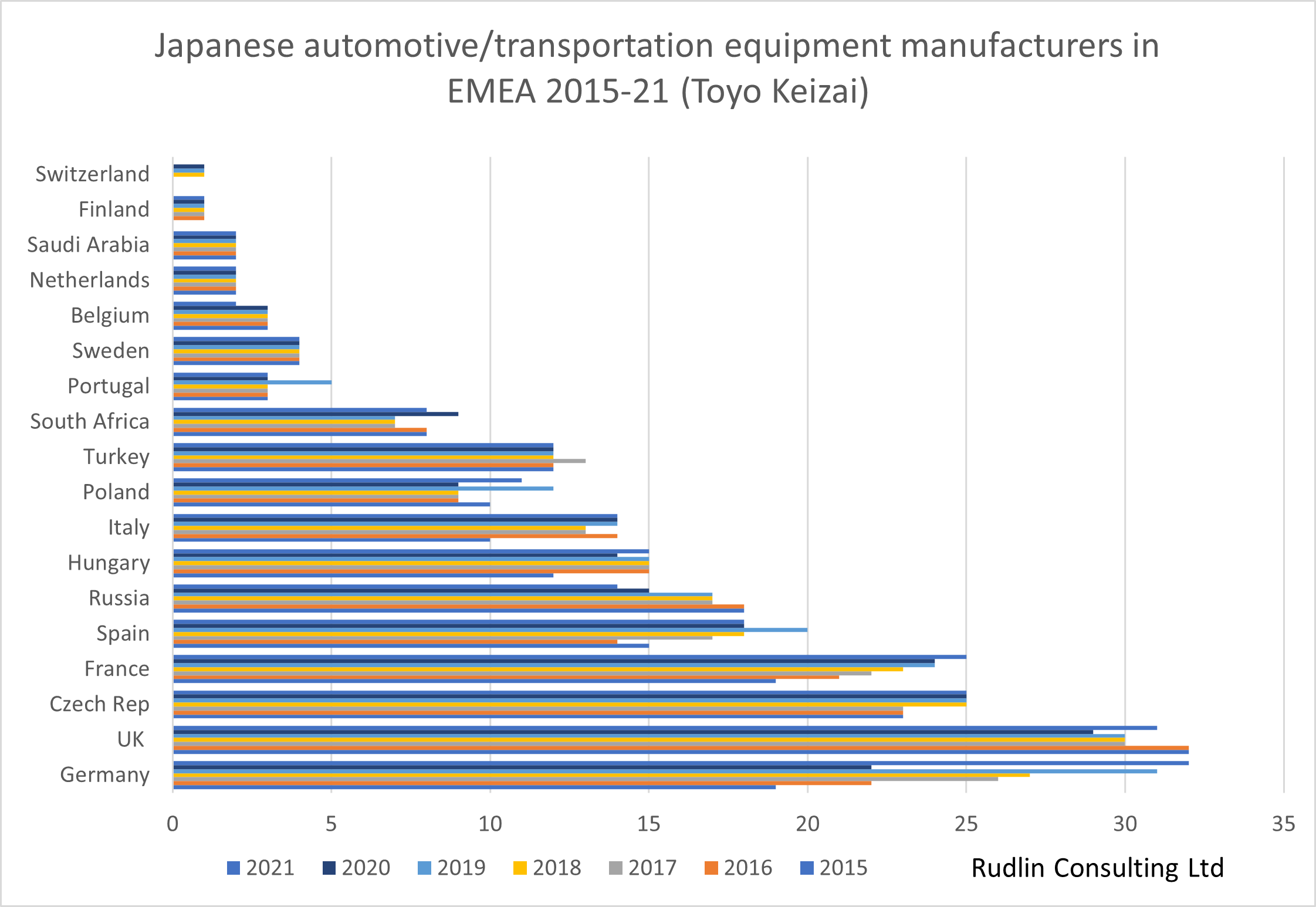 In terms of actual numbers of Japan owned automotive manufacturers, we estimate the UK is still top of the table with 67, despite the closure of 11 such operations in the past few years.  Toyo Keizai's database has Germany and the UK neck and neck, with around 31 or 32 "transportation equipment" manufacturers – a category which excludes automotive suppliers who manufacture components such as tyres. In Germany's case, many of these manufacturers do not just supply the automotive industry, and it has been a trend for some UK based manufacturers too, trying to diversify away from overreliance on core Japanese automotive customers.
This difficulty in categorizing industrial suppliers has caused some glitches in Toyo Keizai's numbers, it would seem, but overall, the trend over the past five or so years is clear – the numbers of Japanese manufacturers hosted by Germany, Italy, Czech Republic and France have grown over the past few years, but that growth seems to have tailed off. Host countries with fewer Japanese automotive manufacturers than five years ago according to Toyo Keizai are Russia, the UK and Belgium.  South Africa, with 16 Japanese automotive manufacturers by our estimates, and 8 by Toyo Keizai's, is not showing many signs of growth in the numbers of Japanese companies it hosts – yet.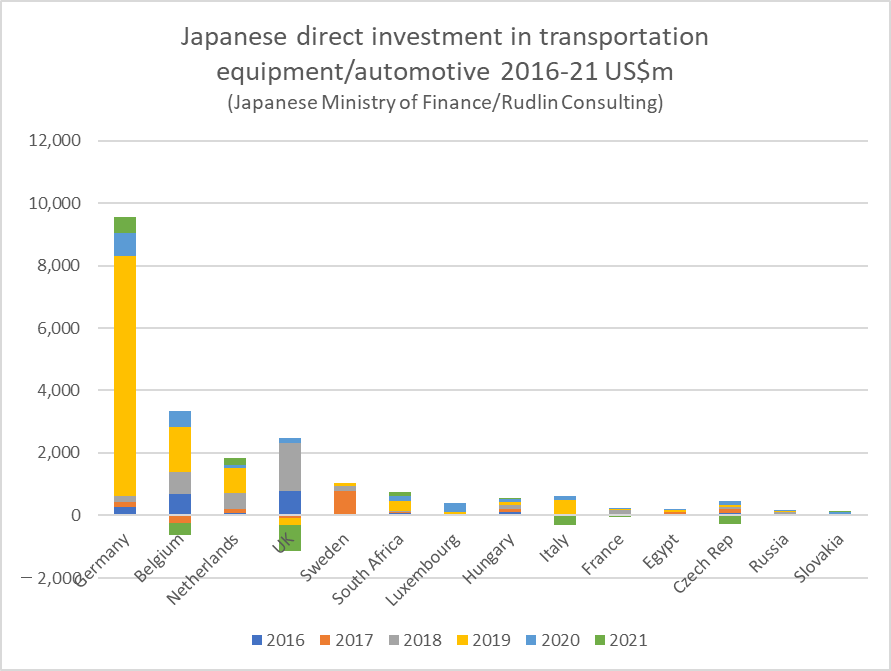 One further clue to the future of Japanese automotive manufacturing in the region can be found from the foreign direct investment data published by Japan's Ministry of Finance. The cumulative investment over the past five years is summed up in the chart to the left. Clearly there has been some disinvestment from the UK and Belgium recently and a large investment  in Germany in 2019. There have been no major M&As to cause this, the investment is more likely to be the Japan headquarters of major manufacturers transferring capital to their regional headquarters (Toyota in Belgium, Sumitomo Electric Bordnetze and Yazaki in Germany and Denso in the Netherlands) for further onward investment in the region.  For the UK, the disinvestment is likely to be Honda and its suppliers, and the investment would be from Nissan and its suppliers.
A directory of 205 Japan owned companies with production facilities in the UK, giving their full names, parent company, type of business and latest number of employees is available for £20 + VAT. Please contact us for an invoice and payment details via PayPal.
For more content like this, subscribe to the free Rudlin Consulting Newsletter. 最新の在欧日系企業の状況については無料の月刊Rudlin Consulting ニューズレターにご登録ください。