Excluding automotive production, Japanese manufacturing operations in the UK have been relatively stable since 2015/6.  Out of 200 or so companies, only a handful of companies have closed in the past five years, and much of this was to do with consolidating operations rather than withdrawing entirely from the UK.  Many of the Japanese manufacturers date back to the 1970s, and the oldest established, YKK, has been manufacturing in the UK since 1966.
There have not been many new entrants either over the past five years – apart from Mechatronics (owned by JTEKT) and other "new" entrants which are the UK subsidiaries of American or Swiss operations acquired by Japanese companies such as Stolle (acquired by Toyo Seikan), Hitachi Energy (was ABB Power Grids) and Avista (acquired by Kurita)
M&A
Around two-thirds of the companies in this sector are the product of, or have conducted M&A in the UK. Japanese M&A activity across the UK and Europe has dwindled away in recent years, perhaps because of the difficulty of doing due diligence in a pandemic, or Brexit making acquisition of a UK manufacturing operation that may be part of an EU supply chain less attractive.  There does not seem to be any particular trend to acquisitions in the UK, other than clusters of purchases in packaging, agrochemicals and food processing.
Notable recent acquisitions of UK companies include:
Hitachi Rail acquiring Perpetuum (2021)
Olympus acquiring medical device maker ARC Medical Design (2020)
Mitsubishi Heavy Industries acquiring the remaining stake in Primetals from Siemens, Hitachi and others (2019)
Sumitomo Heavy Industries acquiring Invertek Drives (2019)
Nippon Suisan acquiring Caistor Seafoods and Flatfish (2017-2019)
Rengo acquiring various packaging companies such as Tri-Wall and Welsh Boxes (2016-2020)
Agrovista (owned by Marubeni) acquiring various British agrochemical companies (2016-2019)
Sanwa acquiring Bolton Gate Services (2018)
Calbee acquiring Seabrook Crisps (2018)
Sansetsu (packaging) acquiring Truckwright (2018)
Sintokogio acquiring Omega (foundry machinery) (2018)
Konica Minolta acquiring Charterhouse and Indicia (printing) (2017-8)
Taiyo Nippon Sanso acquiring US company Praxair's European gas business (2018)
Employment
Around 39,500 people were employed in the UK by non automotive Japanese manufacturers in 2015/6 and after a few years of growth to around 42,000, this fell to 39,167 in 2020/21. Judging by the results of the 60 or so companies who have reported for 2021/22, this downward trend is continuing. If automotive manufacturing employment is added back in, there were around 60,600 people employed in Japan-owned manufacturing in the UK in 2020/21, almost the same as were employed in 2015/6. As we explained elsewhere, this number is likely to fall in 2021/22 with the closure of Honda Swindon and other suppliers to Honda.
UK and Europe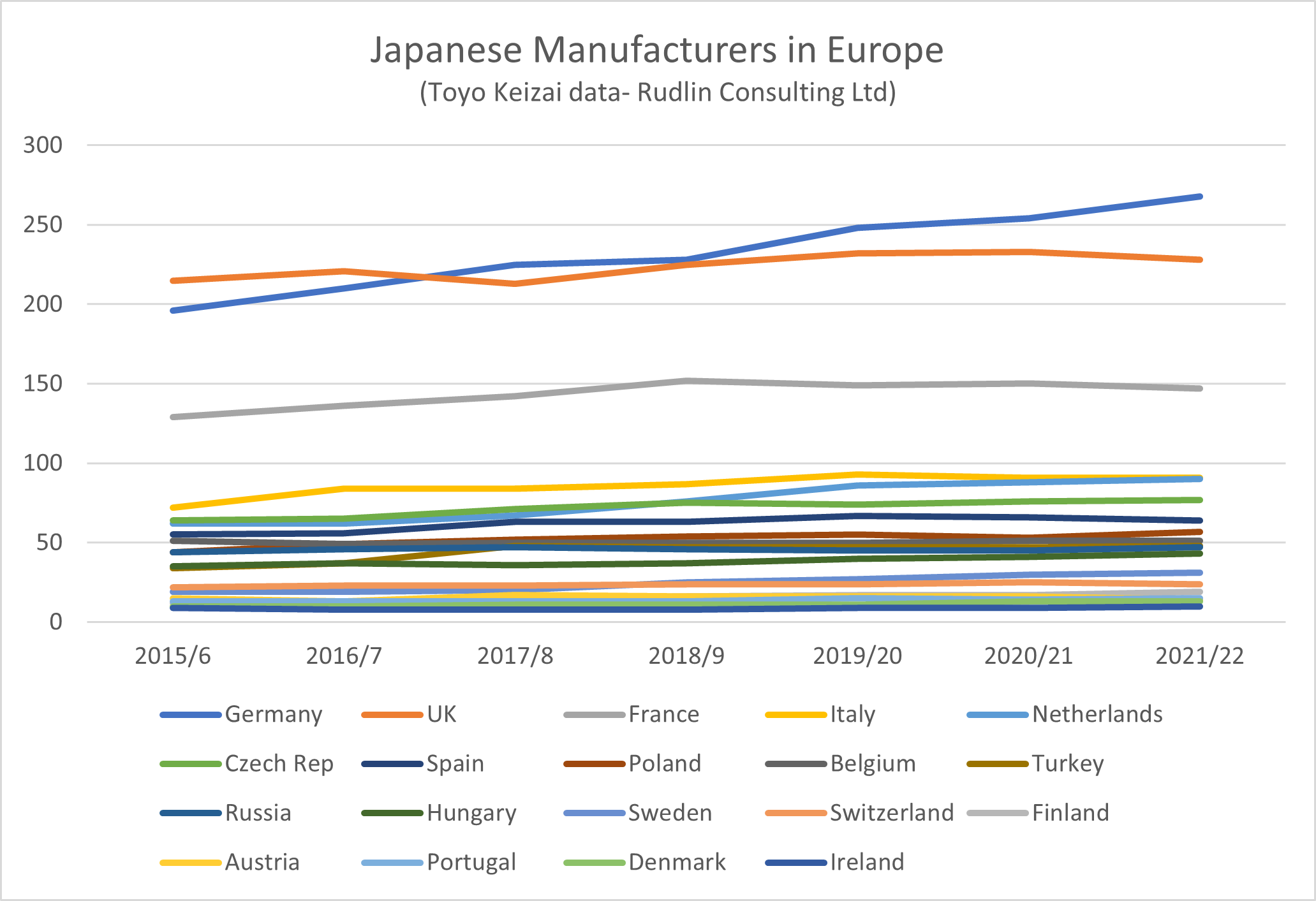 How this compares with other European countries can be seen in the chart on the left – which shows the numbers of all manufacturing companies in Europe, including automotive. According to Toyo Keizai, the number of Japanese manufacturers in the UK dipped around 2017/8, but recovered, with another more recent fall. But there was growth overall since 2015/6, with 228 companies in 2021/2 compared to 215 in 2015/6  – a 6% increase.  This is much lower than the overall 20% growth in Europe, and as a consequence the UK is no longer the largest host of Japanese manufacturers.
The number of Japanese manufacturers in Germany has grown 35%, and growth is continuing, widening the gap with the UK. France is a clear third, and is showing signs of growth tailing off. Netherlands, Turkey, Poland and Nordic countries are showing higher than average growth as hosts.
The growth of the number of Japanese manufacturing operations in Europe of 20% since 2015/6, from 1,147 to 1,381 companies was actually higher than the growth seen in Asia (7% to 9,047) or the USA (13% to 1,563). The number of Japanese manufacturing operations in Africa has grown 25% over the period – but from a much lower base of 57 to 71.
Japanese manufacturing in the UK "despite" Brexit has remained stable thanks to the resilience built up by those companies through being long established in the UK, benefitting from Japan HQ risk aversion and long term planning and having experienced, local management.  These factors have not attracted the growth seen in other countries in Europe, however.
A directory of 205 Japan owned companies with production facilities in the UK, giving their full names, parent company, type of business and latest number of employees is available for £20 + VAT. Please contact us for an invoice and payment details via PayPal.
For more content like this, subscribe to the free Rudlin Consulting Newsletter. 最新の在欧日系企業の状況については無料の月刊Rudlin Consulting ニューズレターにご登録ください。