The wave of Japanese investment into UK after NSK's first step in 1974, feared by many in the UK, did not happen immediately. Under the Labour government of 1974-79, there was double digit inflation, unemployment of over 1 million, the IMF bail out in 1976 and the Winter of Discontent, which may have been something of a disincentive to invest in the British economy. Although NSK did prove correct about a weak sterling, which at least ensured their British made exports were cheap.
Japanese concerns over Britain's economic, political and social stability did not end with the advent of a Conservative government in 1979, however.  It took nearly 3 years of feasibility studies, Mrs Thatcher visiting Tokyo and a visit by Nissan to NSK in Peterlee for reassurance, from the first announcement in January 1981 to when agreement was reached that Nissan could go ahead with building its UK factory in Washington, Sunderland in 1983. There were also predictions by unions and other car manufacturers of "devastation" if Nissan in the UK was just an assembly operation using cheap Japanese components.
"Better for the British people to buy Japanese cars made by British workers than to buy German cars assembled by Turks"
The argument made by Norman Tebbitt, then Secretary of State for Employment in April 1981 that "surely it is better for the British people to buy Japanese cars made by British workers than to buy German cars assembled by Turks" had finally won through domestically, but Nissan had also had its own misgivings which caused the delay – both from its experience in Europe and pressures in Japan from its union.
Nissan had already dipped several toes into manufacturing in Europe. It took a stake in Moto Iberica, Spain's largest commercial vehicle manufacturer in 1980. The tractor division was spun off to form a new company, with Kubota taking a 55% stake and assuming managerial control. Nissan took a 67.67% stake in the rest of Motor Iberica, renaming it Nissan Motor Iberica in 1987. Manufacturing of vans and commercial vehicles continued at the plant through to the present – but not always profitably – and finally Nissan announced that it will be shut down in December 2021.
Nissan had also in 1980 started a joint venture with Alfa-Romeo, building a plant in Italy which started production in 1982, marketed as the Alfa Romeo Arna in Italy and Germany, and the Nissan Cherry Europe in the UK. However, this venture was not a success and production was suspended in 1986.
Nissan concluded an agreement with Volkswagen in 1987 to produce and market the Volkswagen Santana in Japan, hoping to counter criticism that the Japanese market was difficult to penetrate. Santana production was terminated in 1989, to be replaced by the Passat. Sales of imported Passats in Japan were so poor, however, Nissan cancelled the assembly agreement.
The 1984 Nissan deal
The Nissan union in Japan had been concerned that the size of the investment in the UK plant meant that funds would be diverted from investment in Japan, and there was no guarantee that the project would be successful. If it failed, it might even affect the security of employment within Japanese factories. Consequently, the scale of the investment was reduced from the initial announcement of a £200-£300 million investment to a two phase project, starting with a pilot plan of a £50 million investment to assemble 24,000 Bluebird cars from knockdown kits imported from Japan. This was justified as being needed to gain first-hand knowledge of operating and marketing in the UK and obtain information on local sourcing of components.
The second phase was to be a build up from 60% local sourcing to 80% by 1991, expanding to a 100,000 units per year capacity, 30-40% of which was to be exported to Continental Europe. The total cost was put at £350 million with the British governement expected to provide selective financial assistance up to 10% of the total investment.
Keeping to the deal in a Single Market
Production of the Bluebird began on schedule in 1986, and the second phase began in 1987. Initially the plant made low value added models with high value-added quality cars exported from Japan, but from 1990 the Primera hatchback was manufactured in Sunderland as the sole global production source, exported back to Japan and into Taiwan. The cost of the Nissan project had risen to about £900 million by the beginning of the 1990s and output rose to 124,000 units per year in 1991.
Whereas around 80% of the components of UK made cars were sourced in the UK when the 1984 Nissan deal was struck, by the 1990s and early 2000s the proportion had dropped to around 30-40%. Even UK components in turn contained components from elsewhere, as this comment from a supplier in the comments section of the Financial Times explains:
"We manufacture part of one component for the Nissan Qashqai. We purchase raw materials from Taiwan, we manufacture in the UK in a Japanese owned factory. Our customer is in Germany, where our product is bonded together with products from other countries. Our customer's customer is in France, where the bonded component is integrated into a car component. The component is shipped to Sunderland and becomes a part of a "British" car.
How Mrs May and her merry band are going to sort this mess out is beyond me, and I suspect beyond them.
The development time lines for the most basic of automotive components is two to three years, which means that we are already "post Brexit" for new business development. How do I persuade customers to invest in new product development with us when nobody has a clue on what basis I might sell eventually sell my product to them, and given rules of origin, in some cases on what basis they might sell their product to their customer. We have good relationships with our customers, but at the end of the day they are running their business for their benefit and may well decide its just not worth the uncertainty and risk."
Even if Nissan did not keep to the local sourcing part of the 1984 deal (presumably superseded by the European Single Market, so that local meant EU wide), they did expand production way beyond the 100,000 promised, peaking at 519,000 units produced in 2016/7. The 470 strong 1986 workforce grew to around  7,000 people by 2019, around 10% of whom were designers and engineers working in a design facility in Cranfield.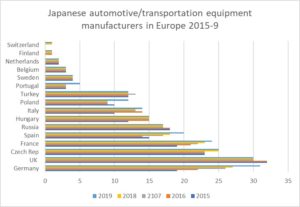 Nissan also exceeded its promise of exporting 30-40% of production to Continental Europe. By 2016 nearly 1/3 of UK car production was made by Nissan, 80% exported, 55% to the EU.
Nissan has tried to increase the proportion of locally made parts to 40% and even to 80%, to avoid tariffs and delays in the supply chain after Brexit, supported by a British government policy to reach 50%. It has encouraged suppliers to set up in a new industrial park in the North East  in order to do so, but our data does not show any move by Japanese suppliers to increase their UK presence.
In fact the shift seems to be more towards setting up additional factories in Continental Europe. Of the 29 new automotive manufacturing operations started in Europe in 2015-2018, according to the Teikoku Databank and our researches, 8 were in Germany, 4 in France, 4 in Slovakia, 3 in Spain, 3 in Italy, 3 in Hungary and 2 in the Czech Republic but none in the UK. For the first time there are now more Japanese automotive manufacturers in Germany than in the UK.
The 2016 Nissan deal – to Infiniti and beyond
Even if the long term solution to a hard Brexit is to increase the number of automotive suppliers in the UK, some short term shoring up had to be done to ensure that manufacturers didn't conclude that the safest bet was to shift all supply chains and manufacturing to continental Europe.
Greg Clark, the former Business Secretary, revealed in 2019 that the content of  his letter to former Nissan CEO Carlos Ghosn in October 2016 included "a package of support in areas such as skills, R&D and innovation" which "could amount to additional support of up to £80m". This was modified to £61m by 2018 due to reduced production costs. It was conditional upon Nissan continuing with plans to manufacture the new X-Trail and a new model Qashqai in the UK. Clark revealed the terms of the letter after Nissan announced that it had decided to manufacture the X-Trail in Japan in 2019, thus invalidating the deal.
There were rumours that the government would therefore pull the aid package, but Business Minister Richard Harrington said in 2019 that the deal would still stand, and be tied to electric vehicle development, which in Nissan's case would be the LEAF, which only represents around 10% of its production in Sunderland.
Nissan announced in 2019 that it would no longer produce the Infiniti in Sunderland for Western Europe. It was supposed to start production of both the new Qashqai and X-Trail in Sunderland in 2019, then it said it would start the Qashqai production in October 2020, and then announced it will delay the start to mid 2021, due to the uncertainty caused by COVID-19, and – although it did not say this – by what kind of EU-UK deal there might be.  Nissan has already spent £400m readying Sunderland for the new Qashqai, supported by £11m from the UK government.
Nissan Next and the alliance
In May 2020 President Uchida Makoto announced Nissan Next, a a four year medium term plan, aiming to downsize and close plants such as Spain and Indonesia.  Nissan will focus on "our highly competitive midsize segment, electrification and driver assistance technology" and increase the ratio of common electric parts across the alliance of Mitsubishi, Renault and Nissan. Nissan is seeing the Ariya as its new big hope for electric vehicles after the Leaf. The Leaf was manufactured in Sunderland, whereas the Ariya is being manufactured in Japan.
The three companies also announced the plan for the alliance in May 2020, where each will take the lead in their main sales regions, the models and technologies under development.  Nissan is to take the lead as the "reference" for China, North America and Japan. Renault will be the reference for Europe, Russia, South America and North Africa and Mitsubishi in ASEAN and Oceania. Renault has already said it would be willing to manufacture Nissan cars in its European factories if needs be, and presumably if there is a no deal Brexit and/or lack of diagonal cumulation whereby Japanese parts are not accepted as "British" by the EU, then Renault can help out Nissan in terms of sourcing EU parts.
Clark's 2016 letter promised to Ghosn it would "be a critical priority of our negotiation to support UK car manufacturers and ensure that their ability to export to and from the EU is not adversely affected by the UK's future relationship with the EU". Clark and Ghosn are both gone, so it's unsurprising, 4 years' on, Nissan feels the need for more reassurance that the UK government will keep to their side of the deal, whatever that turns out to be this time. If not, Renault is waiting in the wings.
For more content like this, subscribe to the free Rudlin Consulting Newsletter. 最新の在欧日系企業の状況については無料の月刊Rudlin Consulting ニューズレターにご登録ください。