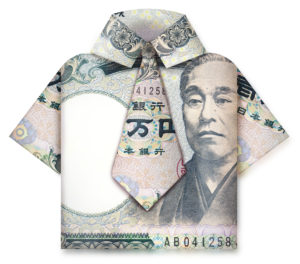 If you've noticed your Japanese colleagues looking grumpier than usual and making pointed remarks about the amount of money overseas offices soak up, you may need to be aware that it's not just the heat and the typhoons getting to them, but the fact that despite Prime Minister Abe's push, some companies are still cutting salaries –  and employee numbers are shrinking.  The summer bonus season, which will have been added to their monthly pay cheque in June or July, may have reminded them that their salaries have not increased much in real terms over all for some years, but they are supposed to be grateful they have a secure job, with bonuses, benefits and a pension.
It's surprising to see who tops the list in Toyo Keizai's ranking of companies who have had the biggest reductions in pay and number of employees over the past five years – trading company Mitsui Bussan is at #1. Toyo Keizai reckons this is because their business was badly hit by falling resource prices over the past few years.  Although average annual income at Mitsui is high – around Y12.3m (US$111,000), it has dropped by Y1.48m compared to five years' ago.  The number of employees has also fallen by 201 to 5,971.  Sumitomo Corporation, another major trading company is at #9 – average income falling Y1.255m but personnel numbers only falling by 23.  Mitsubishi Corporation is at #78 – total average income has fallen by around Y260,000, and numbers of staff have dropped by 579 to 5,217.
As you might expect, given its recent problems and selling off of businesses, Toshiba is in the top rankings, at #15, having reduced the number of employees by 4,401, to 32,353, with average income falling by Y880,000. Similarly Sharp has also reduced total average income by around Y600,000 and cut staff at almost double the rate of Toshiba, by 8,175, to 13,363.  Sony has reduced staff even more, by 10,391 to 6,185, and total average income has fallen by Y410,000.
Eisai, the pharmaceuticals company, is at #23, having cut its staff by 938, to 3,246 and average income falling Y710,000.  There has been no obvious negative issues for Eisai over the past five years, so maybe this is the work of the CFO, Ryohei Yanagi, trying to keep ROE above 8%, as we previously blogged.
For more content like this, subscribe to the free Rudlin Consulting Newsletter. 最新の在欧日系企業の状況については無料の月刊Rudlin Consulting ニューズレターにご登録ください。