As I mentioned in a previous article, the question of how to address Japanese colleagues or customers is almost always raised in our seminars.  I explain that it is indeed a complex issue, but surname-san is the default option.  It's polite enough, particularly if you are not Japanese anyway.  However, a Japanese junior often addresses a Japanese senior by their job title – kacho (section chief, the first real manager position in a Japanese company) or bucho (general manager) for example and would address a customer with surname-sama or with their job title.
The new egalitarianism
But this is changing in Japan too.  When Kozo Takahashi took over as President of Sharp, he insisted, as part of a major culture change – that from now on, all seniors would be addressed as surname-san, rather than by job title plus dono. As I mentioned when I blogged on this, bucho-dono is rather like calling someone Mr General Manager.
Diamond Online reckons this egalitarian trend started as far back as the late 1980s.  New companies that were booming then like Recruit had a culture where all were called surname-san.  Still, the older more traditional companies to this day keep to the job title system.  I frequently ask my Japanese contacts at our clients what their company culture is like, and some say it even depends which department you are in – whether they stick to the tradition or have moved to surname-san.  Diamond Online describes how in one financial services company there are 6 layers of titles from branch manager down, and one young staff member was even scolded for calling a colleague deputy chosayaku when he was a full chosayaku.  There is no one translation of chosayaku by the way – I have found 'assistant to section manager', 'assistant manager' and 'assistant to director' in various sources.  Google Translate translates it literally as 'investigation officer', which yet again proves that Google Translate should not be relied upon.  Either way, you can see why you would be quite keen to be called "assistant manager" rather than "deputy assistant manager".
The disappearing kacho
The term kacho might disappear completely in some companies, Diamond Online asserts in another article. In companies like Sony, which have moved completely away from any kind of seniority based promotion to one based on job roles and competencies, the change has resulted in demotion to "individual contributor" for around half of the 40% of their staff that were previously in management grades. Panasonic is also reviewing its bucho/kacho system and has, in the interests of developing its staff better, decided that managers should have around 7 staff members reporting to them.  This is in reaction to having flattened the hierarchy to speed up decision making, only to find that staff development suffered.
My old employer Mitsubishi led the way in the 1980s, by changing the ka (section) and kacho (section chief) system to 'team' and 'team leader'.  This was due to the fact that there were too many people in the kacho grade and not enough sections to manage.  The resulting dual system – whereby you have a kacho grade but your job role may or may not include managing a team is one that many Japanese companies have since adopted.
Job mobility
Diamond Online reckons whether you stick with the kacho system or get rid of it depends on whether your corporate culture is one where it doesn't matter if decisions take a long time, so long as no mistakes are made.  The kacho system may also have beneficial knowledge sharing and staff development effects.  Role and competency based systems are promoted in Japan by foreign consultancies, says Diamond Online, and often adopted by Japanese companies as a way of cutting salaries.  It also makes job mobility easier, if you have a better way of measuring your market value.
It would also make international mobility easier (as Hitachi are hoping), if there is a more globally accepted set of job grades and titles.  One of my least favourite requests for advice is helping people translate their job titles into Japanese or from Japanese into English.  It is a political minefield and can result in yet more meaningless 'Mr deputy senior assistant director' type titles, with nobody the wiser as a result.  With many caveats therefore, I offer the chart below: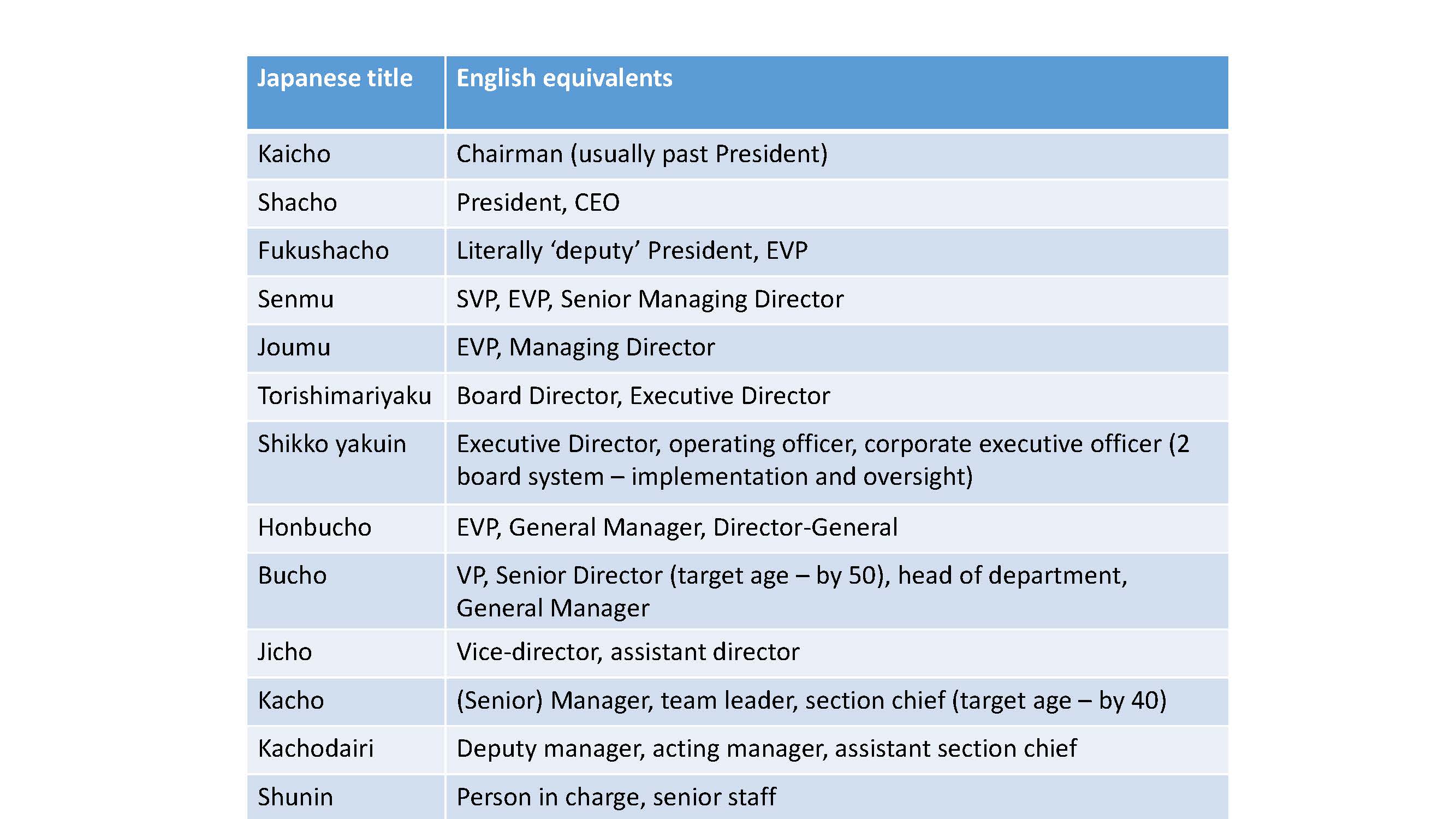 For more content like this, subscribe to the free Rudlin Consulting Newsletter. 最新の在欧日系企業の状況については無料の月刊Rudlin Consulting ニューズレターにご登録ください。