Our top 30 Japanese companies in Europe, Middle East and Africa for 2022 (free download available below) shows that there has been a modest growth in total employee numbers to 593,195,* up around 3% from 575,962 in 2021. We estimate over a million people are employed by Japanese companies in the EMEA region, so around 60% of them are working for these large corporate groups.
This would be a 2% growth if Honda had not dropped out, thanks  to the closure of its Swindon UK factory, and been replaced with NYK Group. Japanese corporate groups where the number of employees in EMEA declined over the year were largely in the automotive sector – not only Honda – including Nissan (-8%), NSG (-6%) and Denso (-5%).
Some of the growth in employees  was due to acquisitions, for example Hitachi's employees in the region expanded by nearly a third after the acquisition of the ABB Power Grids business. Sony has also grown in EMEA by 27% from 2021 to 2022 – this may be the result of multiple acquisitions, mainly of video game companies in the UK, Netherlands and Finland as well as in the  USA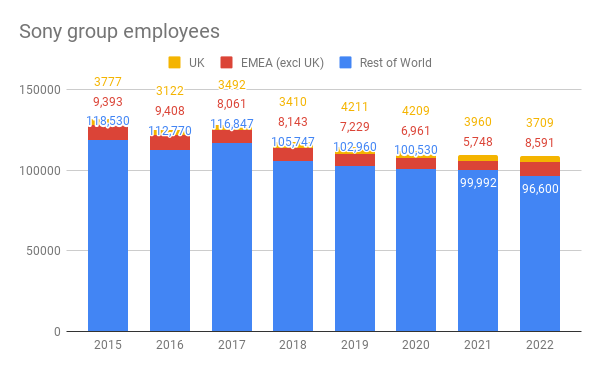 .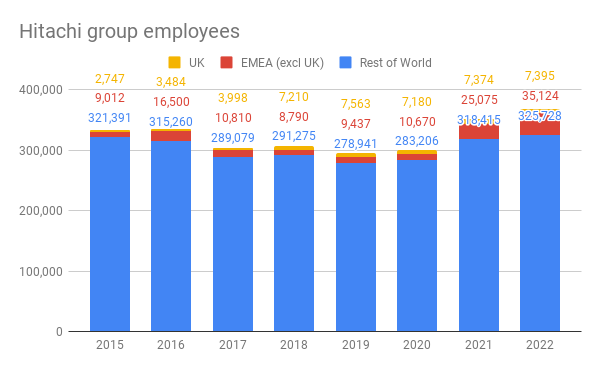 This now means 12% of Hitachi's global employees and 11% of Sony's global employees are in the EMEA region, compared to the top 30 average of 14%. The groups with a significantly higher than average proportion of employees in EMEA tend to be those with large manufacturing presence –
NSG (46% of global employees in the region), arising from its acquisition of Pilkington Glass
Sumitomo Electric Industries (26%), thanks to the labour intensive wire harness factories it has in Eastern Europe and North Africa
Toyota Tsusho, who have a significant presence in Africa since their acquisition of the French company CFAO
Asahi Glass
Japan Tobacco, with 38% of its global employees in the EMEA region, has entered the top 10 of the largest Japanese corporate groups, up from number 16 – not necessarily from any expansion, but more due to the fact that previous employee estimates were our own, and proved to be an underestimate, judging by figures that are now given on the website for Europe and the Middle East.  It has not announced anything further about its operations in Russia, where it employs around 4,000 people, other than a suspension of investment.
Recruit and Asahi also have more than 30% of their global employees in the EMEA – Recruit through its acquisition of USG People as well as Glassdoor and Indeed and Asahi through its acquisitions of various beer brands such as Grolsch and Peroni.
The corporate groups that have expanded the most in the region since 2014/5 are Hitachi (262%), NTT (157%) and Panasonic (89%). Those groups which have contracted the most are Honda (-55%),  Asahi (-30%), Fujitsu  (-25%) , Nissan (-22%) and Ricoh (-15%).
Click on this link for a free pdf download of the Top 30 Japanese Companies in EMEA 2022
*This number has been updated to reflect the inclusion of Mitsubishi Electric in the Top 30 (17 April 2023) and the inclusion of NYK Group (16th May 2023)
For more content like this, subscribe to the free Rudlin Consulting Newsletter. 最新の在欧日系企業の状況については無料の月刊Rudlin Consulting ニューズレターにご登録ください。