We've revised our Top 30 Japanese companies in Europe again.  Where possible we have updated the number of employees, which means the Suntory Group is now in the Top 30 along with Konica Minolta (and Kao and Daiichi Sankyo are out).  This time we wanted to take a look at the gender and nationality diversity on boards, both in Japan and Europe, and have discovered that there are actually fewer women on the boards of Japanese companies in Europe than in Japan.
Only two out of 19 (10%) of European headquarter boards of Japanese companies have women on them – Astellas and Suntory (the latter including Makiko Ono, an executive in Suntory Japan) and only 3 of the 14 (21%) UK based Japanese companies we looked at (in cases where the European HQ was not in the UK or there were separate European and UK companies in the UK) had women members – Lucite (subsidiary of Mitsubishi Chemical Holding/Mitsubishi Rayon), Komatsu and NTT Data.  Komatsu UK's female director is Keiko Fujiwara, who is the CEO of Komatsu Europe, in Belgium.  This contrasts with 13 (43%) out of the Top 30 companies' boards in Japan  having women directors.  In case you were wondering, only 6% of FTSE250 companies have no women on them.
4% of the Top 30 Japanese companies in Europe's board members in Europe and/or the UK are female
6% of the Top 30 Japanese companies in Europe's board members in Japan are female
8% of the Top 30 Japanese companies in Europe's board members in Japan are non-Japanese
16% of the board members of the Top 100 listed Japanese companies in Japan are female
19.6% of FTSE250 board members are female
Around 62% of the members of European and UK boards of of the Top 30 Japanese companies are European, on average.  Companies whose boards in the UK and Europe only had Japanese directors were Toshiba, Fast Retailing (Uniqlo), Fujifilm and Sharp. Sharp and Toshiba's troubles are well known.  Fast Retailing recently reported struggles in the US market and falling profits in Europe for Uniqlo, Comptoir des Cotonniers and Princess Tam Tam. Fujifilm has made a remarkable transformation from a B2C camera film to a B2B imaging company but the last set of quarterly results, issued last month were deemed "mixed".
(Note: only main boards, not executive or supervisory boards were analysed, and company secretaries were excluded)
The full chart is here (highlighted means "above average) and can be downloaded here :Top 30 Japanese companies in Europe board diversity Nov 3 2015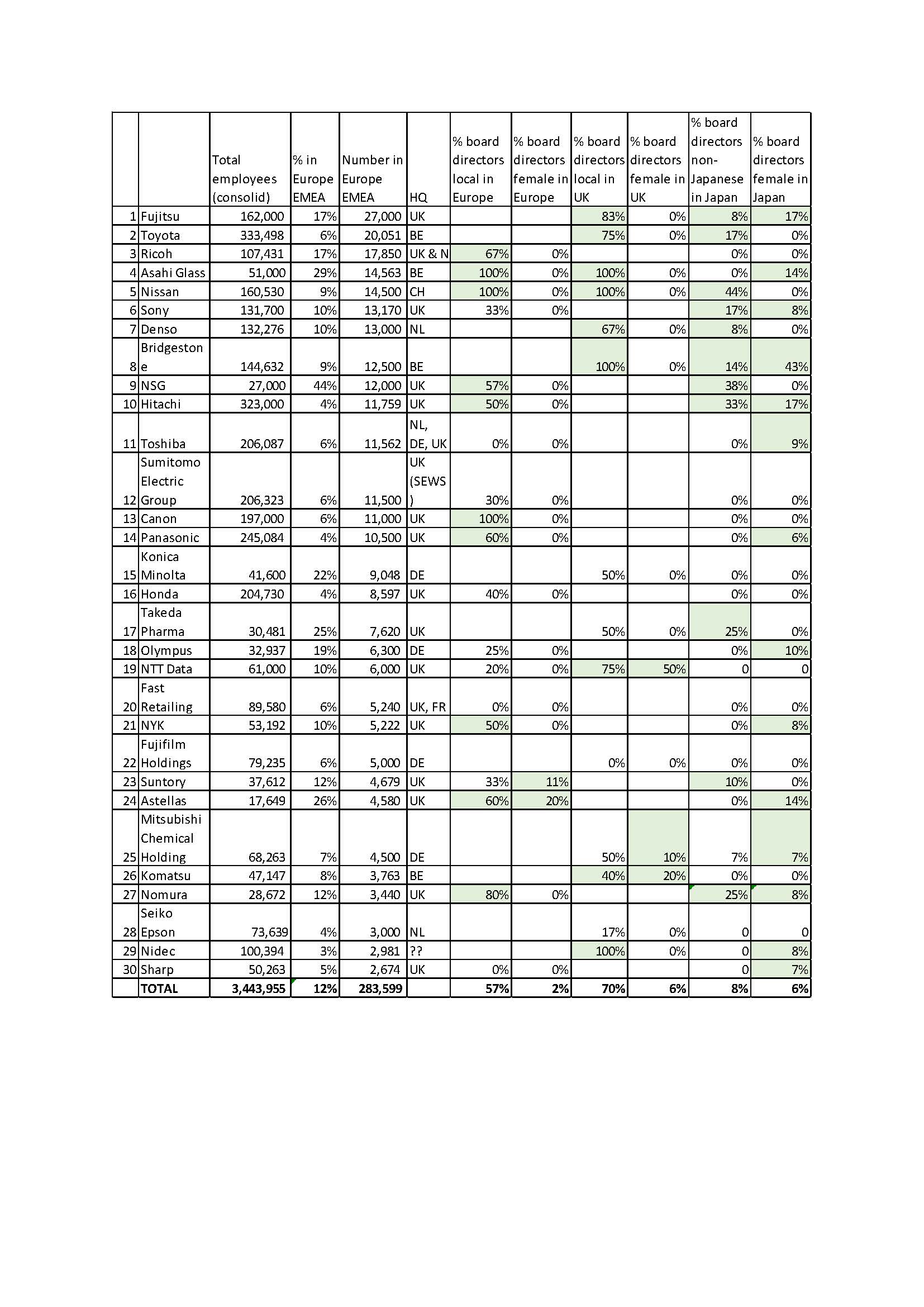 For more content like this, subscribe to the free Rudlin Consulting Newsletter. 最新の在欧日系企業の状況については無料の月刊Rudlin Consulting ニューズレターにご登録ください。